The 15 All-Time Greatest Things to Do in San Francisco
Eat some seafood, enjoy some unique museums, and more with the ultimate San Francisco bucket list.
San Francisco may not spring to mind when one is thinking about vibrant fall foliage, roadside stands selling fresh cider donuts, or jumping into huge piles of leaves, and we may never get to stay home cozied up by the fireplace on a random Tuesday because it's snowing outside. But what we do have is T-shirt weather in December and stunning landscapes that are still accessible precisely because they're not covered in snow. All that to say, fall and the beginning of winter are a rather legitimate time to have fun in SF, especially if you have a bucket list of fun things to do.
Slightly chillier days, usually paired with sunshine, are the perfect weather for hitting up all of SF's best breweries or cozying up with a book. This time of year also has ideal hiking weather if you do insist on being an outdoorsy person. It is unclear if it will also be a great time to hit up some of the city's best sports bars, but if the Niners can't figure it out, hopefully, the Warriors will. Regardless, if you're looking for fun things to do in San Francisco, we've got you covered.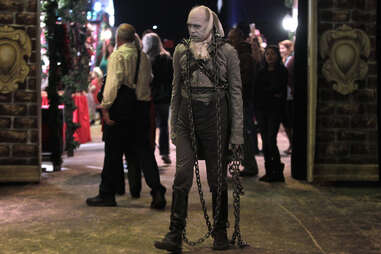 Things to Do in San Francisco in Fall and Winter
Mid-Market
No US city can rival NYC when it comes to theater, but SF still does an excellent job of keeping us entertained with all kinds of musicals and plays. Broadway SF is where you'll find touring productions (mostly musicals), like Disney's The Lion King (November 22–December 30, 2023), Mama Mia! (December 5–10, 2023), Harper Lee's To Kill a Mockingbird (December 12–17, 2023), The Wiz (January 16–February 11, 2024), and the Tony Award-winning musical MJ (January 30–February 25, 2024).
Union Square
ACT's mission is to tell stories that provoke, inspire, and promote a diversity of voices and points of view, so it's where you'll find upcoming shows like a classic telling of A Christmas Carol (December 4–24, 2023) and Big Data (February 15–March 10), a play about technology's effect on an impact and confronting how it's distracted them from one another. Do you prefer your theatrical performances with a little more festive flair? Get tickets for The Golden Girls Live: The Christmas Episodes (November 30–December 23), a very SF show where four of the city's drag legends perform parodies of the beloved TV show.
San Francisco Holiday Festivities
Ongoing through January
Various locations
Santa Claus is coming to town, so you'd better start getting in the holiday spirit. Here are just a few ways how. Lace up your skates for The Safeway Holiday Rink in Union Square, which offers daily outdoor skate sessions (under the Union Square Christmas Tree when it goes up at the end of November) through January 15, 2025. Eat, drink, and shop your way through Victorian London at The Great Dickens Christmas Fair & Victorian Holiday Party, which pops up inside the Cow Palace weekends (November 18–December 17), and features an immersive world of music halls, theaters, pubs, and ye olde shoppes, plus flirty chimney sweeps and lots of absinthe. Nothing says Christmas quite like fighting mice, a nutcracker-turned-prince, and a journey through the Land of Snow, especially when paired with gorgeous music and beautiful dancing. See for yourself at Nutcracker performed by the San Francisco Ballet (December 13–30). The Fairmont San Francisco has a whole crew of folks dedicated to replacing all of the candy canes and gumdrops that people pull off the 22-foot-tall gingerbread house and eat. Try to restrain yourself when walking through a crowd-drawing house made with nearly 8,000 pieces of gingerbread, 1,200 pounds of icing, and 650 pounds of candy. If you must have a snack, make reservations for their Holiday Tea instead.
Where to Eat and Drink in San Francisco
Embarcadero
The historic Ferry Building is a stunning piece of architecture (completed in 1898 and the largest construction project in SF at the time), but, more importantly, behind those good looks is a fantastic personality in the form of delicious artisan food. Get oysters (and a decadent grilled cheese) with a view at Hog Island Oyster Company, wood-fired organic bagels with hand-batted cream cheese at Daily Driver, flavor-filled Jamaican patties from Peaches Patties, a delicious burger and shake at Gott's Roadside, "tacros" (taco-croissants) from Vive La Tarte, sweet and savory crêpes at Grande Crêperie, unusual ice cream flavors, like Secret Breakfast (bourbon and Cornflakes) at Humphry Slocombe, banana pudding from Yes Pudding, and then wash it all down with a local beer from Fort Point Beer Company. If you want to take a load off after all that eating, grab a canned cocktail at Ferry Plaza Wine Merchant and a cupcake from Miette or a cookie from Mariposa Baking Company to enjoy while sitting on a bench with views of the Bay Bridge. The beloved farmers market pops up on Tuesdays, Thursdays, and Saturdays, so you can also shop for high-quality products from small, sustainable growers and producers who will definitely appreciate your support.
Nob Hill
Is this kitschy tiki bar nestled on the ground floor of the Fairmont San Francisco a little cheesy and overpriced? Absolutely. But it's also iconic, and we can guarantee you will love being surprised by the thunder and lightning storms while sitting in a straw hut, sipping on a mai tai, and listening to a band playing on a floating barge in the hotel swimming pool-turned-lagoon. Just don't drink too many of those boozy rum cocktails, as there's a $500 fine for anyone who jumps in the lagoon, something that happens more often than you'd think. Still not convinced? Anthony Bourdain once called the Tonga Room "…the greatest place in the history of the world."
Nob Hill
If there is one line worth braving in all of San Francisco, it is the line at this tiny, no-frills lunch counter raw bar that has been serving locals and tourists fresh and delicious seafood for over 100 years. Once you score one of the 18 seats, a friendly employee will be happy to help you navigate the handwritten menu on the wall, which can feel a little daunting, but if you like to go in with a game plan, customer favorites include the oysters (of course), the crab back (with an extra order of bread), and the Sicilian sashimi, a plate of thinly sliced scallops, hamachi, tuna, halibut, and salmon.
Things to Do Outdoors in San Francisco
Golden Gate Park
The Japanese Tea Garden, originally created for the 1894 California Midwinter International Exposition, is the perfect spot to meander—on winding paths past koi ponds, a zen garden, native Japanese plants, pagodas, and the famous Drum Bridge. Go early in the day if you want to enjoy some serenity in this magical spot and in March or April if you like your tea gardens full of cherry blossoms.
Golden Gate Park
Because both of these attractions are within steps of each other and free for SF residents, the best experience is to make it a doubleheader of landscaped gardens and natural beauty by walking about 300 feet from the tea garden to the entrance of the Botanical Garden, a 55-acre "urban oasis" with more than 9,000 plants from around the world throughout landscaped gardens and open spaces. It's the perfect place to enjoy an al fresco lunch—Arizmendi Bakery's famous pizza and the Yellow Submarine's toasted subs are both within walking distance in the Inner Sunset.
Fisherman's Wharf
Of all of the touristy things to do in San Francisco, visiting this famous prison that was once home to notorious felons like Al Capone and Robert "The Birdman" Stroud is the one that tourists and locals alike should do. You'll learn all about the fascinating history of the island penitentiary, especially if you do the self-guided 35-minute audio tour that tells you stories from former inmates and guards. Plus, you can get wine and beer on the ferry ride back! If you prefer your abandoned prison visits to be on the creepier side, there are also nighttime tours. Either way, Alcatraz tickets sell out weeks in advance, so it's important to plan ahead. And, since you'll already be at Fisherman's Wharf, stop to say hi to the sea lions and play antique games at Musée Mécanique (free, but the games cost anywhere from a penny to a quarter). There are love testers, player pianos, dioramas, old-school photo booths, and even some "naughty" peep show booths. Be sure to wrestle with the Arm Wrestler, get your fortune told by a grandmother, and stay far away from Laughing Sal if nightmares are a thing you like to avoid.
Presidio
Andy Goldsworthy is a world-renowned artist known for creating sculptures that use natural materials and reflect the essence of the place where they were made. He's produced over 70 projects worldwide, and we're lucky enough to have four of them in the Presidio, the most of any place in North America. You can see them all during an easy three-mile self-guided hike through the woods of the US Army post-turned-national park. Spire, made with 37 Monterey cypress trunks that tower 100 feet into the sky, and Wood Line, a literal winding wood line made with eucalyptus branches that will one day return to the Earth, can be viewed at any time of day, but if you want to see all four of Goldsworthy's installations, you'll need to walk/hike the loop during business hours, as the final two, Tree Fall and Earth Wall are inside buildings near the Main Post.
Seacliff
The Lands End Trail "hike" is the perfect SF activity for three reasons. It's a simple reminder of how beautiful this place is, thanks to the winding trail above rocky cliffs, which highlights views of the Golden Gate Bridge, Marin Headlands, and coastal terrain. There are tons of only-in-SF hidden treasures, like the rock labyrinth, Mile Rock Lighthouse, and the abandoned Octagon House. And it's an urban hike, which means you can experience SF's natural beauty and get in a "workout" simultaneously. While you're there, check out Sutro Baths, the ruins of an enormous ocean-filled swimming facility built in 1890 and was destroyed by a fire in 1966. And since you're already out in that part of the world, why not reward yourself for going on a "hike" by stopping by Tommy's Mexican Restaurant in the Outer Richmond for one of the best margaritas you'll ever drink?
Powell/Hyde
Fact No 1: Cable cars are very touristy. Fact No. 2: SF is currently celebrating their 150th birthday. Fact No. 3: They're also very fun to ride. Hop on the only moving national landmark on the Powell/Hyde line to experience the joy that is the wind in your hair and amazing Bay views as you glide up and down hills in a vehicle that is part of the world's last manually operated cable car system. Take it all the way to the waterfront and then pop into the Buena Vista and warm up with their famous Irish coffee.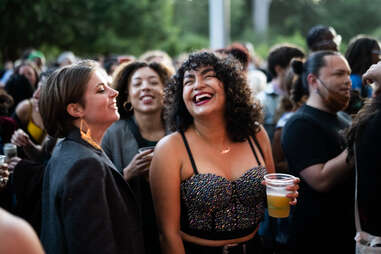 Arts and Culture Events in San Francisco
Golden Gate Park
The California Academy of Sciences is one of the best and largest natural history museums in the world, but it's also often overrun with kids, which means politely waiting for them to finish checking out the hands-on exhibits, like the earthquake-simulator Shake House. NightLife solves this problem by being 21 and over and makes the museum-going experience even more fun because there are DJs and drinking. The entire museum is full of must-sees, but you absolutely must explore the four-story rainforest with free-flying birds, exotic reptiles, amphibians, and enormous Amazonian fish gliding overhead and the mesmerizing aquarium, which is home to nearly 60,000 live animals, representing more than 1,000 unique species. Be sure to also stop and say "hi" to Claude, the albino alligator who has become one of the museum's most famous residents.
North Beach
San Francisco has needed a little love recently, and it gets more than a little at Dear San Francisco: A High-Flying Love Story, an immersive performance and love letter to this wild town told via how-do-they-do-that acrobatics, circus acts, aerial performances, mesmerizing choreography, and original music. It's a little like Cirque do Soleil, only a lot closer up and with fewer unsettling clowns. While the show is kid-friendly, it's definitely intended for adults who have slightly longer attention spans and a better grasp of nuance than your average six-year-old. If you want to make it extra adult-friendly, pair your viewing with a bottle of wine and some fancy small plates.
San Francisco Museums
Various locations
Okay, San Francisco isn't D.C. or London or Paris, but we still have some great museums. Even better, there's truly a museum for every personality. There's the SFMOMA if you're into modern art; the de Young and Legion of Honor for fine art; California Academy of Sciences, an aquarium, planetarium, and natural history museum; the Contemporary Jewish Museum where you can explore Jewish culture; the Asian Art Museum where you can explore achievements in Asian art and culture; the Walt Disney Family Museum, which is dedicated to Disney's life; the Exploratorium where you can get hands-on with interactive exhibits; and so many more. There's even a Cable Car Museum, a Cartoon Art Museum, and, wait for it, an Antique Vibrator Museum. Take a tour, go at night (de Young, Academy of Sciences, Exploratorium), or just wander around and take it all in.
Daisy Barringer
is a San Francisco-based freelance writer with over 15 years of professional experience as a copywriter and editorial journalist. Her areas of expertise include hamburgers, road trips, the 49ers, and anything and everything NorCal. She grew up in San Francisco and has a BFA in Dramatic Writing from New York University and an MFA in Creative Writing from UNC Wilmington, the latter of which she commonly refers to as "the time she spent three years at creative writing summer camp." Follow her on Instagram
@daisysf
, where you're guaranteed cute pics of her 160-pound Saint Bernard named Monkey.