We don't need to tell you about how weird these times are or how strange it is that we're going to basically be living in our homes and nowhere else until May 1 at the earliest. What we do need to tell you, or at least try to give you some good ideas for, is what to do while staying inside and trying not to lose your sanity. Here are the things you'll actually enjoy doing this weekend -- all while using best social distancing practices.
If you would have gone skiing in Tahoe
Stream: Hot Dog... The Movie, 1984
All weekend
Cost: Streaming prices vary
Eat and drink: A classic hot dog from Popsons, which is offering delivery from 11am to 9pm. And since you're already ordering, you might as well throw in their cheeseburger, which is one of the best in SF, some fries, and a shake. Order it now via Caviar, DoorDash, or Uber Eats. Want to emulate the après ski experience? The Buena Vista's famous Irish Coffees are available for pickup.
It's a huge bummer that as soon as it started snowing, we weren't able to take advantage of any of the fresh powder, but take your mind off of that with one of the funniest ski movies of all time that also takes place at Squaw Valley, one of the best places to ski in the country and our very own backyard. And what better to eat while watching Hot Dog than an actual hot dog?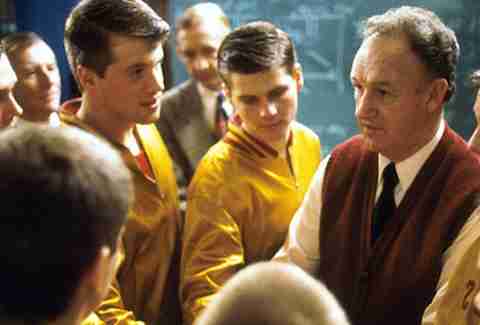 If you would have watched the Final Four
Stream: Hoosiers, 1986
All weekend
Cost: Streaming prices vary
Eat: The Meat Lovers pizza and bourbon BBQ wings from Slice House by Tony Gemignani. Slice House has some of the best delivery pizza available in SF and is open for takeout and delivery via Uber Eats from 11am to 11pm Friday and Saturday and 11am to 10pm every other day.
One of the worst things about being quarantined is that there are zero sports on TV. Try not to think about the fact that this weekend would have been the Final Four and that you'd probably be dominating in your bracket and instead watch Hoosiers, an uplifting movie about a small-town Indiana high school basketball team and a failed college coach (played by Gene Hackman) looking for redemption. And hey, just because you don't get to watch college hoops doesn't mean you shouldn't eat like you would have if everything hadn't been canceled. Slice House has awesome pizza and wings, and the only time you'll have to get off of your couch is to go to your front door to get it. 
If you would have taken an out-of-town visitor to Alcatraz
Stream: The Rock, 1996
All weekend
Cost: Streaming prices vary
Eat: Prime ribeye or wagyu and a nice bottle of wine from Alexander's Steakhouse, open for delivery via Postmates or Grubhub and takeout from noon to 9pm.
There are a lot of amazing films that feature Alcatraz and since we're going to be staying home for a while, we'll probably to get to the rest of them at some point, but since The Rock has pretty much everything you could need in a movie -- action, thrills, explosions, heroes-turned-villains, and even questions about morality -- we're starting there. And because it kind of feels like we're all prisoners in our own home, why not order what would be a very delicious "last meal" from Alexander's Steakhouse (although wardens probably don't serve wagyu to condemned prisoners, but why be literal in these dark times?).
If you would have celebrated Golden Gate Park's 150th anniversary
Stream: Tales of the City, 1993 or Tales of the City, 2019
Available all weekend
Cost: Streaming prices vary, but both are available on Netflix
Eat: A corned beef dinner platter with mashed potatoes, salad, and bread and butter ($13.70) from Tommy's Joynt, open for takeout 11am to 7pm every day.
Golden Gate Park played a big role in Armistead Maupin's Further Tales of the City, and while we might not be able to celebrate our incredible park's 150th birthday this weekend as originally planned, you can at least pay homage to it and the rest of our fine city by watching the 1993 mini-series or the 2019 sequel of Tales of the City. As far as what to eat? Well it has to be something from a restaurant that was around during the late 1970s when the original story took place, and why not also get as close to 1970s prices as you can get while you're at it? Basically: anything from Tommy's Joynt, SF's original hof-brau, is the way to go.
If you would have paddled out at Ocean Beach
Stream: "Great Highway": A Journey to the Soul of San Francisco Surfing, 2017
All weekend
Cost: $5.99 to rent; $12.99 to buy
Eat: Fish tacos, poke and chips, and North Coast scrimshaw pilsner from Hook Fish Co. available for pickup from 11:30am to 9pm.
Watch this compelling documentary that celebrates SF's surf history from the very beginning. And since nothing makes you hungry quite like surfing (or watching movies about surfing), head to Hook Fish Co., a laidback fish market out by the beach that's all about thoughtfully sourced seafood and empowering local fishermen. While you're there to grab your takeout, pick up some fillets and other seafood to take home and cook yourself.
If you would have been partying in Cabo for spring break
Stream: Daybreaker Live: Spring Break Party
Saturday from 8am to 10am
Cost: $15
Eat: The Carnitas Take-Home Meal Kit from Nopalito, available from 2pm to 7pm for pickup or delivery through Caviar
Spring break was canceled for everyone with a brain, but there's no need to sulk about the fact that you're not doing tequila shots in Cabo. Instead, celebrate your health with an early morning dance party from Daybreaker that promises "blissful beach vibes" and a chance to grab a spot on the dance cam. And what better to eat when reminiscing about spring break than Mexican food from Nopalito? You can order a take-home meal kit or any of the usual hot meals. BYO tequila.
If you would have been at the Giants home opener
Stream: Eastbound & Down: Season 1, 2009
All weekend
Cost: Streaming prices vary, but if you have Amazon Prime, all four seasons are free
Eat: Garlic fries from Super Duper Burgers, available for pickup and delivery (hours vary) via Postmates
Since we aren't getting a baseball season anytime soon, we can pretend like the Giants were totally going to #BeatLA in the home opener. And you know what helps one pretend like they're at Oracle Park? Garlic fries. (Which tasted even better when you don't have to worry about your bad breath afterwards since we're well beyond that these days.) Order those and a burger from Super Duper and then settle in to binge watch Eastbound & Down, a HBO comedy about a self-destructive and short-tempered former MLB pitcher who now teaches PE at his former middle school. 
Sign up here for our daily San Francisco email and be the first to get all the food/drink/fun SF has to offer.