Everything Fun to Do in San Francisco This Weekend
Outdoor video exhibits, local pop-ups, and more.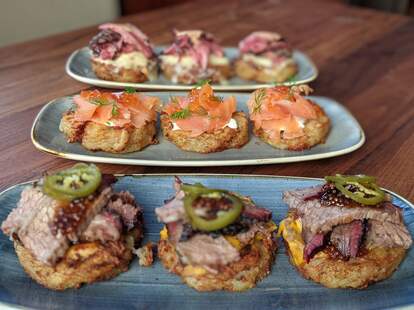 Courtesy of Mark 'n Mike's at One Market
This weekend offers a few "excuses" to head outside and get some fresh air, including a crab tailgate with fresh, local Dungeness crab, an outdoor video exhibit, and a pop-up supporting local makers. If you're looking to fully sink into your couch, you can do that as well, perhaps while watching an award-winning documentary about COVID in Wuhan, an opera from the SF Opera, an online roast of "Brokeback Mountain," or, you know, just seven straight hours of football. And since we still need to eat, why not play BINGO with local restaurants and/or grab some pie for National Pie Day?
Friday, January 22 - Saturday, January 23
Streaming
From Thursday, January 21st to Saturday, January 23rd, the Asian Art Museum is streaming "76 Days," an intimate documentary filmed inside four hospitals in the early days of the COVID-19 outbreak in Wuhan, China that shows the resilience and the struggles of everyone battling the pandemic during the first 76 days. You can watch it anytime between Thursday and Saturday, but if you want to join a discussion with the film's director, producer, and a few others involved, you'll have to do that on Friday at 6 pm.
Cost
: $10
Friday, January 22 - Sunday, January 24
All over SF
Help keep our restaurants in business while playing a fun game of BINGO. Download the BINGO board from the GGRA and Eat Drink SF, and then eat your way through a complete row (spaces include "your favorite spot," "Hayes Valley spot," "lunch," and more). Share it to social media, tagging @ggrasf and @eatdrinksf, and you'll be entered to win gift cards to restaurants. (As always, if you can, order directly from the restaurant so they don't have to pay those brutal delivery company fees.)
Friday, January 22 - Sunday, January 24
North Beach
Every night this weekend from 7 pm to 8:30 pm, outdoor video exhibitions will be projected on SFAI's famed tower at the Chestnut Street campus. The school teamed up with SF Artists Alumni for the exhibition called "Three Turns" and features work by 26 SFAI alumni artists in conversation with selections from the SFAI archives. (The archive work will be on two sides of the tower and alumni responses simultaneously on the other two sides.)
Cost
: Free
Friday, January 22 - Saturday, January 23
Embarcadero
One Market's New York-style deli pop-up, Mark 'n Mike's, has added a new creation to its menu: loaded latkes. Get yours topped with smoked salmon, chive, creme fraiche, caviar and dill, a pastrami "reuben" with russian dressing, kraut, and swiss cheese, or pulled brisket, BBQ sauce, pickles, jalapeno, and american cheese. Available for pickup and delivery Wednesday through Saturday from 11:30 am to 7 pm.
Cost
: $17 to $21
Courtesy of Mariposa Baking Co
Saturday, January 23
Ferry Building/Embarcadero
Mariposa Baking Co. thinks every day is National Pie Day, but if you need an excuse to take down a slice or three of cherry or pecan pie just head to its SF Bakeshop in the Ferry Building between 9 am and 4 pm. Easy as pie!
Cost
: A 6" cherry pie is $17
Saturday, January 23
William Tell House/Tomales
The folks at William Tell House aren't letting a pandemic keep them from putting on their annual feed—it'll just look a little different. Set up your picnic blanket, put down the tailgate of your truck, or grab a picnic table and enjoy a feast of fresh local Dungeness crab, garlic noodles, cheesy sourdough, green salad, and brownies, plus beer and mimosas—all delivered directly to you. There are two seatings: 11:30 am and 2:30 pm, so you'll have time to hit the beach before or after.
Cost
: $80
Saturday, January 23
Mission Bowling Club/Mission
A "Mini Mart" is popping up inside and outside of Mission Bowling Club this weekend from 12 pm to 4 pm. There will not be bowling (sadly, right now, it's hard to imagine there ever being bowling again), but there will be awesome local makers selling home décor, candles, plants, jewelry, tote bags, hoodies, tees and face masks. While you're there, pick up some of Mission Bowling Club's cocktails.
Cost
: Admission is free
Saturday, January 23
Twitch
Join LGBTQ+ comedians for a 6 pm screening of this 2005 gay classic for an online roast with drinking games and a chance to add your own "I wish I knew how to quit you" jokes in the chat.
Cost
: Free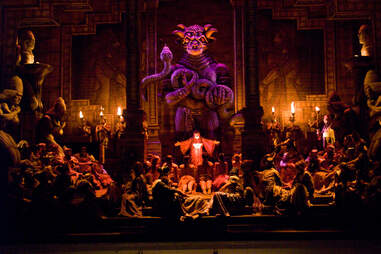 San Francisco Opera

| Photo by Terrence McCarthy
Saturday, January 23 - Sunday, January 24
Streaming
The SF Opera is streaming Camille Saint-Saëns' "Samson and Delilah" this weekend—a story of beauty, strength, and something none of us can get right now: hair cuts.
Cost
: Free
Spend all of Sunday on the couch watching the playoff games
Sunday, January 24
Your living room
Find out which two teams are going to the Super Bowl this weekend starting at 12:05 pm, and since football tastes better with beer and snacks (especially when the Niners aren't in contention), use your lazy day as an excuse to order pizza, wings, fried chicken, sush, whatever from a local restaurant. Hey, you can even mark a square or two off of your BINGO restaurant board!
Cost
: $ to $$
Sign up here for our daily San Francisco email and be the first to get all the food/drink/fun SF has to offer.

FYI: We've also got you covered with comprehensive guides to NYC, Chicago, LA, Miami, DC, Austin, Boston, Denver, Dallas, Atlanta, Phoenix, and San Diego -- just in case you're ever out of town.
Daisy Barringer
is an SF-based freelance writer who is taking advantage of these strange times by exploring San Francisco on foot. Follow her on Instagram
@daisysf
to see where she goes next.