Everything Fun to Do in San Francisco This Weekend
Whatever you do, stay safe.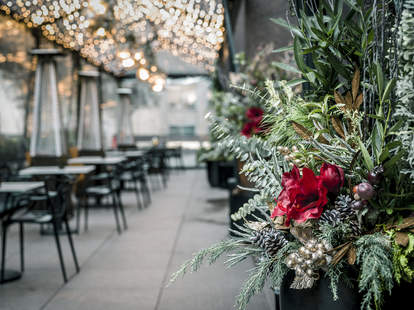 After spending all day on Thanksgiving gobbling turkey, watching football, and talking yourself into just one more piece of pie, you're probably ready for some fun this weekend that doesn't involve stuffing your face. The weather is promising brisk days with lots of sunshine, perfect for walking along the car-free Great Highway along Ocean Beach or through Golden Gate Park, or any of the urban hikes we're so lucky to have in SF. There will also be some Black Friday shopping, but may we suggest skipping the big retailers and instead attending a virtual Black women-powered market or a "magickal market" with wares from local makers? There's also a drive-in showing "National Lampoon's Christmas Vacation" and an online roast of "It's a Wonderful Life" if you prefer to stay home. Ready to put up your Christmas tree? The Guardsmen Tree Lot at Fort Mason is open and has trees of all sizes (with proceeds going to help at-risk youth). And just in case you're still hungry, there's also a brunch with beats and booze and a new winter wonderland makeover at The Vault Garden.
Friday, November 27 - Saturday, November 28
www.justbeoak.com
Finish all of your shopping in one day while also celebrating Black women creators at the two-day "For the Culture" holiday market. There will be more than 50 vendors, virtual shop tours, interactive workshops, music, and a raffle to win cool prizes. Vendor highlights include a woman who runs a metalsmith training program for women and girls of African descent, an Oakland-based organic bakery, and all kinds of jewelry, home decor, skincare products, and gifts from Black women entrepreneurs.
Cost
: Free to $50 for the VIP experience (all sales go directly to the business owners)
Friday, November 27
Sonoma County Fairgrounds, Santa Rosa
There are, perhaps, no truer words for 2020 than when Ellen Griswold said, ""I don't know what to say, but it's Christmas, and we're all in misery." Try to forget about that for a few hours at a pop-up drive-in theater in Santa Rosa where you can watch this 1989 Chevy Chase comedy about one man's attempt to have a perfect family Christmas.
Cost
: $40 per car
Friday, November 27 - Saturday, November 28
Feathered Outlaw, Alameda
Shop for crystals, candles, succulents, jewelry, divination tools, tinctures, and more at a socially distanced "magickal little night market" in Alameda. And, for those who are bold enough to want to know what 2021 will bring, there will also be free readings from an oracle.
Cost
: Free
Friday, November 27 - Sunday, November 29
DickensFair.com
The Great Dickens Christmas Fair won't be taking place at the Cow Palace this year, but you can enjoy some of the best parts of it at home, including videos of carolers, readings by "Charles Dickens" himself, cooking demonstrations, and a behind-the-curtain look at how the Londontown is created. Plus, of course, lots of shopping for hand crafted gifts. Each weekend leading up to Christmas will reveal new programming. BYO absinthe and roasted chestnuts.
Cost
: Free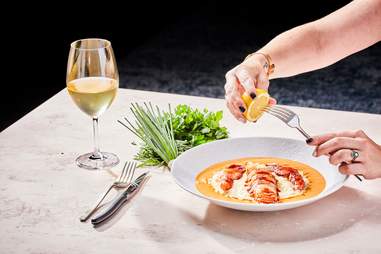 Winter Wonderland

| Hardy Wilson
Friday, November 27 - Sunday, November 29
The Vault Garden/Financial District
The Vault Garden has transformed into a Winter Wonderland for the holiday season. The new expansive setup is tented and heated with lots of cozy holiday decor and twinkling lights. There's an a la carte menu, but if you want to really get into the holiday spirit, order the prix fixe menu that includes prime roast, pommes anna, roasted carrots, and yorkshire pudding. This weekend there will be $3 sherry cobblers on Friday, a tree lighting on Saturday, and a
Japanese whisky dinner
on Sunday.
Cost
: $$; prix fixe is $75 per person; whisky dinner is $125 to $195
Friday, November 27 - Sunday, November 29
SFSPCA.org/holiday-windows
You won't be able to press your nose against the windows of Macy's this year to see all of the dogs and cats that are up for adoption, but you can still see them in virtual windows on the SPCA's website. (Warning: You may lose large chunks of time to this activity and/or find yourself filling out an application to adopt one of the furry friends.)
Cost
: Free, but the SFSPCA is always in need of donations
Courtesy of The Guardsmen
Saturday, November 28 - Sunday, November 29
Festival Pavilion at Fort Mason
Every year since 1947, The Guardsmen organization has sold Christmas trees to benefit at-risk youth in the Bay Area. Volunteers do everything from securing your tree to the top of your car to driving delivery trucks to making sure you find a tree that brings tidings of comfort and joy to your home during the holidays. The lot is open from November 28 to December 18 and reservations are available for shopping for peace of mind and social distancing.
Cost
: $50 to $950 depending on the tree you choose. All proceeds help give at-risk kids the opportunity to attend summer camps, after school programs, private schools, and more
Sunday, November 29
North Beach
Recreation Sound Systems, Local Maker Mart, and Cafe Sport are teaming up for an outdoor brunch with music, art, mimosas, craft cocktails, and more. Safety will be a top priority and reservations are encouraged so everyone doesn't try to get a table at the same time.
Cost
: $10 per person for a table (four max) and $20 per person for a cabana (six max) + food and drinks
Sunday, November 29
Online
Forget about 2020's not-so wonderful life at this online roast of the 1946 Christmas classic. This comical and interactive event features comedians lampooning the movie and its existential crisis, and also has a drinking game option if drinking at noon on a Sunday feels like something you could get into right about now.
Cost
: Free
Sign up here for our daily San Francisco email and be the first to get all the food/drink/fun SF has to offer.

FYI: We've also got you covered with comprehensive guides to NYC, Chicago, LA, Miami, DC, Austin, Boston, Denver, Dallas, Atlanta, Phoenix, and San Diego -- just in case you're ever out of town.
Daisy Barringer
is an SF-based freelance writer who is taking advantage of these strange times by exploring San Francisco on foot. Follow her on Instagram
@daisysf
to see where she goes next.