San Francisco
Presented By
Everything Fun to Do in San Francisco This Weekend
A new night market, art show, SF musical hall of fame, and more!
Presented By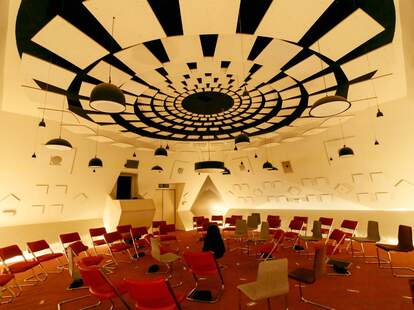 One day we will stop talking about pandemics and vaccinations and social distancing and wearing masks, but today is not that day. It is, however, getting closer because 50% of eligible San Franciscans are now fully vaccinated (with over 70% finished with the first shot). Pat yourself on the back if you can lift your sore arm (or, even better, have a friend you haven't seen in months do it) because those numbers are impressive. And with impressive numbers comes freedom. Freedom in the form of a new night market, an art show, a mashup dance(ish) party, and lots more weekend fun.
Friday, May 7
District Six/SoMa
SoMa StrEAT Food Park has rebranded as District Six, and this weekend the venue is hosting its first-ever night market complete with food trucks, cocktails, cool things to buy, and more.
Cost: GA is free. A table reservation for six is $25.
Friday, May 7
Various SF merchant corridors
Come out of your COVID cocoon to take pics in front of 13 nine-foot butterflies made of flowers and other natural materials that are installed all over the city in honor of Small Business Week. The sculptures were created by designers from the San Francisco Flower Mart, one of SF's oldest legacy businesses, and Friday is the last day they'll be spreading their wings, so don't miss your chance. And maybe pop into a small business and see if you can support them while you're there.
Cost: Free
Friday, May 7–Sunday, May 9
Terra Gallery/SoMa, South Beach
While some of us were spending the last year binging Netflix shows, the Bay Area's amazing art community was busy creating paintings, sculptures, films, photography, music, and so much more across all kinds of mediums. Check out the in-person "Local Love Spring Art Festival" at Terra Gallery to show your support, listen to some music, enjoy some food and drink, and shop local vendors.
Cost: $30
Friday, May 7
Streaming
We're still a ways away from being able to pop a gummy and then feel our way through the Exploratorium's beloved Tactile Dome. Still, you can show your support for the interactive science and art museum by attending "Party at the Piers: Emergence" at 6 pm. The gala promises to "inspire your curiosity" and "delight and surprise" you.
Cost: $40 for livestream access or $200 for livestream access and an exclusive event-themed gift.
Advertisement
Tanqueray
Weekend plans change fast, so grab a drink that's ready when you are. Tanqueray's Crafted Gin Cocktails come ready to drink and are the perfect addition to any occasion. Made with real Tanqueray gin and natural flavors, they deliver premium, bar-quality cocktails whenever you want. Grab a can and enjoy.
Saturday, May 8
DNA Lounge/Mission
Drink cocktails, eat pizza, and dance in your seat so as to stay socially distanced at DNA's Bootie Mashup party. As the name implies, there will be all kinds of mashups—pop, throwback, hip hop, and more—so there's guaranteed to be something for everyone. The DJ will be spinning inside the club, but there will be sound and video for the parklet.
Cost: Admission is free
Friday, May 7
Audium/Lower Pac Heights
Audium, SF's unique theater/sound sculpture, has reopened for small private groups. The new "Sound Hour" show will take you on an auditory journey all over San Francisco that promises to leave you feeling calm and relaxed.
Cost: $100 private booking includes up to four people. Each additional person is $25. No more than ten people per booking. Reserve your spot ASAP as tickets are selling fast.
Saturday, May 8
Polk Gulch/Lower Nob Hill
Quick! When you think of Bay Area music, which band or musician pops up first? If your answer was Green Day, Santana, Janis Joplin, Metallica, Sly and the Family Stone, Faith No More, E-40, or Huey Lewis, you'll be happy to learn they are all featured (plus so many more) in this new Music Hall of Fame that opens on Saturday. The grand opening takes place all day, but if you can't snag a ticket, the museum will be open seven days a week.
Cost: Tickets start at $5
Call your mom or a mom you love
Sunday, May 9
Everywhere
Sunday is Mother's Day, which means moms around the country will be awakened by over-excited children serving an inedible breakfast in bed when all they actually want is to sleep in undisturbed or get alone time somewhere other than the shower. If you're reading this, those days are long gone, but you can still call your mom—or your mom friends—and celebrate the fact that they brought life into this crazy world of ours. Even better, take them to brunch. EPIC Steak and Waterbar are both offering a three-course prix fixe menus with views of the Bay for $60; the Magic Flute's charming garden will charm any mom—the restaurant is serving its usual brunch menu; Presidio Social Club Exchange has expanded its patio and is now open for brunch, and you can pre-order a flower arrangement that will be on the table when you arrive; Zazie isn't accepting reservations, but if you're willing to wait, your patience will be rewarded with a gift for all moms. You can also head to the Ferry Building where you'll find all kinds of pop-ups just for Mom, including a flower wall installment and free portraits, as well as lots of dining and shopping options. Prefer to enjoy brunch at home? Cassava is offering a five-course supper for four that includes Dungeness crab cakes and lemon-almond meringue pie for $195 with pick up on Saturday and Sunday.
Cost: Varies—and it can't hurt to also send some flowers.
Sunday, May 9
Curio/Mission
Outdoor brunches paired with drag shows are giving us life these days, and we hope they're here to stay. This Sunday at 12 pm and 2 pm, Curio is hosting Rexy's Golden Birthday Brunch featuring music by Chico Chi and performances by some of SF's fiercest queens who will be serving up lewks and laughter. Even better? All of their moms will be there!
Cost: $15. Reservations are required and can be made for four or six people by emailing powertothepeoplesf@gmail.com
Daisy Barringer is an SF-based freelance writer who is taking advantage of these strange times by exploring San Francisco on foot. Follow her on Instagram @daisysf to see where she goes next.