12 Actually Fun Things to Do in San Francisco This Weekend
All-day comedy, an Oktoberfest block party, Shakespeare in the Park, and more.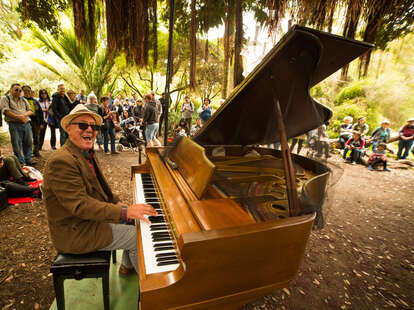 Photo courtesy of San Francisco Botanical Garden
There's so much fun stuff to do this weekend that you wouldn't even have noticed that the North Beach Festival that was postponed until this weekend is now not happening at all (it'll be back next June at its regularly scheduled time). So forget what we just said and head out to see a super cool floating art installation, listen to live music in the form of several concerts (one of which involves pianos in a garden), check out a couple of festivals with good food and lots of things to buy from local craftspeople, laugh at a free all-day comedy show, soak up some free culture at Shakespeare in the Park, drink rosé and play bocce in a gorgeous garden, and more. What was that about North Beach? (Exactly.)
Friday, September 17
Schroeder's
Financial District
Where better to celebrate Oktoberfest than at the West Coast's oldest German beer hall? Yup, that's right: Schroeder's famous Oktoberfest block party returns on Friday from 3 pm to 11 pm. The party starts outside with live music, beer games, shots, sausages, and lots of beer. Show up in costume and get your first beer on the house.
Cost: Admission is free.
Friday, September 17–Sunday, September 19
All across the San Francisco Bay
"Night Watch," an installation by artist Shimon Attie consists of a barge with a 20-foot LED screen showing portraits of refugees granted political asylum in the US. The barge will first be viewable Friday night at Fort Mason (7:15 pm) and will then float along the shoreline with ideal viewing spots at Pier 15 (Exploratorium) and its last stop, Waterbar, where there will be music by Classical Revolution. The schedule is fairly similar on Saturday, but note that things may shift a little based on tides and weather. There are also events on land, including a launch party on Friday night at Fort Mason, art on the Salesforce Tower, art openings, cocktail parties, film screenings, and more.
Cost: Watching the barge is free; some of the other events require tickets.
Friday, September 17–Sunday, September 19
San Francisco Botanical Garden/Golden Gate Park
Flower Piano has returned with al fresco concerts among the gorgeous blooms and foliage of the Botanical Garden. There are 12 pianos throughout the garden, and anyone who wants can take their turn at tickling the ivories. There will also be professionals putting on mini-concerts throughout the weekend. Can't make it this weekend? Flower Piano runs through Tuesday.
Cost: Free for SF residents (tickets still required); $10 for non-residents.
Friday, September 17–Sunday, September 19
Church Barber & Apothecary/Hayes Valley
In honor of National Bourbon Month, Church Barber & Apothecary, a bespoke and 100% plant-based barbershop, is hooking anyone who comes in for a shave or a haircut with a taste of Russell's Reserve ten-year-old bourbon. No need to make a special request for your "Snip & Sip"; just book an appointment and show up.
Cost: Cuts run from $40-85
Friday, September 17–Saturday, September 18
Che Fico/Divisadero Corridor
Che Fico isn't officially reopened, but they're easing back into things with a series of pop-up dinners. First up: a pizza party where you'll be able to try new pizzas before anyone else. The three-course menu includes antipasti, one pizza, a bittersweet chocolate budino, and a glass of sparkling wine. Can't snag a ticket? There are more pop-ups in the pipeline.
Cost: $75 per person.
Friday, September 17–Sunday, September 19
Bricoleur Vineyards/Windsor
Spend an afternoon with your friends surrounded by gorgeous gardens while sipping rosé, enjoying a picnic lunch, and getting competitive over bocce. This experience is only available during the fall, so don't wait to book it.
Cost: It starts at $400 for four people and goes down the more you add (max 10).
Saturday, September 18–Sunday, September 19
Marin Center/San Rafael
TreasureFest has found a new home in Marin and is bringing the best of the Bay—live music, art installations from Burning Man, tons of food and drinks, and 300+ local and emerging brands selling their wares—for a weekend of family-friendly fun. Yup, even your leashed dog.
Cost: $25 at the gate.
Saturday, September 18–Sunday, September 19
Jerry Garcia Amphitheater/McLaren Park
SF's Shakespeare Festival did things a little differently this year, spreading out four episodes of Shakespeare's epic tale, "Pericles, Prince of Tyre," the first three of which can be watched on YouTube, and the last of which is being performed this weekend and next. You'll enjoy it even if you don't have time to catch up beforehand, and not just because the first half takes place in a brothel.
Cost: Free
Saturday, September 18–Sunday, September 19
Festival Pavillion/Fort Mason Center
Browse and shop for everything you can imagine someone could make—art, clothing, jewelry, homewares, ceramics, mezcal, soaps—and more at this festival featuring over 250 West Coast creators. There will be food and drinks, but you'll have to consume them outside in designated areas.
Cost: Admission is free.
Saturday, September 18
Speakeasy Ales & Lagers/Bayview-Hunters Point
Celebrate our September summer at a festival put on by Sauce Fam Collective, Frisco Slums, and Speakeasy Brewery. The fun goes from 12 pm to 7 pm, and there will be music from local bands and DJs, all kinds of good food, shopping by some cool SF vendors, and plenty of beer.
Cost: Free
Sunday, September 19
Robin Williams Meadow/Golden Gate Park
Comedy Day is back this Sunday with 40 comedians performing for five hours on one stage. With that many people making their best jokes, there's sure to be at least one (or 20) who makes you laugh. Bring a blanket, a picnic (alcohol is allowed; glass bottles are not), and settle in for some free fun.
Cost: Free
Sunday, September 19
Dirty Habit/SoMa
"If you build it, they will come," which is why Dirty Habit is bringing back its Sunday movie nights for fall. Doors open at 7 pm. The movie starts at 8 pm. And there will be lots of cocktails and food for purchase. Best of all: each movie will be paired with a non-profit, and a portion of proceeds will go to that cause. This week: The Bay Area Sports Hall of Fame, which supports Bay Area youth sports programs.
Cost: $17
Daisy Barringer is an SF-based freelance writer who is taking advantage of these strange times by exploring San Francisco on foot. Follow her on Instagram @daisysf to see where she goes next.