Everything Fun You Can Do in San Francisco This Weekend
Food and street fests galore, a Tiki bar crawl, the annual Jerry Day celebration, and more.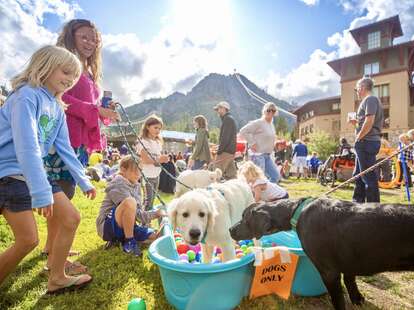 Photo courtesy of Palisades Tahoe
This is an especially amazing weekend for anyone who enjoys any of the following: eating tasty food, sipping delicious drinks, and listening to amazing live music. The only drawback is you're going to have to make some tough choices between a bunch of different festivals, like the FoodieLand Night Market, California Garlic Festival, Laurel Street Fair, Gravenstein Apple Fair, Pistahan Parade & Festival, and more. This weekend also highlights an Anchor Steam #SteamWeek kickoff party, cocktails at the reimagined Bar Agricole, a "Peculiar" pop-up, a Tiki bar crawl, the annual Jerry Day celebration, and more. For more fun stuff to do in San Francisco anytime, check out our summer guide.
Friday, August 12–Sunday, August 14
Golden Gate Fields/Berkeley
Travel to an Asian-inspired night market at FoodieLand's three-day festival that's a dream come true for anyone who loves to eat. There will be over 150 food vendors selling everything from Oxtail Cajun Mac and Cheese to whole grilled lobsters to Japanese souffle pancakes to deep-fried Oreos. There will also be merchants selling everything from crystals to plushies to stickers to jewelry to art, and, of course, there will also be a full bar.
Cost: Admission is $5 to $7, and tickets must be purchased on Eventbrite.
Friday, August 12–Sunday, August 14
SoMa
Head to East Cut to watch movies on the 23-foot-tall LED screen while lounging on bean bags or sitting in a deck chair and wearing silent disco-style headphones. This weekend's features include Back to the Future, Ratatouille, Clueless, Little Miss Sunshine, and more. Stop by the concession stand for popcorn and cocktails before you settle in.
Cost: GA: $18.75
Friday, August 12
Alfresco Dining Park/Alameda
Spend the evening reveling in a mini-Menagerie of "oddities and curiosities, bizarre art, and acrobats" at this pop-up where you can shop, eat, drink, and have your tarot cards read.
Cost: $5 Admission
Friday, August 12 – Saturday, August 13
Mission
At the beginning of August, Bar Agricole opened a first-of-its-kind tasting room dedicated to celebrating single-origin spirits. Sip single-barrel, single-origin whiskeys, biodynamic gin, agave spirits, bespoke vermouths, amaro, and more from Bar Agricole's new spirits line, which are all sourced directly from small producers and with minimal interventions so that the entire process can truly shine. There are guided and unguided tasting experiences, plus cocktails and a food menu featuring snacks of all sizes, including a flatbread, burger, and more.
Cost: Drinks range from $15 to $25
Saturday, August 13
Check-in at Mayes Oyster House/Lower Nob Hill
The weather this weekend may actually feel tropical (for SF). Enjoy it as you travel from bar to bar during a Tiki Party Pub Crawl. Participating bars will have Tiki decor, tropical treats, and drink specials, including $3 beers, $4 shots, and $4 cocktails. Participating bars include Mayes, McTeagues, Route 101, R Bar, Lush Lounge, Hanaro, Amsterdam Cafe, El Lopo, California Jack's, Wreck Room, and more.
Cost: $19 to $25
Saturday, August 13
McLaren Park and the Excelsior
Get ready to Ramble on Rose because Jerry Day is kicking things up a notch this year. Saturday will be the annual music festival at Jerry Garcia Amphitheater in McLaren Park, followed by all kinds of post-show entertainment at venues like the Dark Horse Inn, Broken Record, and Recovery Room. And then, on Sunday, if you managed to snag tickets, it will all culminate in a Phil Lesh and Friends show at Stern Grove.
Cost: Free
Saturday, August 13
Oakland
At the 21st Annual Laurel StreetFair World Music Festival, you'll find live music from performers like Ahkeel Mestayer Quinet, Bayonics, and Fogo Na Roupa, plus a beer garden with over 20 beers and ciders, a kids' carnival, artisan vendors, all kinds of food trucks, and more.
Cost: Free
Saturday, August 13–Sunday, August 14
Yerba Buena Gardens
The annual Pistahan Parade & Festival celebrates Filipino and Filipino-American arts and culture with colorful floats, marching contingents, art pavilions, and stages highlighting music, dance, martial arts, art, crafts, cuisine (including eating contests), and more. The parade takes place on Saturday at 11 am and begins at Civic Center before traveling along Market Street.
Cost: Admission is free
Saturday, August 13–Sunday, August 14
Sebastopol
Head to "the sweetest fair in Sonoma County" this weekend for two days of apple cake, apple fritters, apple juice, apple butter, and, of course, apple pie, as well as live music on two stages, beer, cider, and wine, all kinds of demonstrations (goat and cow milking, sheep shearing, chicken keeping), vendors selling jams, honey, and other farm-fresh products, plus lots of animals to pet (llamas, mini horses, sheep, piglets, and more).
Cost: GA is $18; VIP is $125
Saturday, August 13–Sunday, August 14
San Joaquin Fairgrounds/Stockton
Take a stroll down Garlic Alley at the California Garlic Festival, where you'll find garlic fries, garlic pesto pasta, garlic mushroom and onion bread bowls, and even garlic ice cream. There will also be cooking demos, a low rider and muscle car show, a petting zoo, carnival rides and games, and more.
Cost: $15
Saturday, August 13–Sunday, August 14
Palisades Tahoe
Planning on escaping the city for the weekend? Head to Tahoe and get funky in the Village at Palisades, where there will be live music on two stages, beers from a bunch of different breweries, tasty food, and more, all benefiting the Humane Society of Truckee-Tahoe.
Cost: Tickets start at $20
Sunday, August 14
Public Taps/Potrero Hill
Celebrate America's first craft beer at a #SteamWeek celebration/launch party/merch drop on Sunday afternoon. Be the first to shop Anchor's limited Steam® X CULK capsule collection from SF-based graphic artist Sam Culkins and CULK. Plus, enjoy special Anchor Steam flights, Anchor Steam beer-battered fish tacos from Sam's Chowder Mobile ($4.15), music from a DJ spinning vinyl, games, prizes, and more. The fun goes from 12:30 pm to 4 pm.
Cost: Admission is free
Daisy Barringer is an SF-based freelance writer who is taking advantage of these strange times by exploring San Francisco on foot. Follow her on Instagram to see where she goes next.