Everything Fun to Do in San Francisco This Weekend
Including a ride on that fancy new Ferris wheel.
Bust out your cozy sweaters because SF will finally have some crisp fall weather this weekend, as well as plenty of activities to do outside, including Eat Drink SF's opening night dinner, a pumpkin patch that benefits at-risk youth, a new Ferris wheel in Golden Gate Park, live art and performances at Fort Mason, and a fair on Telegraph Avenue. For those who prefer to stay in their pajamas and cozy up under a blanket, there's plenty for you as well, including great SF Restaurant Week deals (for the first time ever, some places are doing takeout and delivery), a free stream from the SF Opera, not-to-be missed art from people who are incarcerated in San Quentin, and an online roast of "Scream." Also, because you probably haven't heard it enough: vote early if you can!
Friday, October 23 - Sunday, October 25
Various restaurants and virtually
Eat Drink SF 2020 has a lot on its plate this year with 10 days of in-person and virtual programming that will show off SF's culinary culture at restaurants, as well as from the comfort of your couch. The opening dinner at The Vault Garden on Friday, October 23, offers "A Taste of San Francisco" with dishes from some of the city's top chefs. The deets on virtual programming, including talks about the state of SF's restaurant industry and chef demos, can be found here.
Cost: Opening dinner is $175; most of the virtual programming is free
Friday, October 23 - Sunday, October 25
At the restaurants, as well as some takeout and delivery
Our restaurant scene needs your support now more than ever and SF Restaurant Week is a great way to show your love while eating good food. This year will be a little different with a lot of restaurants offering deals on prix fixe menus that you can enjoy indoors or outdoors at the restaurant, as well as at home. There are a lot of participants, including spots like Fiorella, One Market, Rose's Cafe, Son's Addition, Wayfare Tavern, and Zero Zero. It kicks off this Friday and goes through Sunday, November 1, so you have plenty of time to eat at tons of fantastic places.
Cost: Two-course lunches: $10, $15, and $25; three-course dinners: $25, $40, and $65
Friday, October 23 - Sunday, October 25
Fort Mason
This weekend, the Guardsmen (who have been helping at-risk youth since 1947) are helping you get in the fall and Halloween spirit with a pumpkin patch pop-up that's all for a good cause. There will be many things pumpkin (plaid, costumes, food, drink), as well as a carving contest, Halloween music, and more. It's a great way to pick out all of your pumpkins for decorating and carving while also doing something to help those less fortunate.
Cost: $
Friday, October 23 - Sunday, October 25
Golden Gate Park
The California Academy of Sciences has been keeping us entertained with virtual programming for the past six months (and that will continue), but now you can also visit the aquarium/rainforest/natural history museum in person (the planetarium is closed for now). There are a couple of new exhibits, including one on venomous species, but all of your old favorites will be there as well. Plus, the penguins will all be dressed up in black tie to welcome you back. Advanced reservations are required.
Cost: Adult tickets range from $32.75 to $35.50
Friday, October 23 - Sunday, October 25
MoadSF.org
The Museum of the African Diaspora is presenting "Meet Us Quickly: Painting for Justice from Prison," works from men who are incarcerated at San Quentin in the form of linocut prints, acrylic paintings, ink drawings on paper, and collage, as well as an essay about "what art means to people behind bars" (that touches on the COVID crisis at the prison). You can see it all online through December.
Cost: Free
Friday, October 23 - Sunday, October 25
Pacific Heights
The Haas-Lilienthal House, a Queen Anne built in 1886, is going from gorgeous to ghoulish for five nights only. Explore the museum by flashlight while listening to a spooky audio tour -- one of very few in-person Halloween-esque things you can do this year. Groups are limited to four
Cost: $25 per adult; Proceeds go to the continued upkeep and maintenance of the Haas-Lilienthal House
Friday, October 23 - Sunday, October 25
Golden Gate Park
If you've been to Golden Gate Park any time since March, you've likely noticed the huge Ferris wheel that's been hanging out sans buckets in the Music Concourse. Well, the gondolas have finally been attached to the observation wheel and now you take a ride 150-feet into the air to see SF in a whole new way (a perfect way to celebrate the park's 150th birthday). Reservations are required and gondolas are all private for your group. (Don't worry, if you can't make it this weekend; it will be around until at least next May.)
Cost: GA (9 to 12 minute ride): $18; $50 for VIP (a 20 minute ride in a fancier gondola)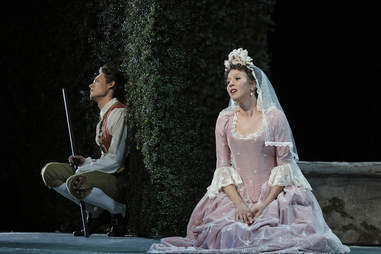 San Francisco Opera

| Cory Weaver
Saturday, October 24 - Sunday, October 25
SFOpera.com
The San Francisco Opera is streaming Mozart's The Marriage of Figaro this weekend, a tale about romance, scoundrels, and all of the hilarity that comes with it. Streaming starts on Saturday at 10am and ends at midnight on Sunday.
Cost: Free
Saturday, October 24 - Sunday, October 25
Fort Mason
The San Francisco International Arts Festival is putting on "socially enlightened" and "physically distanced" outdoor performances "focused on increasing human awareness and understanding" this weekend. There will be dance, puppetry, storytellers, music, and more at three open air venues (all within walking distance of each other) from noon to 6pm both days.
Cost: $ to $$ depending on how many performances you want to see
Saturday, October 24
Vimeo
Front Row Film Roast is taking on a Wes Craven classic this weekend with a roast of 1996's Scream. The fun starts at 6:30pm with some drinking games and then the movie/roast starts at 7pm. Wear costumes, make your own jokes in the chat, and maybe even win some prizes.
Cost: Free
Saturday, October 24
YouTube
The Novato Theater Company is raising money this weekend with a live Fright Night performance that will showcase how-did-he-do-it magic from two magicians, horror-themed songs from local performers, an auction, and more. The show starts at 7pm.
Cost: Free, but buying something at the auction is appreciated
Sunday, October 25
DeadHeadLand.com
Put on some tie-dye, light a joint, and get ready to dance in your living room. Grateful Day Fest is virtual this year with a live stream of Grateful Dead tribute bands helping you tune in (and drop out) for a socially distanced concert. The jamming starts at 1pm and goes until 7pm.
Cost: Free
Sunday, October 25
Berkeley
This Sunday, Picnic on Telegraph will bring out the socially distanced masses to explore 12 (newly repaved) blocks of Telegraph Avenue with sidewalk sales, free fitness classes, restaurants with outdoor seating, and more. The festival goes from 11am to 8pm.
Cost: Free
Sign up here for our daily San Francisco email and be the first to get all the food/drink/fun SF has to offer.
 
FYI: We've also got you covered with comprehensive guides to NYC, Chicago, LA, Miami, DC, Austin, Boston, Denver, Dallas, Atlanta, Phoenix, and San Diego -- just in case you're ever out of town.
Daisy Barringer
is an SF-based freelance writer who is taking advantage of these strange times by exploring San Francisco on foot. Follow her on Instagram
@daisysf
to see where she goes next.