Everything You Can Do in San Francisco This Weekend
While being restricted to your home isn't exactly fun, it doesn't mean that there isn't fun to be had.
Even thinking about "fun things to do" right now feels off, amid an ongoing pandemic and widespread protests against systemic racism and police brutality brought on by the death of George Floyd, an unarmed Black man who died at the hands of police in Minneapolis. What we want to offer with this particular weekend guide are a couple of things anyone, whether sheltering-in-place or leaving the house, can do to support our Black community and a few things to help your mental health and help you navigate these unprecedented times. No matter what, if you leave the house, don't forget your face covering, as it is now required when you're within 30 feet of anyone you don't live with.
All the time
Everywhere
Whatever else you do this weekend, take a second to do your part and make the community we live in a better place for all its residents. Here's our guide to doing that. 
Friday, June 5
Embarcadero
Critical Mass has organized a George Floyd Solidarity Ride on Friday that starts at Embarcadero and Market at 5:30pm. Not an avid cyclist? Don't worry. Bikes, trikes, handcycles, scooters, skates, roller blades, boards, and unicycles are all welcome at this nonviolent protest. Bring signs, chants, your spirit, and, of course, your mask.
Cost: Free
Friday, June 5
Zoom
A lot of white people aren't quite sure how to speak out about police brutality and support their Black community right now, but it matters that you're willing to learn. Showing Up for Racial Justice is hosting an hour-long Zoom gathering to provide concrete steps white people in the Bay can take to demand an end to police brutality against Black communities and other people of color. Can't make it on Friday? There will be other Zoom meetings about the same topic on June 8, 15, 22, and 29.
Cost: Free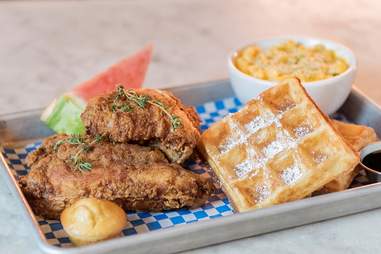 Courtesy of Little Skillet
Friday, June 5 - Sunday, June 7
Various locations 
Support the Bay Area's Black restaurant owners by ordering a meal from one of their restaurants. Not sure what the Black-owned restaurants in SF are? San Francisco Chronicle restaurant critic Soleil Ho was kind enough to create a list.
Cost: Cost of the meal, but it's always cheaper and better for the restaurant if you order takeout directly from them
Friday, June 5 - Sunday, June 7
Various locations
Looking for an easy way to help support the Black community? Something simple we can all do is shop at Black-owned businesses. Bay Area Black Market's website has a list of businesses that sell clothing, beauty, cuisine, spirits, home items, services, and more, many of which have websites, so you don't even have to go outside if you don't want to.
Cost: That's up to you
Friday, June 5 - Sunday, June 7
TheCMJ.com
Predicting the Past: Zohar Studios, The Lost Years, was only open for six hours before COVID-19 forced the museum to close its doors, but now you can see the installation, a tribute to Shimmel Zohar, a 19th-century Jewish immigrant and photographer who founded the enigmatic Zohar Studios in NYC, by Los Angeles-based (but raised in the Bay) artist Stephen Berkman, virtually. There are photos of "conjoined" twins, fraternal furriers, and a solipsist society, in case your curiosity wasn't piqued already.
Cost: Free
Courtesy of San Francisco Botanical Garden
Friday, June 5 - Sunday, June 7
Golden Gate Park
As part of phase 2A (which lasts through June 14th), the Botanical Gardens in San Francisco were allowed to reopen. Get outside, breathe some much-needed fresh air, and "travel the world in 55 acres." This stunning urban oasis features more than 9,000 plants from around the world, and is the perfect mini-break from everything going on around us.
Cost: Free for SF residents
Friday, June 5 - Sunday, June 7
YouTube
It could be a while before we're able to sit in a theater and watch this live magazine that features never-before seen or hear stories from writers, filmmakers, photographers, and comedians told through words and multimedia, but you can stream the latest show -- all originally performed live and at home -- on YouTube. It's not exactly the same as being there in person, but it is still beautifully produced and performed.
Cost: Free
Friday, June 5 - Sunday, June 7
Sonoma
Tasting rooms in Sonoma still aren't open, but right now you can go on a leisurely stroll through Donum Estate's open air sculpture garden. The guided tour led by an experienced host includes more than 40 sculptures by world-renowned artists, and though you can't consume wine on the property, you can definitely buy some before you leave to enjoy at home. Tours are by appointment only and are for groups of six or less.
Cost: $50 for non-members; free for wine club members
Sunday, June 7
Livestream
Tortellini tastes good pretty any way you serve it: in a soup, tossed in a salad, on a plate with a simple sauce, or even in a casserole. Want to learn how to make the delicious filled pasta? Chef Joe is teaching a 1.5-hour class that includes everything you need to know from dough to filling, as well as sharing his favorite recipe for tortellini dough. 
Cost: $20
Sign up here for our daily San Francisco email and be the first to get all the food/drink/fun SF has to offer.
FYI: We've also got you covered with comprehensive guides to NYC, Chicago, LA, Miami, DC, Austin, Boston, Denver, Dallas, Atlanta, Phoenix, and San Diego -- just in case you're ever out of town.
Daisy Barringer is an SF-based freelance writer who is telling herself she will spend the weekend cleaning out her closets, but will probably end up watching "The Matrix" because somehow she's never seen that movie and now seems like the right time. Tell her how you're keeping busy on Twitter @daisy.