Everything You Have to Do in San Francisco This Week, 6/19-6/25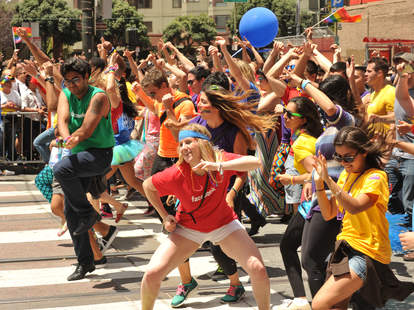 This week is all about Pride, so be sure to check out our Guide to Pride for all of the best ways to celebrate. But between changing out of your rainbow-colored tutu and into your rainbow-colored short-shorts, there's also limited-edition sandwiches to be eaten, new restaurants to check out, a ton of Summer of Love-themed events -- like light shows and a Grace Cathedral dance party -- and of course, plenty of excuses to drink beer, wine, and whiskey.
Sunrise is at 5:47am and sunset's at 8:24pm, which means it's officially the longest day of the year and what better way to make the most of it than by
drinking outside on a rooftop or patio
? That's rhetorical; there is no better way.
Edinburgh Castle Pub's famous weekly quiz night starts at 8:30pm. Bring your smartest friends because it's also known for being one of the city's most difficult.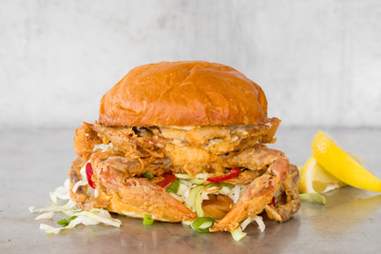 Gott's Roadside
Embarcadero
Gott's Roadside is serving a speciality Chesapeake Bay soft-shell crab sandwich with cabbage slaw, pickled red Fresno chiles, and green onions, all on a toasted brioche bun. Each location is only selling 36 per day. They're available every day until the soft-shell crab season ends.
The Conservatory of Flowers is celebrating the 50th anniversary of the Summer of Love with an art installation that will transform the building into a canvas of illuminated scenes through October. But if you go on the first evening of summer, you'll be treated not just to the first public display, but to a free concert with over 40 legendary musicians, including members of ALO, The Jefferson Airplane, Mother Hips, and more.
Bring a potluck dish to share at the 10th annual Bi-BBQ, which is going on in Dolores Park from 3:30 to 6:30pm, which, yes, is right during work hours, but it's SF, so luckily those aren't actually a thing.
ThirstyBear Organic Brewery

| ThirstyBear Organic Brewery
SoMa
On June 21, the free Drink SF Beer shuttle is starting at Bartlett Hall at 6pm and making stops at Thirsty Bear, Black Hammer, 21st Amendment, and Local Brewing.
It's the 30th anniversary of what had better be your favorite vampire movie, so head to Jack London Square for a free outdoor screening. Grab food from one of the nearby restaurants to enjoy... just maybe save the Chinese takeout for another night.
Nightlife is going all out for its Pride celebration with a drag show, costume contest (prizes from Good Vibrations), a "Hella Gay Dance Party," and multiple bars throughout the museum. Admission is only $15 for the 21+ party.
Grace Cathedral is throwing a Summer of Love dance party from 7:30 to 9pm. Five dollars gets you in for a night of dancing in the cathedral aisles to classics from 1967. And yes, like every Summer of Love party, you're supposed to wear flowers in your hair. Only this time God will be watching, so just do it.
Check out up-and-coming artists while eating all of the chocolate at the Chocolate and Art Show in the SOMArts Cultural Center. Tickets are $5 to $15 and the show starts both days at 8pm and ends at 2am.
Leo's Oyster Bar

| Leo's Oyster Bar
SoMa
Petit Marlowe just opened its doors, so be one of the first to experience this wine bar and oysterette that's sure to have lines out the door as soon as everyone hears about it.
It's a free community NIGHT at the Exploratorium, which means you can get in for zero dollars starting at 5pm. The hands-on museum is staying open late, so you won't get kicked out until five hours later at 10pm.
Head to Anderson Valley for the day and buy a Grape Escape passport to get tastings at some of the region's best wineries. The party kicks off at Handley Cellars at 10am and your $20 ticket gets you "Wine Club for a Day" discounts at all of the participating wineries.
The party starts at noon with performances from Kat Robichaud's Misfit Cabaret, DJ Holographic, The Stud, MVMNT, Cheer San Francisco, and more. The event is free, but bring cash for a donation at the gate.
Media Noche
Mission
Media Noche is bringing its happy hour to the weekend to celebrate Pride. From 3 to 6pm, you can get $6 midnight mimosas, $6 glasses of rose, and $4.50 Stillwater Yacht lagers.
Thousands of people will be lining the streets along Market (from Beale to 8th Street) starting at 10:30am to watch colorful floats and fleets of people celebrating diversity and inclusion.
Emily Stockton-Brown (CPCM)
Union Square
Burritt Room + Tavern is launching a new whiskey tasting series called "Sunday Spirits," showcasing rare releases and high-end bottles. The event goes from 6 to 8pm and is $35/person (which includes snacks, tastings, and discussion with the distillers).
Sign up here for our daily San Francisco email and be the first to get all the food/drink/fun SF has to offer.
Daisy Barringer is an SF-based freelance writer who is always down to learn about fun stuff to do in the Bay Area. Tell her on Twitter @daisy.