The Best San Francisco Cultural Experiences You Can Enjoy From Home
Take a break from Netflix.
If you'd asked us in March if we thought we'd be under a second stay-at-home order in December, we would have told you to not be so ridiculous and that we'd be having drinks in a month and then also asked if you knew anywhere to find toilet paper. And yet, here we are. For another month (at least) SF has laid down some pretty intense rules about where we're allowed to go and who we're supposed to see with the gist of it being: stay at home and don't interact with anyone outside of your household unless you're running errands. Or exercising outdoors in a group of 12.
Anyway, the point is: We're going to be stuck at home a lot this month, and even if the restrictions are lifted a little, there are a lot of us who are still trying to lay low until things are a little safer. And since you're very likely out of shows to watch and closets to organize, why not partake in some local cultural events? Whether it's enjoying live theater, watching a drag show, laughing at some comedy, or just watching penguins on a live-cam, there's actually more to do while we're stuck at home than one might think.
'Visit' some of SF's best museums and get hands-on with fun activities

The Exploratorium's 650+ hands-on exhibits may currently be hands-off, but there's a vast online collection of activities and apps to "explore, play, and discover," including ideas for ways to "tinker at home," a way to discover the secret colors in black ink, an "amazing water trick," and more. Sure, a lot of them are geared towards kids, but we're all basically just kids pretending to be adults, anyway, right?
The California Academy of Sciences is also in on the action allowing people to "explore deep sea, deep space, and everything in between from the heart of your living room" via the Academy @ Home, which includes live, weekly mini-classes with Academy experts, science-inspired games and activities, a weekly livestreamed planetarium show, and more. Missing Nightlife, the Thursday night party for grown-ups? Tune into YouTube on select Thursdays for a virtual event (BYO cocktails). And because we need cute animals now more than ever, the Academy of Sciences is also streaming its stingrays and penguin colony in HD.
Not to be outdone, the Monterey Bay Aquarium is besting them with 10 live-cam streams where you can birdwatch, see jellyfish drift and pulse, and hang out with some friendly otters.
You can also take a virtual tour of the Conservatory of Flowers, enjoy artists talks and education workshops "at" the Museum of African Diaspora, as well as see the moving works of 12 artists incarcerated at San Quentin, and #MuseumFromHome with meditative art videos and online tours of exhibitions from the Asian Art Museum.
Make some space in your living room and learn how to dance
Whether you want to learn how to hula, get your heart rate up while dancing to old-school hip hop, or practice your pliés, ODC has a ton of online dance classes for all levels that are streamed via Zoom for just $9 per class. Other options include pilates, samba, "house dance basics," modern dance, belly dancing, and more. (Maybe put the Doritos to the side for these. Or not.)
Attend poetry and book readings without getting off of your couch
Litquake didn't happen IRL this year, but a few months ago, the folks there created a virtual series of literary entertainment showcasing local authors, as well as some not local, but who had their books tours canceled, all of which you can watch on your own time. Green Apple Books is hosting virtual events, including one on January 15th with George Saunders and Tobias Wolff, and Booksmith has a bunch of those as well. Want to perform your own reading? Nomadic Press is hosting virtual open mics on Friday night. Each one is 90 minutes with 30 readers getting three minutes each.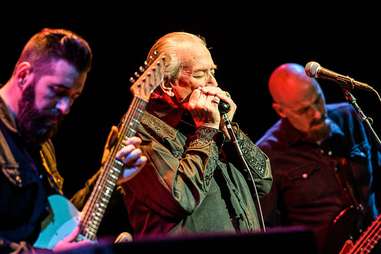 Listen to live musical performances
Bird & Beckett Books and Records is still hosting jazz musicians to play in its store and though you can't see them in-person, you can live stream the concerts in real time. SF Jazz is hosting a "Friday at Five" online concert series featuring exclusive footage from memorable shows. The SF Symphony's website has a ton of documentaries and concerts, live performances, and more, including explorations of famous composers alongside a one-hour concert program, all of which is free, and the SF Opera is streaming performance online and, when permitted, screening operas at the Fort Mason drive-in pop-up. And Bay Area metal legends, Metallica, are making streams of past concerts available on their Facebook page. Looking for something with a little more bass? Space Yacht, a party brand known for its presence on SF's EDM scene, is dropping new and underrepresented music weekly on Twitch.
Watch live plays from some of SF's premiere theatre companies
Berkeley Rep, a home for emerging artists and ambitious projects introduced "Rep On-Air" a few months ago, productions that feature "the kind of innovative storytelling that speaks not only to our time, but also to the themes of hope, compassion, and connection." Still to come is an "aural adventure" that takes the audience to different places in Berkeley and an adaptation of Virginia Woolf's The Waves.
A.C.T. is also creating ticketed productions that can be enjoyed at home, including virtual talks and plays by George Bernard Shaw and Thornton Wilder. Through December, you can tune into an immersive "radio" play production of A Christmas Carol, with carols, amazing acting, sound effects, and a timeless message that still resonates.
Shotgun Players has virtual programming planned through March 2021, including new and past performances, with all tickets on a pay-what-you-can scale with all proceeds going to paying the artists, production team, and staff members.
Lastly, San Francisco Playhouse is offering its 2020-2021 season in three acts, the first two of which are all virtual. Still to come in Act I: The Jewelry Box (through December 25) and Songs for a New World through December 31. Act II begins on January 1 and runs through the end of April and consists of three video on demand offerings.
You can't browse the shelves at the library right now, but you can get a library card online if you don't have one already and check out eBooks that go straight to your Kindle. (There's also front door pick-up service if you prefer to turn the pages yourself.) In addition, the library has taken almost all of it's programming and moved it online, including storytimes, book clubs, workshops, presentations, author talks, and tons more.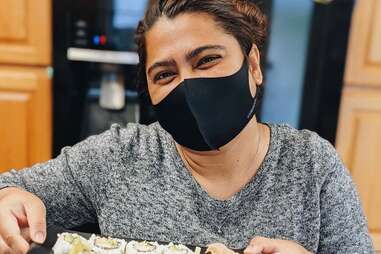 Take a cooking class
ChefsFeed is offering a slew of interactive virtual cooking classes for every palate. Learn how to make German pretzels, all kinds of pies, savory crepes, low ABV cocktails, Ethiopian cuisine, and pretty much anything else you can think of. There are also a few tasting classes where you get a box of deliciousness sent to you and then learn about it in a streamed presentation.
Cozymeal is still offering private in-person events with chefs, but if you're not comfortable with a stranger in your home, you can take tons of interactive online cooking and mixology classes. Learn how to make mai tais and Asian appetizers, pappardelle pasta from scratch, the fluffiest pancakes (while sipping mimosas), and more.
And for the vegans, Colleen Patrick-Goudrea is hosting real-time interactive classes where you can learn how to use a pressure cooker, make a hearty soup, discover everything you need to know about herbs and spices, and more. Have something specific you want to learn? She also offers "student's choice" classes.
Go to a drag show
When life's got you down, there's nothing like a fabulous drag queen to make you forget about all of your worries. For a little while, anyway. Check out Trish TV on Twitch featuring SF drag queens Cash Monet, Mary Vice, and God's Little Princess performing drag gaming, teaching dance classes, and so much more. The Stud is also bringing its popular "Drag Alive" show to the masses with a 90-minute show every Saturday at 6:30pm.
Laugh at a comedy show
Comedians love an audience, so there's no way they were going to let a ban on live shows keep them from trying to make you laugh, and a quick search will take you to tons of one-time-only shows, but we feel like you should have consistent laughter in your life, so here are a bunch of weekly performances to check out:
Crazy Funny Asians: "The only thing funnier than stand-up comedy is Asian stand-up comedy." Every Friday night at 8 pm live on Zoom.
Black Laughs Matter, a virtual comedy show featuring some of the Bay's top African-American comics. Every Saturday night at 8 pm on Zoom.
Starline Comedy Virtual Show: A different lineup every week, hosted by Irene Tu and Andrew Orolfo. Every Monday at 8 pm.
Live Comedy on Zoom: Co-presented with Punch Line SF on Wednesdays and national on Sundays. Every Wednesday and Sunday at 8 pm.

Sign up here for our daily San Francisco email and be the first to get all the food/drink/fun SF has to offer.
Daisy Barringer is an SF-based writer who told herself she would use this time to work on her book, but has instead caught up on any and all reality television. Follow her on Twitter @daisy to tell her about other virtual events she shouldn't miss.