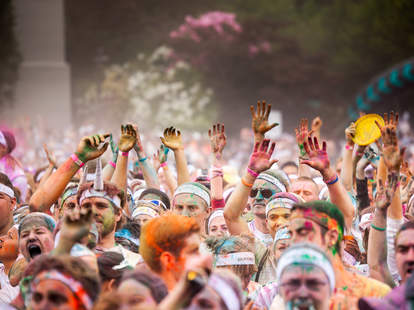 Everything You Have to Do in Seattle This Spring
We made it. Winter is ALMOST over. That means… well, it means the weather will pretty much stay the same in The Town. But it also means you're gonna need a whole bunch of new reasons to drag yourself out of the house and into the still-not-very-spring-like great outdoors. Luckily, we've assembled the master list of everything there is to do this spring in Seattle.
Seattle's original and incredibly entertaining mini-golf pop-up Smash Putt is going down for the last time every weekend though the end of April. Say goodbye and watch your golf ball get destroyed while you can.
As they go marching up 4th Ave, when thousands of Irish bands, bagpipers, dancers, and more revel in the annual St. Patrick's Day Parade.
The Seattle Web Fest is holding panel discussions and giving out awards... but most importantly, also screening 50 amazing web series produced in Seattle (and around the world).
Bourbon is great on its own (duh), but it's even better when it comes with bacon-based eats from a slew of Seattle purveyors like Pintxo, Uli's Famous Sausage, and more. Lucky for you there are two sessions, at 1:30pm and 7pm, and VIPs can get in even earlier.
The Irish-themed
Shamrock Shuffle Wine & Beer Walk
is serving up samples from 17 Washington wineries & breweries in the shops at Bothell's Country Village. Just buy a ticket, bring ID (and a glass), and you're all set.
Irish music, singing, dancing, films, vendors, and children's activities await you at the Irish Festival in the Seattle Center Armory. It's totally free.
Bacon Eggs & Kegs is back and packing the CenturyLink's north plaza and east concourse with dozens of vendors serving beer and cider, wine, Bloody Marys, and, of course, bacon-based brunch bites. And if that's not enough, there's lawn games to play while dueling pianos provide entertainment.
Do a 5K dash from Seattle Center to Downtown and back, and then head to the giant beer garden where everyone will be wearing green and putting all the calories they just worked off right back on.
Seattle's "biggest, geekiest tech party," the GeekWire Bash, is back. And with it comes ping-pong tables, dodgeball courts, foosball, arcade games, and much more -- including a ton of stuff to eat and drink.
Students at the Art Institute of Seattle share their fashion collections at the school's annual
fashion show
, which gives these amateur designers a chance to build relationships and showcase their creative work.
West Seattle's premier craft beer outlet is pouring over 70 different barleywines -- a strong, flavorful beer with wayyy more alcohol that most brews -- over three days at its annual Bacchanal featuring at least 30 local and international beers on tap each day.
Enjoy St. Patrick's Day-inspired apps, desserts, and a selection of Irish beers/specialty cocktails in the most Seattle way possible: on a three-hour cruise on Lake Washington and Lake Union.
Hit Bar Sue, Capitol Cider, Sam's Tavern, and tons more Cap Hill bars. All in honor of everyone's favorite patron saint and snake exterminator.
The Rotary Club's Debuts and Discoveries is bringing you samples from a ton of the state's newest wineries, breweries, distilleries, and cideries. There are food trucks too, and it's for a good cause. What more do you need?
Try dozens of Washington's best wines with gourmet appetizers at Taste Washington's annual Red & White Party on the waterfront. Scratch that, taste $175 worth of wines and gourmet appetizers.
The Market's Arcade Lights food festival brings a bunch of artisanal food, craft beer, and wine purveyors together -- even more than the farmers market usually boasts -- and gives you unlimited food for as little as $60.
Cask beer, or "real ale," is conditioned naturally without artificially introducing CO2 into the cask and poured by gravity or via a beer engine (best-named invention ever), and the Washington Cask Beer Festival has 85 of 'em from 40 Washington breweries.
A $20 ticket to Georgetown Bites gets you five bites and beverages at your choice of 28 locations in the South Seattle 'hood.
Score special three-course meals at more than 100 restaurants during Seattle Restaurant Week, which excludes Friday and Saturday... and lasts almost two weeks (April 2-6, 9-13). But still, it's worth it.
Hellbent's Brewshed Luau has poke and kalua pork bowls from the Big Boys Kainan food truck, pints of its own seriously good beer, and live music... you won't even notice you're eating/drinking for a great cause.
Seattle Mag takes brunch (and all things edible) pretty seriously, so you know the food at its Brunch Run is gonna be good… so good, in fact, that it helpfully scheduled a scenic 5K to help make up for it.
Try meatless edibles you'll actually enjoy at
Veg Out
, which is promising "the latest & greatest veg foods from some of the best chefs in Seattle and beyond."
The Seattle Scotch & Beer Fest is back with over 50 craft beers, flights of Scotch and Irish whiskey, specialty cocktails, and more.
Sakura-Con is back for the 20th time, celebrating everything Japan, from animation to video games and cosplay…. So much cosplay. Don't miss out.
BunnyCon: The Bunny Bar Hop is just what it sounds like -- 1,000 or so people, most of them dressed as bunnies, hitting bars all over Downtown Seattle all night long.
The Seattle Erotic Art Festival is an uncensored collection of art, films, and live performances from poetry readings to pantomime to acrobatic displays.
Stuff your face with cheese -- and meat plates -- paired with wine, beer, and cider from artisanal Northwest purveyors like Twin Sisters Creamery, Odin Brewing, etc. at the aptly named Cheese and Meat Festival.
Not to be confused with the above-listed Bourbon and Bacon Fest, the Bacon and Beer Classic is pouring craft beer alongside pork-based dishes from local restaurants (Dumpling Tzar, Ivar's Acres of Clams, etc.). Oh, and there's live music, dancing, games, and more.
There are so many extraordinary beers from the Northwest that Seattle Beer Week couldn't possibly last just seven days. That's why there are actually 10 days of tastings, beer dinners, and more.
Check out unique and imaginative games (including video, board, card, and more) at iFest, which celebrates indie game developers. Then cast your vote for the best ones.
The Taco Libre Truck Showdown is back and features dozens of taco trucks, a beer garden, mariachi bands, and the chance to crown Seattle's best Mexican street-food automobile.
Seattle Bike-n-Brews is probably the most Seattle event ever: a 30-mile bike ride that starts and ends at Georgetown Brewing and hits a bunch of breweries/brewpubs along the way.
Running a 5K? Sigh. Running a 5K wearing a white shirt while people bombard you with handfuls of colored cornstarch and foam as you pass by? Hell yeah!
SIFF's sprawling, almost month-long celebration of movies features dozens of screenings, plus premieres and other events attended by directors, actors, critics, and… well, you.
Sign up here for our daily Seattle email and be the first to get all the food/drink/fun in town.
Bradley Foster is a former Thrillist editor who will attend almost any event that involves bacon. Or beer. Or bacon AND beer. Or… oh, you get the point.