How to Support Seattle's AAPI Community Right Now
Stand in solidarity.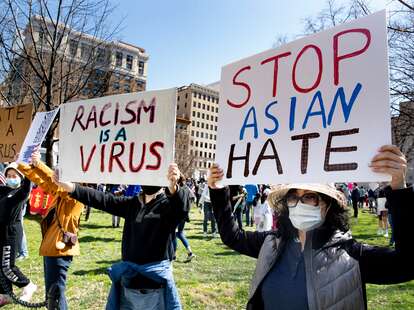 It's no secret that racism against people of Asian descent has been on the rise since the start of the COVID-19 pandemic. In Seattle, that rise has been a 55% increase—a statistic that represents a terrifying reality of what happens when hate crimes become more and more commonplace. On a national scale, the most recent, tragic example of this uptick in hate crimes falls to Atlanta, Georgia, where eight people were murdered on Tuesday, March 16. And when we think about these issues on a local scale, it's more important than ever to engage with, donate to, and stand in solidarity with Seattle's AAPI community. Support can take many forms: Maybe it's time to donate your time or money to a social justice-focused non-profit; maybe it's time you supported that new restaurant in your neighborhood that's owned by someone in the AAPI community. Most likely, it's time to do a little (or a lot) of both, and then some. Ahead, how to take direct action, condemn hate, and stand with Seattle's AAPI community.
Get involved with grassroots efforts
If you've yet to engage with the activism that is central to Seattle's vibrant AAPI community, there's no time like the present (and, while we're speaking in proverbs, tomorrow never comes—so don't wait). Consider getting started with direct action; last weekend's protest will certainly not be the last, and represents an opportunity to lend your physical presence to the demand that violence against AAPI folks is stopped (Seattle Protest Network and Youth for Defund Seattle PD are both good resources for keeping track of upcoming protests).
Seattle is also home to a lot of organizations that both accept volunteers and frequently host community events. United Territories of Pacific Islanders Alliance (UTOPIA) supports and uplifts the queer and trans Pacific Islander community in South King County; they facilitate programs specific to sex worker empowerment, COVID-19 support, and community organizing. Asian Pacific Islander Americans for Civic Empowerment (APACE) is a good place if you want to help folks register to vote. Musang's community kitchen is always accepting donations of non-perishable food items. F.I.G.H.T. WA (Formerly Incarcerated Group Healing Together) supports folks of Asian Pacific Islander descent who are currently incarcerated or who have been released (they are "always looking for volunteers"). And VietQ Seattle specializes in queer, Vietnamese-led community organizing. Nationally speaking, Stop AAPI Hate is the platform to use if you need to report violence against AAPI communities, no matter what city or state you're located in.
Chow down at AAPI-owned restaurants
At this point, we're all familiar with what happened in early 2020, when Asian- and Asian American-owned eateries were targeted at the beginning of the pandemic, and racist assumptions about their connection to coronavirus spread like wildfire. But for many businesses, that discrimination never stopped. It's now been one whole year since COVID-19 ripped us from any semblance of "normal life," and AAPI-owned restaurants continue to pay the price of xenophobia.
To that end, take this opportunity to show your support in the form of really, really good food: like pho from women-owned Phở Bắc and Phở Bắc Sup Shop, Filipinx staples from Beacon Hill's Musang, Hawaiian-Korean eats any of the three restaurants currently open under the Marination umbrella, Indian street food from Spice Waala, Japanese food via hidden gem Tsukushinbo, Vietnamese classics from Capitol Hill institution Monsoon, donburi from Fremont Bowl, seafood from Local Tide, or truly anything from the menu of Phinney Ridge favorite Teasome. This is (obviously) not an exhaustive list, but it should be plenty to get you started. Oh, and if you want to try cooking for yourself once in a while? We don't need to tell you that Uwajimaya is the store you need to visit if you find yourself in the I.D.