Phoenix Nightlife: What to Do After Dark
On average there are about 299 days of sunshine in Phoenix. That's... a lot of sun. And this annual average makes for a picture-perfect setting for a range of things to do, from adventurous activities like hiking and paddleboarding to spring training ball games, outdoor concerts, and festivals of all kinds. Yep, Phoenix is pretty damn great. And the nightlife scene, well, it's pretty damn great, too. Here's how to make the most of it. 
Tempe
If you've ever passed by Tempe Town Lake and thought to yourself, "Wouldn't it be cool to kayak there at night?" you're not the only one. Turns out there's a group that hits the water after dark a couple times a month. No kayak? No problem. Everything you need (including glow sticks) is included in the event registration fee. 
Sip drinks inside a hidden bar 
Citywide 
Sipping on cocktails in dark, hidden places is objectively more fun. There are a number of super-secret drinking dens around town that provide the opportunity to do just that, including Undertow, Rokerij, Melinda's Alley, Stardust Pinbar, and Straight Up. Now you just have to go out and find them. 
Downtown Phoenix
If you're not familiar with First Friday, please come out from under that rock. The longstanding monthly event brings out thousands to Downtown Phoenix's arts districts. Galleries, artist studios, collectives, museums, community spaces, and shops located throughout Roosevelt Row, Grand Avenue, and Calle 16 to the Warehouse and Central Arts districts all participate. Art Link's lesser known Third Fridays is equally as cool and is commonly referred to as "Gallery Night." Use these maps and trolly schedules to plot your arts district adventures. 
Have dinner in a fancy restaurant with a view
Citywide
There is just something magical about a restaurant with a great view. Restaurants like Top of the Rock, Compass Arizona Grill, Orange Sky, Different Pointe of View, Talavera, and J&G Steakhouse all take it to the next level, literally and figuratively, with their impressive panoramic views of the twinkly lights that make up the city skyline or the sweeping sunset-hued Sonoran desert landscape. If you're looking to make a reservation at a swanky restaurant where you can watch the sun go down these spots should be at the top of your list. 
The Hot Chick

| Tavits Photography
Hit the arcade bars 
Citywide 
Is Phoenix experiencing an arcade bar renaissance? Seems like it. There are dozens of arcade-themed spots around the city inspired by the '70s and '80s. Popular shows like Stranger Things hit us all with a strong shot of nostalgia and now people are flocking to the glow of the iconic arcade bar to reminisce in all those nostalgic vibes. Get your tokens and hit the arcade bar circuit, Thunderbird Lounge, Electric Bat Arcade at Yucca Tap Room, Linger Longer Lounge, Cobra Arcade Bar , and The Hot Chick are all good places to play for a high score. 
Go for a moonlight hike 
Citywide  
The Valley provides no shortage of hiking trails to discover. But exploring the urban trails during the daytime can be challenging, especially when temperatures peak in the summer, which is why most avid hikers get a sunrise start. If you're more night owl than early bird there are some options for you. South Mountain Park and Preserve, Phoenix's largest urban park, regularly hosts ranger-led moonlight hikes that depart from Pima Canyon. You can also hike under the stars at Lost Dutchman State Park. 
Desert Botanical Garden
Phoenix 
The Desert Botanical Garden is comprised of 140 acres of diverse and rare desert plant species. And it's one of only 24 botanical gardens accredited by the American Alliance of Museums. Basically it's a plant person's dream. And if you're a fan of the local music scene, you might like this spot too. It provides a pretty unique venue to take in some tunes. On select nights through the fall season garden goers can experience DBG's Music in the Garden concert series. The recurring events feature local artists that span a series of genres. And there's a selection of food, drinks, and even some boutique wines to savor. The garden also hosts nighttime flashlight tours over the summer months and Las Noches De Las Luminares in the winter. 
Downtown Phoenix
The Duce caters to crowds of all types. Whether you want to learn to swing dance or jump in the boxing ring for some old school fitness, they've got you covered. The Duce also offers a diverse lineup of weekly events that range from urban cowboy night to steamy evenings filled with live music and burlesque shows.
Get your reverse happy hour on
Citywide
Happy hour is typically reserved for the nine-to-five crowd. But you can snag discounts and deals on food and drinks at places like Valley Bar, Hula's Modern Tiki, Sushi Roku, The Dressing Room, and Taco Chelo for reverse happy hour, sometimes long into the night. Now that is truly something to be happy about. 
Downtown Phoenix
The titles of the big name blockbusters are not something that you'll see on the marquee at Film Bar. Instead, you can expect to find the names of independent films and art house classics on the list of what's showing. Come on, who really wants to watch another sequel of the same superhero movie we've all seen before? Plus, Film Bar keeps it fun with sing-along shows, an Arizona filmmakers showcase, live music parties, and like any solid indie theater, regular screenings of The Rocky Horror Picture Show complete with a local shadow cast.  
Downtown Phoenix
Each Thursday night you can join Heavy Pedal, a community bike ride that takes you through some of Downtown Phoenix's neighborhoods. There are two distinct rides to choose from. First, the Caliente ride, a fast-paced ride for riders who want to go fast and far. Next up is the Fresca ride, which is much more chill and conversational. Riders of all levels are encouraged to join. Both rides meet up at Crescent Ballroom at 7pm and 8pm, respectively. Stick around post-ride for discounts on drinks and smash some burritos with your new friends at Crescent.
Geisha A Go Go
Sing like nobody's watching 
Citywide 
Warm up those vocal chords, Phoenix. Whether you want to put on a big show and sing for the entire bar or if you would rather flaunt your stuff in a private karaoke room, bring your best to Kobalt in Phoenix, Geisha A Go Go or The Grapevine in Scottsdale, KTV Karaoke Cafe in Mesa, or August Karaoke Box and 414 Pizza in Tempe. 
Flex your mind muscles at a trivia night 
Citywide 
Quick! What is Phoebe's last name in the sitcom Friends? Do you know the answer? If your knowledge of all things obscure and, well, trivial, runs deep there's a good chance that you make a pretty great trivia partner. Take your trivia skills to Rott n' Grapes, Crescent Ballroom, GenuWine, Crown Public House, or Carly's Bistro to find out if you'll be crowned trivia champion. The answer is Bing, by the way. 
North Scottsdale
You don't have to be an architecture nerd to appreciate the immaculate detail and construction of Frank Lloyd Wright's winter home, Taliesin West. The iconic property in North Scottsdale was recently added to the UNESCO World Heritage List along with seven additional sites developed by Wright across the country. There are a handful of tours that take place at Taliesin West to get you acquainted with the unique property, including an after dark night lights tour.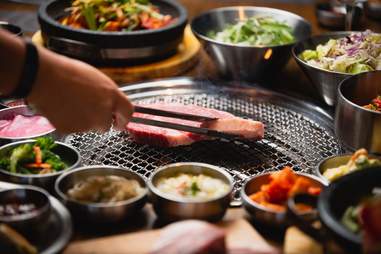 Sizzle Korean BBQ
Remedy your midnight munchies 
Citywide 
Please, whatever you do, skip the drive-thru next time you're out late and your stomach starts to rumble. The Valley is awash with joints that stay open late to cure your cravings for, let's say, Korean barbecue, ramen, and fancy burgers. Hungry for more? Check out these recs for late night eats.  
Watch your favorite comedian bring down the house 
We know Netflix has an incredible amount of comedy specials from some of the best comics in the game that are just a button-click away. But admit it, it's so much more fun seeing your favorite comedian refine their act on the road that you just can't get by watching at home. Put some pants on and get tickets to a show at Tempe Improv, Stand Up Live, or CB Live. House of Comedy and Stir Crazy Comedy Club are worth-checking out, too. And most of these clubs host open mics, if you've got the guts to go up on stage.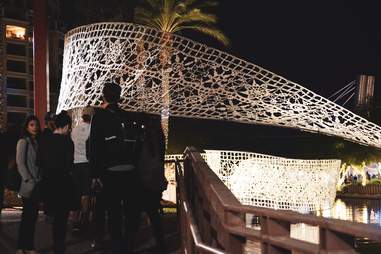 Canal Convergence

| Lauren Reichert
Discover art in Scottsdale
Scottsdale 
From fine art to public art, you can find it all in Scottsdale. You can also meet artists and tour the galleries as part of the Scottsdale Art Walk, an annual recurring series that's been taking place for more than four decades. Canal Convergence is a must-see, and features artworks from artists from around the world displayed along the Scottsdale Waterfront.
Phoenix 
Grab your favorite book and find a seat… at the bar? First Draft Book Bar at Changing Hands Bookstore tucked inside of The Newton is basically the stuff of any literary junkies' or logophiles' dream. The spot has happy hour every single day of the week and also hosts events ranging from author appearances to classes and workshops that include crash courses on storytelling and how to write poems.
Sign up here for our daily Seattle email and be the first to get all the food/drink/fun in town.
Lauren Reichert is a Phoenix-based multimedia storyteller and content creator. Her work has been featured in local travel guides and national publications. Follow her on Instagram @hungryinphoenix.