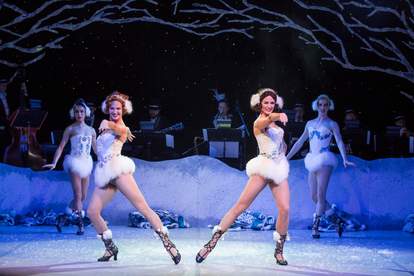 The Most Festive Things To Do In Seattle This Holiday Season
Christmas in Seattle is basically any day that isn't overcast between now and, like, April. But it's also an actual holiday that, along with Thanksgiving and New Year's Eve, inspires a slew of holiday events ranging from boozy pop up bars and dance parties to everything in between. And some of which you really won't wanna miss -- if only because all the Christmas lights will help you forget how frickin' dark it is outside. Check out everything fun happening all season long, right here.  
November 22 - December 29
T-Mobile Park
After a wildly successful first year, Enchant Christmas is back with a "mischievous" array of holiday attractions, including impressive light maze, light sculptures, a market curated by Urban Craft Uprising, and more. 
Cost: Tickets start at $19.99
Christmas Ship Festival

| Argosy Cruises
November 29 - December 23
Various Locations
A unique holiday tradition (it's even trademarked), the Christmas Ship Festival is basically a bunch of boats full of carolers that sail to a total of around 65 different Puget Sound communities over the course of a month and entertain people gathered on shore. 
Cost: Tickets start at $38 but it's free if you watch from shore
November 29 - December 23
Unexpected Productions' Market Theater
TheatreSports' take on Dickens' classic has been going strong as a holiday ritual since 1985. It starts with Ebenezer Scrooge, and then pretty much lets the audience fill in all the hilarious details like a live mad libs. There are a ton of shows, so you have no excuse to miss this fantastic tradition. 
Cost: $12-$15
November 25 - December 25
Roby Roy
For the third straight year one of Seattle's best cocktail bars is performing a "Miracle on 2nd" and transforming itself into an extravagant, Christmas-themed bar the month before the big day. The cocktails and glassware (Santa mugs, etc.) will come in tacky, but seasonally appropriate, and the drinks will have pop culture-inspired names like Yippie Ki Yay Mother Fu*ker. But underneath it all, this is still the Rob Roy, so everything will be damn good.
Cost: Pretty spendy for cocktails, but you've gotta get something nice for yourself, right?
November 29 - December 28
Pacific Northwest Ballet
We still miss the iconic Maurice Sendak-designed sets used by the PNB for 32 years, but their performance of the George Balanchine classic version (with sets/costumes by the guy behind beloved children's book, Olivia the Pig) offers all the holiday magic you need to make date night -- or an evening with the family -- special.
Cost: Tickets start at $31, which leaves plenty for post-performance cocktails
November 29 - December 1
Magnuson Park
Everything on sale at the GeekCraft Expo, which is taking over Magnuson Park's massive Building 30 for two days just after Black Friday, is handmade, limited production, and "totally nerdy", which makes it perfect for, well, us. And probably you too. 
Cost: Free to the public
December 5 - January 5
Can Can
This tiny subterranean cabaret in Pike Place Market is bringing back its holiday "carnival of merriment (that) glitters with the cheer of yesteryear." Only their twice-nightly shows aren't actually like any Christmas you remember… mostly because they involve scantily clad burlesque dancers. 
Cost: $40-$50 gets you in but it's more for the VIP seating and dinner
December 6 - 7
Magnuson Park
The Washington Brewers Guild is filling the old Naval Air Station's Building 30 with dark malty stouts, robust winter warmers, and barrel-aged beers from over 50 local beermakers (including some of the best in the state, like Fremont and Black Raven), and offering eats from a slew of notable food trucks.
Cost: Tickets are $35 ($40 at the door) and include a tasting glass and eight 5oz beer tastes
Christmas Lighting Festival

| Visit Leavenworth WA
December 6 - December 22
Leavenworth
The fake (but still totally picturesque) German village is the perfect place to enjoy a storybook holiday with seasonal lights twinkling on snow, roasted chestnuts, sleigh rides, and caroling during the town's annual Christmas Lighting Festival, each of the first three weekends of December.
Cost: You've just gotta buy enough gas to drive 117 miles there and back
December 6-8
Seattle Center Exhibition Hall
Seattle's largest indie craft show, Urban Craft Uprising, is basically your chance to buy all your Xmas gifts from over 150 crafters, artists, and designers. Can't make it? Don't worry, UCU also has a winter market in South Lake Union a couple days later. 
Cost: Free. Though a $1 donation is encouraged.
December 7-8
Magnuson Park
For the second straight year the crew from Mobile Food Rodeo is bringing over 100 local food trucks, street food, and other vendors to one giant space for a Winter Solstice Night Market.
Cost: Free… until you see/smell something you want to buy
December 8
Pier 66
KEXP is hosting a two hour, family-friendly holiday dance party at Bell Harbor with music from Eli Rosenblatt and Mikey Mike The Rad Scientist, plus snacks and hot beverages. But sadly, no adult hot beverages. 
Cost: Free
Land of the Sweets: The Burlesque Nutcracker

| The Triple Door
December 12-29
Triple Door
For more than 10 years, The Triple Door has been turning the traditional ballet into a bawdy burlesque with scantily clad performers, opulent costuming, incredible choreography, and original jazz arrangements. It's something you need to see at least once. 
Cost: $50-$80
December 14
Various Locations
SantaCon is an annual pub crawl where hundreds red-costumed revelers take to the streets of cities around the world. In Seattle, expect to hit a string of Downtown bars, and to takeover Pike Place market for massive group selfie. 
Cost: $5-$20. That gets you in all the bars and access to drink specials, etc. but obviously doesn't include any actual drinks.
December 31
Pacific Science Center
Sure, nearby MoPOP is hosting what might be Seattle's biggest New Year's Eve bash, and it doesn't cost anything to wander around Seattle Center and watch the fireworks, but for our money (see how much below) the Science Center's roaring '20s themed party under its famed arches, with DJs from KEXP, access to the exhibits you loved as a kid, and more, is the way to start your year.
Cost: $125 gets you in. VIP is more than twice as much but includes an open bar.
December 31
WaMu Theater
The lineup hasn't been announced yet, but last year's Resolution Festival had Diplo and Porter Robinson, so you can probably believe 'em when they promise to turn the massive WaMu Theater into "a shining world of glitz, gears, and gold" with multiple stages of seriously good DJs. 
Cost: TBD (we'll update you as soon as we know) 
Sign up here for our daily Seattle email and be the first to get all the food/drink/fun in town.
Bradley Foster is a former Thrillist editor who'd love to buy you a drink during SantaCon. He'll be the guy in red!