There's really nothing to worry about during the summer in Seattle, except what to eat (we took care of that for you!), or too many people finding out about how perfect it is here, or maybe the fact that there are just too many sweet things to do. Oh, you weren't worried about that last one? Well, you will be after checking out our list of every single summer festival in Seattle: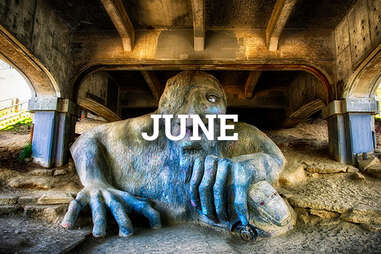 Show off your killer trail-riding skills and sick jumps -- or just watch the pros do it while you sit back in the beer garden and hope to win a raffle prize.
The largest Filipino arts and culture festival in the Pacific Northwest, showcasing dance, history, literature, and arts.
A carnival as quirky as the South Seattle neighborhood: come for the power tool race, stay for the interactive art and "spontaneous spectacles," whatever they are.
A free wandering celebration of making noise while on the move: look for marching bands, drum corps, and samba lines, among others, around town.
More than 400 beers from more than 100 brewers, what more could you need? Well, the all-ages event also has ciders, food, and live music.
Most famous for its all man-powered parade featuring nude bicyclists, there is, in fact, a whole weekend of festivities involved in this annual event, including a music festival, art car blowout, and craft market.
The black arts festival features all types of art and music, from an international dance party to a "Jazz in the City" wine tasting.
The region's largest electronic dance music festival, featuring two days of endless dancing, with the beautiful Columbia River Gorge as a backdrop.
Giving new meaning to the "aroma of Tacoma," this festival shows off more than 40 restaurant and food booths in a picnic-style environment at Point Defiance Park.
1.5 miles of vintage cars, trucks, and motorcycles revving their engines in the sunshine, interspersed with food and drink stands, plus beer gardens spilling out from local bars.
Think you have what it takes to win a strawberry shortcake-eating contest? Find out at this festival, while you browse the auto show and check out the clowns.
The largest free Pride festival in the country, it covers two neighborhoods over two days because this celebration of the local LGBT community can't hope to be contained in one place.
The Northwest, it turns out, is home to some of the best Scandinavian dancers in the Western Hemisphere. Watch them strut their stuff -- and raise a traditional majstång (garlanded midsommar pole) -- while you sample food and browse crafts.
Show off your lumberjack skills in the hotsaw competition or just watch the pros show you how it's done in the carving competitions or the Kitsap's Toughest Timberman contest at this lumberjack festival.
Celebrate the region's maritime heritage by learning about boatbuilding (or even trying it yourself) and sailing historic boats.
Any festival is quickly improved when there's an airplane going 300mi per hour down the middle of it. Hop a bi-plane or just watch warbirds and aerobatic airplanes do demos over the car show from the ground.
Looking to taste something out of the ordinary? This is the festival for you: extreme, adventurous, rare, and pricey beers are the specialty of this event, whose slogan is "Taste the greatest beers you've never heard of."
The Valley is a competitive place, as this Seafair festival features a skateboard tournament, dragon boat races, a soccer tournament, and a 5K run/walk, on top of the usual festival goodies: carnival rides, food, and a beer garden.
If there were an award for the neighborhood festival with the best bands playing, this would likely cruise to an easy victory. Stroll the shut-down streets to the tunes of The Thermals and The Cave Singers, among others, while you shop, drink, and stuff yourself silly on the best of the West.
Come for the food. Stay for the food. In between there will be dancing and arts & crafts and such, but Polish pierogi (dumplings), potato pancakes, and gofry (waffles) take this festival to the top of our list.
The largest pan-Asian festival in the Northwest is an amazing display of dragon and lion dances, martial arts, Japanese drumming, and the night market, which, with its $2 food walk, is one of the best ways to sample the huge variety of great foods from all over Asia sold in Seattle -- without breaking the bank.
One of the city's older neighborhood events, the festival harkens back to a time when the area was a little fishing village. But even now, as a hipster hot spot, it somehow makes sense to spend the day sampling salmon barbecue as you wander the streets, stopping at live music stages and beer gardens.
Three stages, 14 performances, and eight local theater groups come together for this free weekend-long festival.
It's not entirely clear what a "Frogtastic kids fair" is or what bed races are, but they both sure sound like things that would be good to watch from the beer garden between airplane rides and the salmon barbecue.
Just outside city boundaries, this piece of unincorporated King County likes to be a little different, so come out for a week of eclectic activities such as a dance-a-thon, garden tour, and robotics competition.
Everything sounds better outdoors, and Timber! celebrates that by combining great music with camping, hiking, paddle boarding, kayaking, and, of course, s'mores.
When it's your 153rd year of an event, you don't mess with tradition. Look for classic fair food, carnival rides, and farm animals.
A small-island tradition, it's as good an excuse as any to ferry out to Seattle's strangest island and not in the least because there's a pancake breakfast waiting for you when you get there and a firemen challenge to watch before you leave.
Proclaiming itself the largest lavender festival in North America builds some pretty big expectations. But then you start with the lavender-flavored margaritas and it all makes sense. Find lavender infused in lotions and soaps, stuffed into eye pillows, sold as culinary ingredients, and, curiously, pet apparel.
If 24-hour jammin' is your jam, this is the festival for you. Camp out in the mountains by the river and spend the weekend listening to amateurs and professionals alike make music in a laid-back atmosphere.
If you haven't spent time at a pow wow before, you don't know what you're missing -- it brings together the traditional dancing and regalia of tribes from all over the West. You'll find cooking, jewelry making, and music representing the people who lived here long before there were cities.
Want to eat at more than 50 restaurants, try 30 food products, and wander among many beer and wine gardens? Ambitious eater, this is the event for you. If you're more about quality over quantity, though, check out The Bite Cooks! with Thierry Rautureau or The Alley with Jason Wilson.
A waterfront wine festival is pretty much all you need to say to see why people stream into this Eastside event, but there is even more, including a burger brawl, grilling demos, and a food truck fest.
A traditional Japanese Buddhist event that celebrates ancestors who have passed on is far less serious than it sounds. For the uninitiated, look for kimono-clad festival goers, Japanese food and beverage booths, taiko drumming and martial arts demonstrations, and craft stalls.
Small but mighty could be the motto of this neighborhood beer fest. It doesn't have as huge a number of beers as the bigger events, but that gives it the flexibility to feature micro- and nano-breweries located just blocks from the event.
Boats and beer go together (for everyone but the driver), so it makes sense that this year's Brewfest is now walking distance to the ferry dock. Hop the boat over and get your fill of local hops!
Leave it to the suburbs to make it easy to taste all of your favorite trucks -- and try new ones -- all in one place. The city is bringing in both local trucks and a few making longer trips, so everyone can find something new.
Shut down the streets and rock the block with Ratatat, TV on the Radio, and Built to Spill (plus like 50 more bands). The three-day festival is one of the few that brings amazing bands to the heart of the urban venues that support them.
A premier art, craft, and design fair, featuring unique handmade pieces from jewelry to fine art, available for purchase. But don't worry, exhibits and other features offer opportunities for non-shoppers to enjoy the arts as well.
Not your average neighborhood festival, this kooky mini-fest boasts a sustainability focus and offers sheep shearing, a moose call contest, and historic performances.
We're not sure how Gig Harbor convinced the Chef in the Hat, Thierry Rautureau, to come down and emcee this event, but it bodes well for the food and drink coming out of the kitchen -- and if you've ever driven through, you know the scenery on Gig Harbor's waterfront will be spectacular.
Can you toss the caber or put the stone? Do you even know what that means? Learn about it (to the tune of bagpipes and the taste of fine Scottish ales), along with myriad other traditional athletic pursuits, dances, instruments, and imported goods.
Promoting the mushroom is the goal, and it doesn't just mean pairing mushroom hors d'oeuvres with wine (though that will happen). Tour farms, taste mushroom dishes, and learn about mushrooms from expert speakers while supporting the local Rotary club.
Certainly one of Seattle's best-tasting annual festivals, this one really gives the community feel that its name implies: it's Filipino for "town festival." Much of the food is provided by home cooks volunteering for local non-profit organizations, which means it's good eats you otherwise can't find in town.
A long-standing tradition for locals and visitors, the event theoretically centers around the hydroplane races on Lake Washington, but in reality becomes a neighborhood- (and city-) wide party, with everyone clamoring to find a spot on a boat in the middle of the lake.
Previously called the "East Madison Mardi Gras," it's been credited as the inspiration behind Seafair. The name means "unity" in Swahili, and is all about bringing the community together with African drum and dance, hip-hop, a basketball tournament, and a community resource fair.
The Northwest is generally known for grunge and indie rock with a bit of conscious rap thrown in, but at this festival, country fans in the region finally get their turn to dance the night away at the gorgeous gorge in George.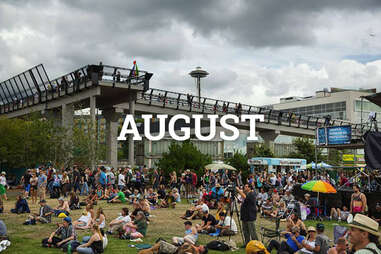 A simple but cute neighborhood festival, mostly driven by the sidewalk sale of local businesses, but with treats like pony rides and a beer garden (though we advise against a combination of those two).
The "Grandaddy of All Logging Shows" invites everyone up to its tiny hometown to watch lawnmower races, the Jubilee Queen Coronation, and, of course, logging show events such as choker setting, axe throw, log rolling, and more.
"The Biggest Little Festival in the Northwest," is a grassroots community gathering that is all about bringing danceable music into the mountains, which means funk, jam, reggae, bluegrass, etc. AND river rafting, rock climbing, and horseback riding.
A four-day music festival that creates a mini-community (think Burning Man, but not quite as many drugs) out of attendees crowded into the small resort to eat, drink, camp, and listen.
A neighborhood-wide party with trivia from MOHAI, an outdoor movie, and a best-burger competition.
Formerly the Lake City Pioneer Days, this festival has changed its focus to the important stuff: food. Specifically, the annual salmon bake. Also new this year is the emerging artists market, showcasing the workmanship of local artisans.
Sip tea at a temporary Iranian tea house, listen to Rumi poetry, watch puppet shows, and let the day fade into an evening dance party -- as all Iranian celebrations are wont to do.
Calling itself a "protestival," HEMPFEST is one part festival, one part rally for cannabis reform laws, and one part education about marijuana. Basically, squeezed in between the food booths are informational booths, and there's a heavy fog of scented smoke over the Seattle waterfront for the weekend.
Celebrate the city's wise namesake at this three-day festival that incorporates canoe races, a royal pageant, golf tournament, salmon dinner, and pow wow.
There are a lot of beer festivals out there, so one might wonder why it's worth driving to Everett for this one. The answer is Randall. While that might sound like a shifty guy you went to high school with, it's actually an organoleptic hop transducer module -- meaning it allows brewers to infuse flavors quickly into beers as they are being poured.
Starting as the Mobile Food Rodeo, the Street Food Festival has grown into one of the largest in the country, offering a huge area of tastes from all over the city -- and the world. Famous for being a big event, this one requires going early, and planning for some time in line.
There are many neighborhood events in Seattle, but at how many others can you pet a camel? Beyond the usual beer garden and pie-eating contest, expect a party as culturally diverse as the area: Somali performers, Vietnamese lion dancers, and a bouncy house.
Brazilian culture is quick to capture peoples' imaginations, and this festival gives Seattleites a chance to see capoeira, samba, and other colorful, exuberant Brazilian expressions in person.
Always wanted to make your own sand mandala? Or at least learn what one is? This is your chance, as you learn about Tibet's culture, people, and crafts -- while eating a bit of their traditional food.
A big, traditional fair without the immense size of The Washington State Fair, Snohomish County's largest annual event features the usual area of carnival rides, foods you can eat until the sugar rush launches you off the ends of the earth, and farm exhibits.
Celebrate the culture of 22 Arab nations from the comfort of Seattle Center by shopping at the traditional bazaar and drinking "deliciously strong coffee."
An old-school rodeo -- and the final of the PRCA's Xtreme Bulls Tour, Ellensburg brings national-caliber rodeo competition and combines it with a small-town festival feel.
The city's iconic arts festival is headlined by globally renowned musicians like The Weeknd and Hozier, but also features the country's best comedians, a short-film festival, and music-related visual art.
This festival has more kinds of blackberry foods than Bubba has shrimp dishes and the blackberry wine only costs $0.25 to taste. You'll also find blackberry beer, Jell-O shots, and moonshine on the bar, as well as sausage, sundaes, and scones in the food section.