Everything Fun You Can Do in Seattle This Weekend
Plants, pop-ups, and the art of recycling.
Courtesy of Schack Art Center
It's been something like two weeks since we've seen a cloud in the sky, and in April, that feels like some sort of Seattle record. Of course, that's all about to change this weekend—but don't let the not-quite-perfect weather get you down. It's still going to be nice, and we will still insist that you get outside and enjoy springtime. Speaking of which, there's another plant sale going on this weekend (for those of us who have dreams of becoming "master gardeners," this one's for you), and, if you're up for a mini road trip, Kelley Farm is hosting an incredibly heartwarming pop-up market that will be filled to the brim with locally made goods. Need we say more?
Friday, 4 pm
Capitol Hill
Taku isn't officially reopening until May 5, but this pop-up should tide you over while we wait. Hosted by Chef Shota Nakajima and Chef Byron Gomez (of Top Chef Portland fame), the dinner menu is short, sweet, and straight to the point—namely, we're talking fried chicken, furikake fries, or a set menu for $16. FYI, you can't do pre-orders for any food, so it's first come, first serve.
Cost: $
Friday - Saturday, 10 am - 5 pm, Sunday, 12 - 5 pm
Everett, Washington
Seattle doesn't kid around when it comes to recycling, but what actually happens to all that stuff? In Schack Art Center's new group show, titled "Art of Recycling", disposed-of items take on a new purpose, and waste is transformed into artwork with "renewed beauty, utility, and meaning."
Cost: Free
Friday - Sunday
Your home
It's officially gardening season, and that means it's time to stock up on some green supplies, aka plants. Choose from thousands of varieties at this online sale, which starts April 21, then pick up your goods at one of three locations in and around Seattle.
Cost: $$
Sunday, 12 pm
Your home
After a year like 2020, feeling optimistic about the future may seem naive at best. However! Let this film serve as your dose of confidence for a new season ahead—one in which, here's hoping, we succeed in combatting (and, eventually, solving) climate change. 2040 is an award-winning documentary, and this is your chance to watch it free of charge (though donations are encouraged).
Cost: Free; $10 suggested donation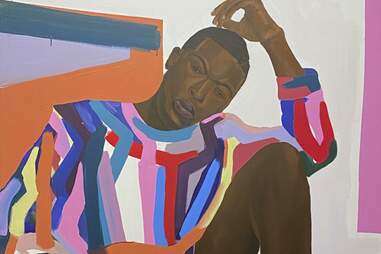 Courtesy of Vermillion
Saturday - Sunday, 1 - 6 pm
Capitol Hill
When it comes to wine and art, Vermillion never disappoints. Its new show is no exception; "A King's Path", which opened on April 1, navigates themes of Black fatherhood and manhood masterfully. Curated by Kimisha Turner, the show is on view through May 2.
Cost: Free
Friday, 7:30 pm
Your home
Remember awards shows? In case you missed it, the Oscars are happening this Sunday evening, and what better way to kick off the weekend than with a little pre-game? Courtesy of Scarecrow Video and film historian Lance Rhoades, this virtual session will get you caught up on all things Hollywood-related right before the main event.
Cost: Free
Friday, 7 pm
Your home
Seattle Arts & Lectures is devoted to cultivating "transformative experiences" for this city's young (and old!) readers and writers; now's the time to show them some love. Hop online for a virtual gala this Friday night featuring emcee Amanda Westbrooke and a whole host of inspiring arts and literary figures.
Cost: Free; donations encouraged
Saturday, 10 am - 6 pm
Bonney Lake, Washington
'Tis the season for America's favorite pastime: the road trip. For a quick jaunt to the countryside this weekend, head over to Kelley Farm in Bonney Lake, which just so happens to be hosting a special pop-up market. Come ready to shop; handmade goods, flowers, and more will be in abundance (and, obviously, too good to miss out on).
Cost: $ - $$
Friday - Sunday
Your home
Following in the footsteps of 2020, Seattle Black Film Festival is going virtual once again, meaning you can get your fill of films all weekend long. Choose between an all-access pass or single event tickets, then browse a selection of over 70 films which address themes like the diaspora, decolonization, self love, and more.
Cost: $65