The idea of spending a night out on the town can seem a little daunting if "night" starts at like, 3:30pm. But now that the sun is actually setting after 5 o'clock, there's really no excuse not to try at least one of the things on our list of can't miss stuff to do in Seattle this weekend, like hitting Capitol Hill's newest cocktail bar, going to "the best '80s party ever", or if you insist on doing things in the daytime, having a few beers on Alki Beach.
Friday, February 21
Pacific Science Center
Get booze AND after hours access to one of Seattle's most popular tourist attractions at this tasting event, where you'll meet a slew of local alcohol makers, learn the science of distillation and check out all of PacSci's exhibits. 
Cost: $45
Friday, February 21
Showbox (Downtown)
Bone Thugs-N-Harmony -- one of the most innovative, and given the recent direction of hip-hop perhaps one of the most influential, rap groups of all time -- are bringing their melodic brand of gangster rap to Seattle, and you can see 'em at the Crossroads of 1st and Pike for one night only.
Cost: Resale tickets available starting at $68
Friday, February 21 - Sunday, February 23
Various Locations
The Seattle Food and Wine Experience is basically three phenomenal food events -- a casual comfort food-based affair (mac and cheese, fried chicken, beer, etc), an upscale evening of seafood and sparkling wine (oysters, specialty cocktails), and their "Grand Tasting", where you stroll through a giant room filled with bites from some of the Northwest's hottest chefs.
Cost: $60 will get you into the cheapest event. Or you could spend up to $275 on all three of 'em.
Friday, February 21 - Sunday, February 23
Capitol Hill
Seattle's newest cocktail destination is a tiny Olive Way spot that is part owned by a real doctor, and boasts a global list of seriously good spirits (Indian whiskey, Peruvian rum, etc.) that they're turning into equally good cocktails. Case in point: the Pap Smir, which is an incredibly expensive boilermaker made with rare Pappy Van Winkle. Like $220 expensive... BUT all of that goes to Planned Parenthood. 
Cost: Depends entirely on what you order, obviously. Reservations suggested.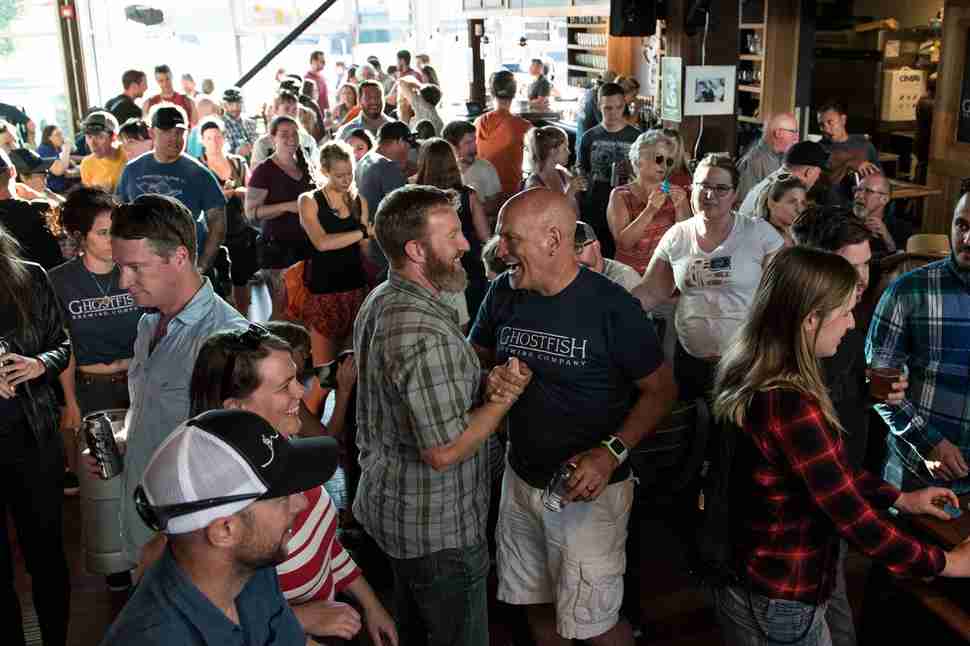 Friday, February 21 - Sunday, February 23
Ghostfish Brewing Company
One day apparently isn't enough for Ghostfish Brewing's 5th birthday party, so on Friday they're releasing their 5th Anniversary Doppelbock, Saturday's all about their Barrel-Aged Tart Saison, and Sunday is for hangover brunch. 
Cost: Varies. Free to attend.
Saturday, February 22
Alki Beach Park
… And then jump into Puget Sound at Mobile Food Rodeo's Alki Winter Beer & Food Truck Festival, which will feature 10 of the city's best mobile food operations (Piroshky Piroshky, Bread & Circuses, Ezell's, etc.), and is being held in conjunction with a charity Polar Plunge benefiting Special Olympics Washington.
Cost: Beer fest tickets start at $10 
Sunday, February 23
Fremont Sunday Market
The Petit Troll Parade is a flash-mob-style procession of mini-glittering themed floats that'll make its way through the Fremont Sunday Market just ahead of Fat Tuesday. 
Cost: Free
Sunday, February 23
Machine House Brewing
Every month through June this Georgetown brewer is hosting a potluck-style bake-off that anyone can enter (February is layer cakes!), and everyone can enjoy since your vote will count toward picking a winner.
Cost: Free
Sunday, February 23
Tavolata 
Ethan Stowell's acclaimed boot foodery is serving a luxurious Wagyu beef feast featuring four courses things like beef heart tartare, short rib agnolotti, and a tomahawk ribeye with beef fat potatoes. 
Cost: $85. Reservations required. 
Sign up here for our daily Seattle email and be the first to get all the food/drink/fun in town.