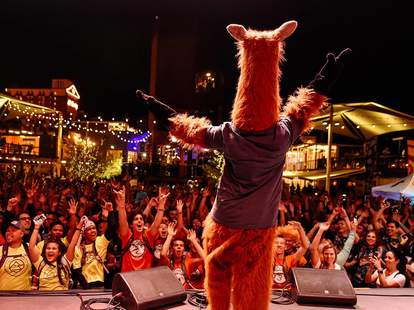 Everything You Have to Do in Seattle This Summer
Extremely unscientific-yet-credible studies show that Seattle has the best summer in the country. And if you need any more proof, we've got a bunch of great things you should be doing over the next months that should -- with incontrovertible evidence -- convince you.
Fremont's annual Solstice Parade features giant puppets, stilt walkers, floats, dancers, cyclists, and more in a "kaleidoscope of joyous human expression" that ends with a big party by the lake.
... and the day before at the Washington Brewer's Festival, where they'll be over 500 beers from 130+ statewide breweries, plus all the usual amenities like food trucks, music, etc.
Or just check out the bands performing at every mile on Seattle Rock 'n' Roll Marathon course.
Questival is a 24-hour race through the city that sends you and a team of friends on a bunch of adventures that could involve anything from fitness and puzzles, to public service and even food.
Catch major electronic acts like Tiesto, Andy C, and, Black Tiger Sex Machine (sure?) performing on the banks of the Columbia.
Or at least down in the South Sound at the Taste of Tacoma, where there will be food from over 40 restaurants/vendors, four live stages, and much more.
The Seattle Art Museum knows how to get down: a bunch of pop-up bars created by local artists, food from some of the city's best chefs, and a performance by local legend Sir Mix-A-Lot.
Every year Seattle's Pridefest packs thousands of riotously dressed -- or underdressed -- people onto the streets and into the bars of Pike/Pine. Don't miss it.
Screw the classic cars lining the street for Greenwood's annual car show, and check out gravity racers built by brewers and beer fans bombing down a 40 foot track at Naked City.
Lamb Jam is bringing together six of the city's best BBQ chefs to compete... and turn said animal into delicious things for you to eat while also sipping on some of Seattle's best beer and wine.
Sierra Nevada's roving beer fest features some of the city's best food trucks, live music, and hundreds of phenomenal craft beers from around the country.
Or from almost anywhere else, since Seafair's free Summer 4th event (which has food, a beer garden, pie-eating contests, sack races, and more) always draws massive crowds.
Take a 15-mile bike ride under the stars that begins at Ballard's Peddler Brewing, and ends with a party at the same place boasting a food truck, bean bag toss, and beer, naturally.
It started 77 years ago as a bike derby, but now features parades, carnival rides, game booths, food, music, and all the stuff you need to make a trip to the Eastside worth it.
The streets of Ballard are shut down so over 50 restaurants and other vendors can feed you various fish-based foods. You can also listen to music, shop, and hit the beer garden while you're out.
Hundreds of specialty beers from around the world -- everything from classic brews to small-batch hybrids -- are yours to drink in the shadow of the Space Needle at this year's Beerfest.
Food from 40 local restaurants, cocktail demonstrations, and craft hooch from over 40 distilleries all equates to Proof, the Washington Distillers annual festival.
So technically, the streets around the Junction will already be closed when you get there, but with 25 bands (Thunderpussy!), and all kinds of food and shopping, you'll be able to see why.
The Milk Carton Derby is back, boasting hundreds of colorful milk carton boats of all shapes and styles, some of which will inevitably fall apart while you gleefully watch from shore.
The Mobile Food Rodeo guys are taking over four blocks of Seattle's (still) fastest growing neighborhood so you can enjoy food trucks, restaurants, food booths, pop-ups and urban crafts.
Dragon Fest features two days of Asian culture performances (and other fun stuff), but you're there because over 40 area restaurants are selling bites on the street for just three bucks.
The Bite of Seattle is back again with food from 60+ restaurants & pop-up vendors, beer and cider tastings, four live music stages, a free outdoor movie, and more.
That's a bold claim. But when you've got three days of music featuring Diplo, Run the Jewels, Snakehips, and more, like the Capitol Hill Block Party does, you can probably back it up.
The Renegade Craft Fair brings over 200 makers of DIY goods together in a giant hangar on a former military base, which makes it 100% the best mall ever.
Apparently Tacoma has food trucks too, but if you need proof, there will be more than 20 of 'em posted up in the park for that city's Food Truck Fest.
The Great Inflatable Race is a fun run on a course lined with giant inflatable obstacles, which begs the obvious question: Why would you ever run any other way?
Seafair always packs the shores of Lake Washington during the annual hydroplane races, and why not? Unless you've got a boat, the park -- with music, food vendors, and more -- is the place to be.
In contrast to the more wild Cap Hill Block Party, South Lake Union's is a nice day out on the grass with relatively accessible food vendors, and local music from Hey Marseilles, and more.
The country's largest celebration of "hemp" attracts massive crowds of people who, even though marijuana is technically legal in Washington, aren't supposed to use it at the festival. Sigh.
It's happening under the canopy in the new plaza overlooking the waterfront at the Market's annual Sunset Supper.
The Washington Beer Collaboration Festival gets 50 breweries from around the state to team-up and turn out 25 brews no one's ever tried before. Except you.
A throwback to traditional state fairs, The Evergreen State Fair gives you a chance to try some carnival rides, see some livestock, and see some live music your parents probably like.
The Fair, as it's technically called now, features 20 days of concerts, wild carnival rides, a rodeo, and tons of amazing food. But you're really just going for the scones.
Labor Day weekend in Seattle means Bumbershoot. This year features performances by Odesza, Haim, The Roots, and much, much more.
The country's largest gaming expo is back, bringing all manner of geeks, cosplayers, and regular, everyday people who happen to like video games/gaming to Downtown Seattle.
Hit the SLU Discovery Center lawn... again, but this time do it for regional apple-based brews that'll blow you away.
Seriously, why don't we have a regular night market? Richmond, BC has one but not us!? With all the great restaurants/vendors in the ID? Guess we'll have to settle for this great night.
... At Bacon, Eggs & Kegs, a "brunchy booze fest" outside CenturyLink Field. It'll feature pork-based eats, tons of beer, plus a 30 foot-long bloody mary bar, mimosa stations, and more.
Sign up here for our daily Seattle email and be the first to get all the food/drink/fun in town.
Bradley Foster is a former Thrillist editor who usually doesn't realize summer is here until the Bumbershoot traffic makes parking a real pain near his apartment.