This Seattle Taco Fest Is What Dreams Are Made Of
We just got back from our Seattle Taco Takeover and have only one rhetorical question for you: Is there ANY better food than a taco? Fisher Pavilion was bustling with guests hungry for tacos and thirsty for tequila cocktails -- and the city's best didn't disappoint. Every restaurant and mixologist competed for the top prize, while guests got to judge with their taste buds and tummies. Sounds like a pretty sweet gig. Here were the contenders: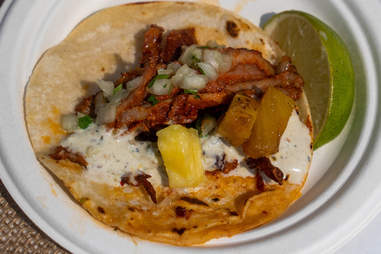 Suzi Pratt
Barrio Luchador Pork and Pineapple Taco
This taco featured slow-cooked pork with adobo sauce marinade, grilled pineapple, and a crema verde salsa. Their cocktail, the Smokey Mysterio Margarita, had Del Maguey mezcal, lime, strawberry puree, orgeat syrup, and ginger beer.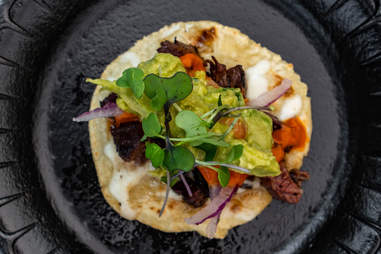 Suzi Pratt
El Chingon Taco
These handmade tortillas were packed with jack cheese, skirt steak, cascabel salsa, marinated red onions, fresh guacamole, and micro cilantro. On the side was the Spicy Fresh Watermelon Margarita: Habanero-infused tequila, Grandeza orange liqueur, fresh watermelon juice, and fresh citrus juices.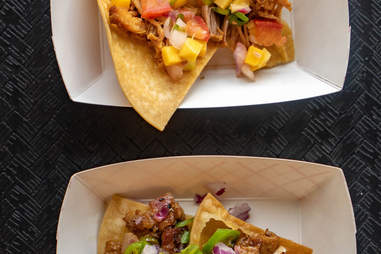 Suzi Pratt
Sisig Tacos & Chicken Adobo Taco
The first taco here featured a crispy minced pork in spicy calamansi (citrus) sauce topped with aioli. The second was a classic combo of shredded chicken marinated in soy/vinegar and topped with fresh mango salsa.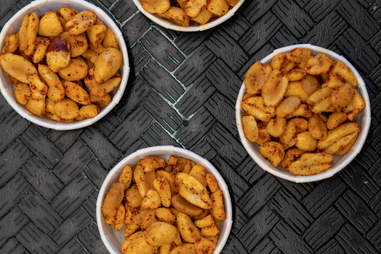 Suzi Pratt
CARVER KITCHEN
Tac-Oh Nuts!
Okay, maybe these weren't tacos -- but they kind of tasted like one. These spicy mixed nuts had just a hint of lime.
Suzi Pratt
Tacos Al Pastor
These homemade tortillas housed barbecue pork topped with pico de gallo and avocado salsa. On the side, the Cocktail Mezcalerita had fresh lime juice, tequila, triple sec, and a splash of sour, served on the rocks with a float of mezcal.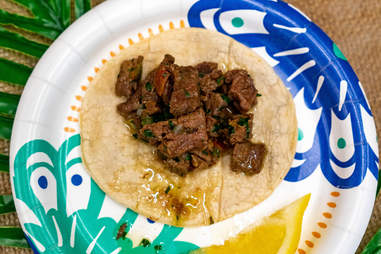 Suzi Pratt
Desabrada Taco a la Mexicana
We loved these tacos featuring Mexican-style shredded beef short ribs with pico de gallo and cilantro. Their cocktail, the Verbena Duranguense (Durango's Party), had tequila, homemade lemon verbena mix, and a dash of Cava Brut.
Suzi Pratt
Carnitas Bite
This taco featured carnitas on a crispy Monterey tortilla topped with tequila cream, mango salsa, pickled cabbage, cotija, and cilantro. The cocktail, Summer Slush, was made with shaved ice, citrus-infused simple syrup, Aperol, and tequila.
Suzi Pratt
Carnitas Taco
This classic taco had shredded pork topped with cilantro and onions. It paired perfectly with their
cucumber margarita, made by muddling fresh cucumber and lime with house margarita mix.
Suzi Pratt
Cochinita Pibil Pork Tacos
This pork taco was topped  with pickled red onions, radish, crema, and cilantro. The Lou Graham cocktail, named after the city's 19th century brothel owner, had tequila, Ancho Reyes chili liqueur, pineapple, and lime.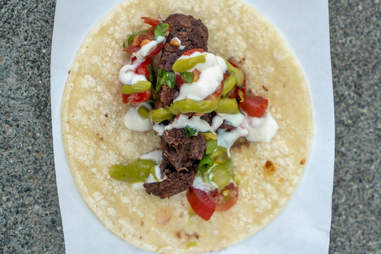 Suzi Pratt
Celest Tacos
This vegan, gluten-free option was made with almond ricotta scramble and black bean filling, pico de gallo, spicy onions, microgreens, Celest's avo sauce, and roasted garlic-cashew crema. On the side, the Magic Margarita. Celest's signature color-changing tea turned into a mesmerizing margarita.
LEROY THOMAS
Follow Me to Mexico
This local mixologist whipped up a cocktail using tequila, Agua de Jamaica (tamarind, rose water, sugar, and cinnamon), and lime juice.
Cucumber Cooler & Watermelon Mint Margarita
These two cocktails were delicious. The first featured tequila, cucumber, coconut milk, lime juice, and chile peppers, while the second was a little sweeter with tequila, watermelon juice, lime juice, and mint.
El Diablo & Passion Fruit Margarita
We couldn't choose a favorite between these two. The first had tequila, crème de cassis, lime, and ginger beer. The second featured tequila, agave, lime, and passion fruit.
In the end, guests couldn't keep away from Moctezuma's; both their taco and cocktail swept the competition. Of course, that's not all that went down at the Seattle Taco Takeover….
GUESTS SAMPLED WAY MORE THAN JUST TACOS
When guests weren't enjoying all those incredible tacos, there was a ton more to taste -- like neat samplings of both reposado and plata tequila. Without any mixers, guests got to taste the bold, smooth flavors that went into each each and every cocktail.
Then there was the do-it-yourself taco seasoning station. Takeaway jars were provided so guests could mix up a custom seasoning mix and make some flavorful tacos at home. Now, we can't speak for anyone else, bet we were pretty inspired to start cooking after seeing what these Seattle chefs whipped up.
Suzi Pratt
AND GOT THE VIP TREATMENT
The VIP experience was totally worth it if you love amazing perks and even more tasty treats. What do we mean? Oh, just a nacho cheese fountain with flowing queso. Guests piled up their plates with chips and salsa and of course, melted delicious queso. For dessert, we served up a traditional tres leches cake. And of course, we even served an additional cocktail: the classic Paloma.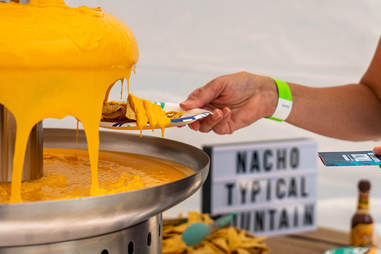 Suzi Pratt
Suzi Pratt
WE DANCED TO DIGEST
DJ Trey kept the party going all day with a mix of hits and Mexican flare. By the end of the night, guests broke into the "Cupid Shuffle" -- which we've had stuck in our heads ever since. And the fun was nonstop with games like cornhole and Connect Four.
Suzi Pratt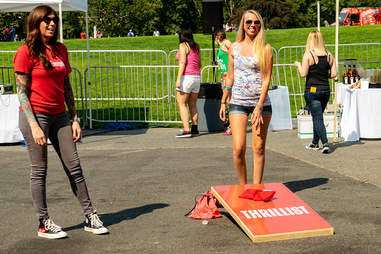 Suzi Pratt
In the end, Seattle threw down like nobody's business. Check out even more photos from the fiesta.
Suzi Pratt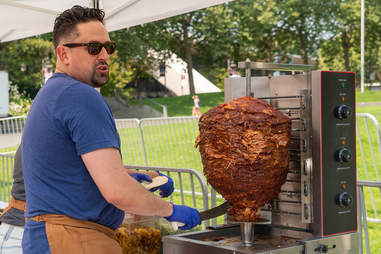 Suzi Pratt
Suzi Pratt
Suzi Pratt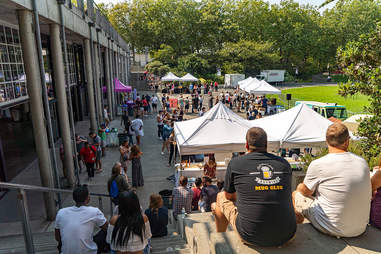 Suzi Pratt