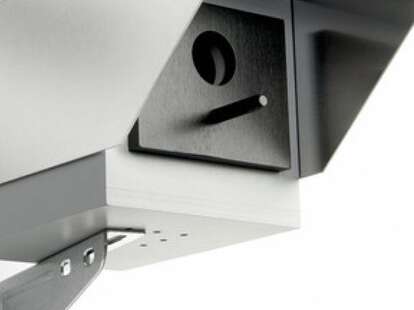 Getting advice from someone with great taste can be invaluable, unless you happen to be on the side of the stadium that prefers less filling. For a place that, luckily for your pad, is seated in the former, check out Sleek Identity
SI's a formerly online-only furniture and home accessories store that's curated with unusual, badass, European-originated steez by a woman from Montreal/Germany; it's been all online 'til today, when the shop moves to Abbott Kinney for a month, which would make even more sense if it was inside a beat-up Winnebago covered by a tarp. Gear's modern, kitschy, and interesting, with smaller options ranging from a birdhouse that looks like a security camera, to a lamp with a sillhouette-type cutout of a lightbulb, to a wall-mountable bookmark, also what Pete Carroll deridingly called Sanchez when he found him actually attending class. Larger stuff includes a low-to-the-ground bed with a frame made of a Lego-like collection of 6 snap-together wood pieces, a sofa with curved wood that resembles a skateboard, and the ice-cream inspired "Sweet Stool", which is hilarious to take a cell phone pic of, and email to your buddies labeled "Megan Fox".
Tonight, the pop-up's hosting an opening party with plenty of gratis booze and food, so you're more than welcome to bring a bud, right? Yes, you are.