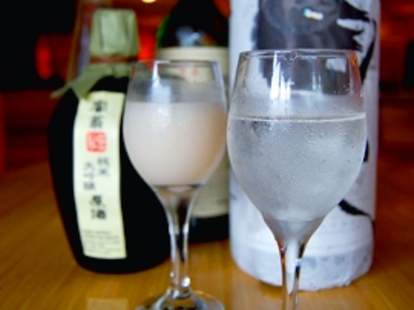 The only problem with college was that the learning was separated from your true passion -- drinking -- or else it wasn't, separating you from college. Finally letting you do both at the same time, Sushi & Sake 101.
Starting next week and running the second Wed of every month, 101's a hands-on, drinking-intensive tutorial drilling home the basic skills you need to not only talk smart about sake, but make the right drinking choice, as well as teaching you sushi history, techniques, and how to pair food and drink -- 'cause there's nothing more embarrassing than drinking Dewasansan ginjo with a dragon roll...not even crapping your pants. Class starts with Samba's easy-on-the-eyes sake sommelier, Midori, running you through sake history, types, and distinctions, which are determined by location, but also by how much the rice grain is "polished", or buffed down, resulting in junmai (least-polished, most robust), ginjo (40% of rice removed, resulting more subtle flavors), or daiginjo, polished at least 50% for flavors and mouth feels even more "refined, aromatic, complex, and feminine" -- appropriate, as you generally associate feminine mouth feels with alcohol. Some sakes you'll be swishing include Dewasansan, a ginjo with a floral nose, mellow fruity flavors, but with green apple tartness and a refreshing finish; Kamoizumi, a high-end daiginjo with a gamut of flavors like persimmon, caramel, and earthy notes of shiitake and autumn leaves; and a nigori (cloudy, unfiltered) from the Murai Family, with hints of cream, pineapple, coconut, and vanilla that Midori refers to as a "sweet and milky entry"...damn, you make this too easy Midori!
Once the drinking tutorial's over, the sushi part of the program begins, conducted by executive sushi chef Shoyo Iido, who'll learn you good about history (east coast vs. west coast, represent!), as well as secrets on how to buy fish that's up to snuff, make sushi rice, determine what section of the fish to cut, and draw a knife properly across the grain of the fish. After that, you'll even get to try your hand at cutting and rolling -- another maneuver that kept you separated from college.