How to Stay Cool (and Still Have Fun) When It's Hot AF in Philadelphia
The best things to do in Philly this summer when it's sweltering outside.
News flash: it's a scorcher of a summer in Philadelphia.
After a relatively mild June, July greeted us with the usual heat and humidity. And since it looks like the mugginess and temps will be bearing down on the city for a while, it's time to turn these dog days into some splashy good times instead. Between sweet treats and hospitable locations in which to bask in the AC, we've got all the details on how to stay cool this season and enjoy a respite from the oppressive heat.
After you've planned out your weekend itinerary, here's everything fun to do when it's hot outside in Philly this summer. Just remember your SPF and to stay hydrated.
Various locations
If you prefer your cold treats to have a bit of alcohol in them, Philly's bars deliver with seasonal frozen cocktails. No summer would be complete without frosé, which you can find at The Love, Parc, and both the Fishtown and East Passyunk locations of Garage. For a little spice, try The Mango One (tequila, triple sec and chili salt) at LMNO. Perhaps you skew sweet: the Frozen Astronaut (peach vodka, triple sec and orgeat) at Continental Midtown has you covered. Or indulge in El Vez's most popular cocktail, the frozen blood orange margarita.
Market East
With over 130 years of history and more than 80 vendors, Reading Terminal Market is a one-stop shop for international delicacies, fresh produce, poultry, sweets, and more. Come with a group and try a little bit from as many merchants as possible, like Saami Somi, which serves Georgian cheese boats known as Khachapuri; Roast Pork sandwiches at DiNic's (a classic), donuts from Beiler's; and traditional Filipino fare at Tambayan.
Various locations
All of Philly's 61 public pools have opened this year, offering residents in all neighborhoods a chance to take a dip for free. Fairmount Park's Olympic-sized Kelly Pool boasts views of the Please Touch Museum while Fishtown's Lederer Pool (aka Swimmo) is always popular for swimmers of all ages. Outside of the city, community pools in Haddon Township, New Jersey and Bucks County offer day passes for a nominal fee. Can't make it to a pool? Kids (and kids at heart) can cool off at one of over 90 spraygrounds featuring lively sprinklers and other water features in park settings.
Jersey Shore
Up for a road trip? The Jersey shore is rife with pristine beaches to plant an umbrella to mark your spot while you splash in the ocean. BYO snacks (just watch out for seagulls) or pop into a fudge shop for some sweets and you're set. For a more family-friendly vibe, try Ocean City or Cape May. Want the daytime fun to extend into nighttime? Wildwood and Asbury Park have plenty of after-dark goings-on.
Various locations
If you can't stand the heat… get into some air conditioning. Along with that cold, cold air, take advantage of the city's top exhibits, like the massive Disney retrospective, "Disney 100: The Exhibition" at The Franklin Institute and a cool collaboration between PAFA and the African American Museum in Philadelphia, "Rising Sun: Artists in an Uncertain America," where new work from 20 artists examining democracy is shown in both museums.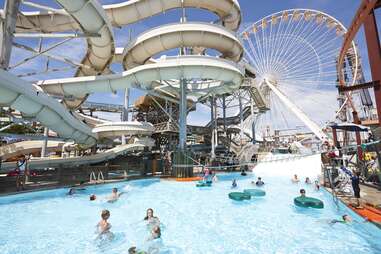 Chill in a lazy river at a water park
Various locations
If you want to make a whole day of it, take a little road trip to a nearby water park. With everything from steep plunges and wave pools to twisty slides and high-speed tube attractions, they offer both thrills and chills. Six Flags Hurricane Harbor is just under an hour away in Jackson Township, New Jersey, while Dorney Park's Wildwater Kingdom clocks in at just over an hour. Down the shore, two water parks are located on Morey's Piers on the Wildwood boardwalk and in Ocean City has their own set of slides overlooking the boards and beach.
Cool off with some retail therapy and food court eats
Various locations
It's never too early for back to school shopping (and you're never too old to still shop for back-to-school outfits). Spend that hard-earned cash without breaking a sweat at any of the area's malls. If you don't want to leave the confines of the city, Fashion District has you covered. For an all-day shopping experience, the expansive King of Prussia Mall was recently named the best mall in America. Over in Jersey, the Cherry Hill Mall has your all standards like Nordstrom, Banana Republic, and Zara.
Indulge your sweet tooth with cold treats
Various locations
There are few things more quintessentially summer than wooder ice on a hot day. Stop by Bella Vista fave John's Water Ice for classic flavors like Lemon and Cherry. Or try the flavors at Siddiq's Real Fruit Water Ice which, as the name suggests, utilizes fresh fruits in their Strawberry Daiquiri and Mango Berry Varieties. If you're looking for something a little creamier, go all out on extravagant sundaes at Somerset Splits. Don't miss the Carrot Cake ice cream at Harper's. And for an old timey ice cream/soda fountain vibe, get yourself to Franklin Fountain for cones, sundaes, shakes, and sodas.
Market East
Put yourself into the art at Wonderspaces, Philly's only immersive art show (with a full bar, we might add). Located inside the Fashion District, the experience features 16 installations ranging from a room of string lights, a home where each room is made of rainbow furniture, and 3D-printed sculptures designed to animate when spun under a strobe light. Grab a beer or a cocktail afterwards and scroll through all your pics.
Be entertained by live-action theater
Various locations
Cushioned chairs, an abundance of snacks, and chilly AC all contribute to the prime conditions at Philly's theaters for some live entertainment. While summertime isn't the exact season for prime show going, it definitely beats the heat. At the Academy of Music, check out The Lion King while Red Rūm Theater puts you right into the action with their interactive whodunnits, like Murder at the Moulin.