Under the Influence: He-Man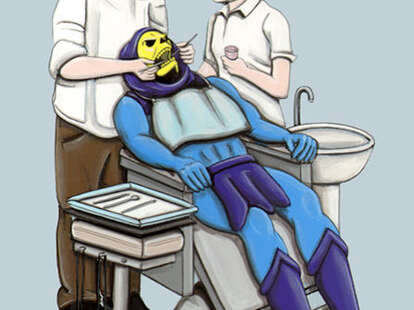 When you're a kid, it's perfectly acceptable to fully immerse yourself in a bizarre fantasy world, which is ironic because now mom's bras actually fit. Revisit the fantasies you admitted to with the Under The Influence: He-Man And The Masters Of The Universe art show.
UTI's an art show entirely composed of works based on your childhood's bed-wetting obsession, Masters of the Universe, with an added bonus: the intimate Gallery1988 space has been completely transformed into the interior of Castle Greyskull, with moss-laden brick walls, prehistoric-looking ferns, and a giant, foam-based sabre-tooth-mouth-entrance procured directly from the He-Man war-room in the offices of Mattel, whose printers print with the power of grey scale! Art runs the gamut, with a number of ultra-serious works, including a classic matte painting of Skeletor about to open a round of whup-ass on He-man, an intricate, 9'x6' hyper-detailed ode to Battle Cat, and a straightforward, aged-looking painting of Orko, the comic-relief sidekick who was blue with pointy ears, trendsetting imagination even James Cameron couldn't imagine. There're also a slew of silly takes on the characters, like a series of colorful villainistic watercolors (Triclops/Clawful/Faker/etc), as well as one depicting the characters performing mundane every-day tasks, i.e., Skeletor going to the dentist, and He-Man getting a haircut, but sadly no Skunk Man sitting friendless in his nightly tomato jacuzzi.
All the art's also on-sale, with 15% of the proceeds going to the Make-A-Wish Foundation; in addition, Friday's opening party'll debut both a brand new action figure and a comic book cover featuring a Make-A-Wish kid, though luckily not yours, because his parents already have a daughter.