15 Spooky Ways to Celebrate Halloween in DC This Year
Murder mystery dinner parties, ghost tours around the National Mall, and more.
For the past several months, you haven't needed to look too far for a fright. But come Halloween, we're always in the mood to scare ourselves just a little bit more than usual. Many festivities around Halloween and Día de los Muertos were curtailed last year due to social distancing restrictions and virtual-only formats. This year, however, we may be on the way back toward "normal"—whatever that looks like for you during this scary holiday.
From haunted houses and bone-chilling ghost tours around DC to adorable animal costume contests, we've rounded up the best festivities to get you in the Halloween spirit so that you can spend the spookiest weekend of this year having your version of fun.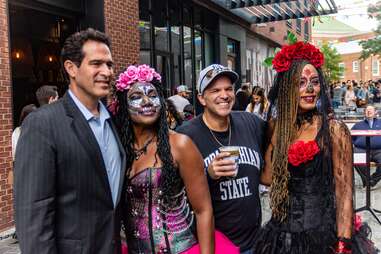 Sunday, October 24
The Wharf
The week before Halloween is the Mexican holiday Dia de los Muertos, and this year, you can celebrate in style at The Wharf. On Sunday, October 24, you'll be able to enjoy live music, street food, a beer garden, face painting, sugar skull decorating, and more to District Pier thanks to a partnership with Modelo and Fiesta DC. Plus, there will be prizes awarded for the best outfits.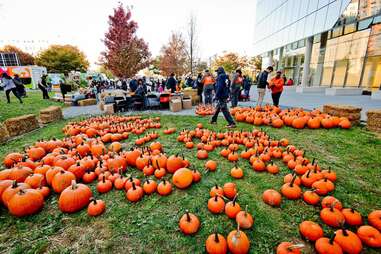 Thursday, October 28
Alethia Tanner Park
It's time for PumpkinPalooza. From 4 to 7 pm on October 28, take your family and friends to enjoy live entertainment, food, music, a seasonal scavenger hunt, and a pick-your-own pumpkin patch right in the District at NoMa's Alethia Tanner Park. The kid's costume contest is also making its return this year, and best of all, the event is free.
Saturday, October 30
Hook Hall
Hook Hall will be hosting a spooky good time complete with lots of brews—we're talking more than 50 craft beers and ciders in addition to live musicians, artisans, and food options. A general admission ticket gets you two hours of unlimited sampling of all beverages, and of course, you can get down and boogie free of charge.
Saturday, October 30
Hirshhorn Museum
For the cutest Halloween scares you could ever ask for, check out the Hirshhorn Museum's annual puppy costume contest. A crowd favorite is always the Art UnLEASHED category, where dogs are entered with art-inspired costumes that are worthy of a spot in the museum.
Saturday, October 30
Navy Yard
On Saturday, check out an open-air, pop-up Halloween celebration in Navy Yard. The event will feature an open bar, food trucks, special effects (including animatronics), and a live DJ.
Now through October 31
Capitol Hill
The Literary Feast is the brainchild of volunteer-run organization the Capitol Hill Community Foundation, designed to rally together the residents of Capitol Hill in decorating their front yards with book-themed pumpkins, scarecrows, and full-on Halloween displays for charity. Follow this map and have fun wandering through the streets of the historic neighborhood while you and your group take turns voting on your favorite designs. The winning house will get to designate $1,000 towards a local school of their choice.
Weekends (including Thursdays) through November 6
Olney, Maryland
The notorious Field of Screams is one of Maryland's largest annual Halloween attractions—known throughout the DMV for delivering a terrifying experience year after year. A ticket will grant visitors access to both the haunted trail and the Slaughter Factory Haunted House (you'll need a mask for the latter).
Friday, October 29 – Sunday, October 31
Dupont Circle
The historic Mansion on O is a kooky place with more than a hundred rooms and 70 secret doors—perfect for a socially distanced Halloween scavenger hunt. See the mansion decked out for the occasion, with themed rooms and doors to stalk through as you search for Halloween-themed prizes. Masks will be available and are required to be worn, and expect both touchless entry and sanitizer stations upon your arrival. There's also a cash bar for your after-party needs.
Saturday, October 30
Tyson's Corner
Each year, Italian restaurant Maggiano's is known for putting on "Murder at Maggianos," a haunting murder mystery dinner party. A ticket includes dinner, two drinks, and yes, an entertaining show. Guests are also encouraged to dress up in their favorite costumes for added effect.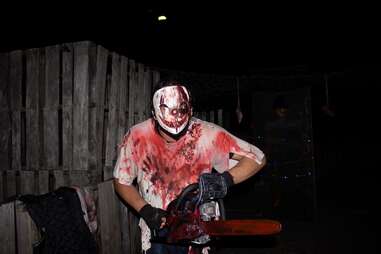 Now through November 6
Lorton, Virginia
The Workhouse Haunt offers a different spooky experience each year (last year, it came in the form of a drive-thru), and in 2021, the team promises a "highly-themed walk-through experience, as creepy characters deliver contactless scares in multiple scenes." The haunted tour takes place on the grounds of the former District of Columbia's Correctional Facility, and children under 13 are not recommended to attend.
Take a spine-chilling ghost tour
Ongoing
Various locations
Ghost tours in other cities might lead you through a graveyard, but what about the Supreme Court? There are plenty of DC ghost tours that will get your hair standing on end, but you'll also be learning a lot about United States history—an educational bonus. Scary DC, for instance, takes you past the Supreme Court, Library of Congress, and other haunted political locations, while the Ghosts of Georgetown leads you through historic streets and gardens, including the infamously steep steps from The Exorcist.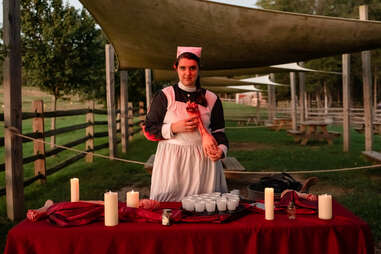 Now through November 18
The Winery at Bull Run
If you're looking to mix your scares with some sips, how about a lantern-led, outdoor walking tour through the historic and hallowed grounds of The Winery at Bull Run? Enjoy the chill of ghost stories and local haunts while warming up with award-winning Virginia wine.
Check out (or participate in) a costume contest
Saturday, October 30
The Boro
On Halloween Eve, bring the whole family (including the pups) to The Boro for an evening of celebration and costume contest fun that involves a live DJ, themed photo booth, arts and crafts, and trick or treating. You'll be able to enter your four-legged family members in a "Best in Show" costume contest for a chance to win a basket full of Halloween-themed toys and other goodies. Be sure to register here.
Sunday, October 31
Dacha Navy Yard
What better place to celebrate Halloween than at a beer garden with a party celebrating The Rocky Horror Picture Show's 45th anniversary? The film's Spectacular Tour is coming to DC, and you're invited to Dacha's Navy Yard location for a party ahead of the film's screening, complete with Halloween specials all night long and extra special surprises for moviegoers headed to the screening later in the evening. Costumes are encouraged, but not required.
Sunday, October 31
Black Cat
The Black Cat's '80s-themed Halloween bash is back and better than ever. The 9th annual so-called "EIGHTIES MAYHEM" is back, and yes, costumes from any decade are encouraged.