While it's tempting to spend these bitter cold days on your couch, hibernating under a fleece blanket and watching Netflix, there are so many reasons to get out and go. After all, it's the season for twinkling lights, spiked apple cider, and ugly sweater parties. So here are 13 festivals in and around Maryland to get us through the holiday season and those long winter months afterwards.
Annapolis
Don't be alarmed if you see hundreds of scantily clad Santa Clauses running through the streets of Downtown Annapolis on December 19th. It's just the 10th annual Santa Speedo Run, where pretty much the only rules seem to be no thongs, wear holiday colors, and bring an unwrapped toy to donate to a kid in need. Warning: future viewings of A Christmas Story may prove uncomfortable.
Sandy Point
Even though you can't lay out on Sandy Point's beach in the winter, you can still enjoy its scenery with Lights on the Bay, running through January 2nd. Two miles of the Chesapeake Bay's coastline are illuminated by 70 animated light displays, including a colonial village inspired by historic Annapolis, U.S. Navy midshipmen tossing their hats in the air, and a North Pole village scene.
Baltimore
Anyone who has been to Baltimore in December knows not only is the Hampden neighborhood ideal for gift-shopping, but also when the sun goes down, the 700 block of W. 34th Street (get it?!) comes to life. Residents on the entire block go all-out on decorations -- with features like a Christmas tree made of hubcaps, light-up flamingos, and even an illuminated portrait of Mr. Boh and the Utz girl. The lights, a tradition now 70 years in the making, stay up through January 1st.
Berlin
This Eastern Shore town goes back to Victorian times on Saturdays in December with A Very Merry Main Street, where you'll find free old-timey carriage rides and Santa (naturally). Plus, the town runs a "win the window" contest where passers-by can browse the winter window display and bid on marked items.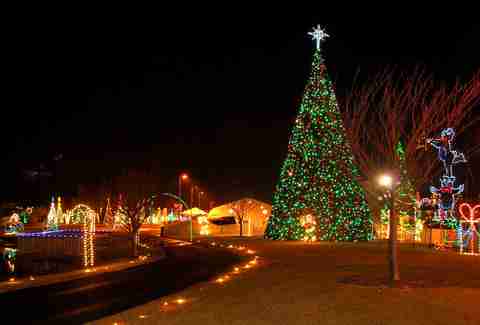 Ocean City
Summers in Ocean City are a yearly tradition for Marylanders, but you might want to think about flocking there in the colder months for Winterfest of Lights, which runs through January 3rd. Up on 127th Street, Northside Park transforms into a holiday wonderland with more than 400 displays and one million LED lights that tell the story of the 12 Days of Christmas.
Chesapeake City
While Maryland might not have a Rockefeller Center, that doesn't mean our outdoor ice rink game isn't on point. Now through January 17th, Chesapeake City's is brimming with events during the town's Winterfest. From Star Wars-themed skates to ugly sweater parties on ice, this Northeast Maryland town's temporary landmark comes alive this month.
Kennett Square, PA
OK, it's not technically Maryland, but just half-an-hour over the Maryland-Pennsylvania border is the vast 1,000ft acreage of blooms, woodlands, and meadows known as Longwood Gardens. Now through January 10th, the garden is illuminated with thousands of blue and white twinkling lights, whirling fountain shows, countless vibrant poinsettias and orchids, and a conservatory filled to the brim with glass ornaments.
Cardrerock
On the banks of the Potomac River in Montgomery County, there is a sponsored Winter Wonderland Canal Walk that allows nature lovers to enjoy the colder months. With both options of a 5K and 10k walk, the trail along the C&O Canal features picturesque jagged rocks, epic cliff faces, and a rambling river nearby. If you're lucky, the walk, this year on January 16th, will be dusted with snow.
Ellicott City
We're not sure what kid got through the holidays without obsessing over a train garden or two. Now add Legos into the mix and the mind of our inner-child just explodes. Running through January 24th is the B&O Railroad's Festival of Trains in the real-life train station in Ellicott City. The exhibit features a multi-level, 360-degree Lego layout with interactive lights, motors, and sounds.
Baltimore
We all know that feeling after the holidays when winter seemingly drags on forever. What better way to cure those blues than with some reds and whites. On January 21th, in the expansive train roundhouse of the B&O Railroad Museum, guests can enjoy appetizers, live jazz, and wine from 15 Maryland cellars -- including samples of sparing, red, white, and dessert varieties.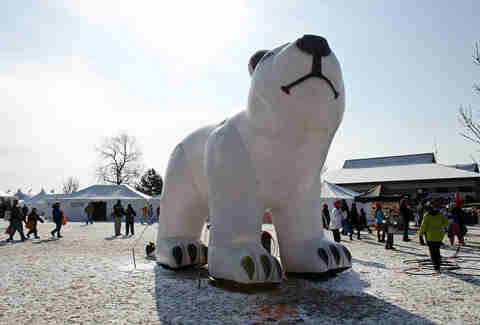 Sandy Point
What is it about the biting winter temperatures that make people want to take their clothes off? In this case, charity. Now in its 20th year, the Polar Bear Plunge consists of thousands of brave souls who dip their toes (ankles count!) or fully immerse their bodies into the freezing, late-January waters of the Chesapeake Bay (January 30th, to be precise). This is all to benefit the Special Olympics of Maryland, which includes more than 24 sports in the state.
Solomons
For most of the year Annmarie Garden in Southern Maryland is a treasure trove of sculptures on loan from the Smithsonian and National Gallery of Art. But, every winter, the main attractions are hundreds of handmade light sculptures depicting crazy sights like a wild animal disco party, a galactic space adventure, and ferocious dinosaurs. On a nightly basis through January 3rd, the light show will be accompanied by music from nearly 25 bands performing jazz, rock, and folk.
Oakland
If you're heading towards the slopes for some skiing and snowboarding, stop by Oakland for Winter Fest. Every President's Day Weekend, the small town goes ice-crazy with sculptures, live carvings, and even ice bowling. In addition, there are store specials, carriage rides, and craft vendors along South 2nd St.
Sign up here for our daily DC email and be the first to get all the food/drink/fun in town.
Jess Mayhugh is the digital editor at Baltimore magazine and is still pretty much obsessed with train gardens. Follow her for all things boozy @jessmayhugh.