Everything You Need to Know About DC's 2019 Pride Parade
Order those spandex shorts you've had in your cart for the last month, and make those last-minute brunch reservations: It's time for Pride 2019 in DC. Organized annually by The Capital Pride Alliance, events such as the popular Pride Parade, Festival, and Block Party are back, and all happening on the weekend of Saturday, June 8 and Sunday, June 9.
This year's theme of "shhhOUT: Past, Present & Proud" pays homage to the 50th anniversary of the 1969 Stonewall Riots in New York City -- a pivotal moment in history that helped catalyze the gay rights movement in the United States and around the world. It was only a few years after the riots that Washington, DC held its first Pride celebration in 1972, with annual celebrations beginning in 1975 and continuing ever since. This year's theme not only holds historical significance, but comes at a very on-brand time given the current state of our political climate: a time to "shhhOUT! proudly about our past, our present, and most definitely as we move forward into the future!"
Check out the official calendar to see a complete list of events, but make sure to leave some energy for the main event -- the Pride Parade. More than 200 organizations will be participating in the parade this year, commemorating LGBT+ history and supporting the community through floats, banners, entertainment, and more.
Joseph Sohm/Shutterstock
Where and when will the Pride Parade take place?
The annual Pride Parade begins at 4:30pm and goes to 7:30pm on Saturday, June 8, in the historic Dupont and Logan Circle neighborhoods. The DJ and bleacher seating for the parade will be located just northeast of Dupont Circle on New Hampshire Avenue and will feature entertainment starting at 3:30pm (you can grab tickets here for just under $28 with fees). There are also two announcement stands operating with American sign language interpreters.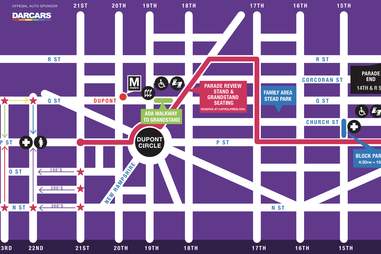 Capital Pride Parade
What is the Pride Parade route?
The 1.5-mile parade route starts at P and 21st and finishes at 14th and R Streets. Consult the full parade map to see which entrance might be closest to you.
How do I get there?
If you're already in the city, the Metro system (bus or subway) is definitely your best bet, since large crowds and blocked streets will be obstacles for driving and parking. For the start of the parade, take the Red Line to Dupont Circle-Q Street exit. At the end of the Parade, you'll be nearest to the Green Line at the U Street/African-Amer Civil War Memorial/Cardozo-13th Street exit. You can check MBTA schedules, maps, and service updates at the MBTA site and on Twitter. You can also avoid public transportation by instead opting to use Capital Bikeshare.
Kelly Bell
What should I wear for the weather?
Temperatures are expected to reach a high of 80 with a low in the mid 60s. Mostly sunny skies and a pleasantly low humidity rate of 57% make for what will hopefully be a beautiful day, but it's always advisable to wear comfortable, loose clothing to prevent overheating… and feeling generally disgusting after being amongst a very high energy crowd the whole day.
If your plans extend into the evening, you might want to consider bringing an umbrella or light rain coat because light rain showers are expected with mostly clear conditions later that night.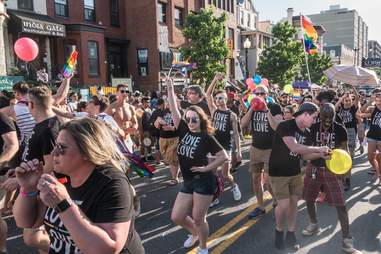 bakdc/Shutterstock
How can I continue the party?
Make sure to check out the annual Pride Festival on Sunday, June 9 for a full day of entertainment, music, food, and more. It includes three stages of national and local talent, including headliners like Marshmello, Zara Larsson, and Todrick Hall. The Festival will also host 300 exhibitors looking to promote their products and services (which obviously means tons of free stuff).
Unofficial Pride events, from happy hours to pool parties, will also be happening around the city. Pride on the Pier will be celebrating its second year on Saturday, June 8 from 2-9pm and is free and open to the public, with a fireworks show rounding out the festivities at 9pm.
If you went a little too hard on Saturday night and are in need of some hair of the dog, you can also check out the "Gaywatch" Pool Party on the DNV Rooftop, where they'll be throwing a beach-themed pool party and hangover brunch on Sunday, June 9 with $15 large-format cocktails and a DJ playing all of the Britney hits your heart desires. Tickets are $5 online or $10 at the door.
What can I do if I want to get more involved?
Before: You can donate at any time to the Capital Pride Alliance. There are multiple tiers that involve all sorts of goodies and perks, including T-shirts, access to events happening through the year, and special ticket pricing.
During: Capital Pride is are still in need of volunteers for all sorts of activities, including assembling and disassembling floats for the Parade! You can learn more about all the specific volunteer opportunities here.
After: Registering to vote (and voting) is the first step to getting involved in any political issue, so do that if you haven't already. Additionally, the Capital Pride Alliance offers internships in development and fundraising, marketing, and event planning; opportunities on the production team; and even the chance to serve on its board of directors. To apply for an internship, submit resume and cover letter by to apply@capitalpride.org. You can join their mailing list to stay up to date with volunteering opportunities, events happening throughout the year, and more.
 
Sign up here for our daily DC email and be the first to get all the food/drink/fun in town.