The Best Drive-In Movie Theaters Near Washington DC
Add some nostalgia to your summer.
Americans rekindled their love affair with drive-in movie theaters during the height of the pandemic. But even as our world returns to normal, that nostalgic activity remains a popular summer pastime. Though many of us have embraced streaming our favorite shows at home, there's nothing like watching a movie under the stars, whether from your car or on a lawn chair armed with snacks. From seasonal pop ups to theaters that are open year-round, we've rounded up drive-in theaters and outdoor movies that film lovers can experience in DC, Maryland, and Virginia.
Union Market District
Now in its 10th year, Union Market's drive-in series takes place the second Friday of each month through October. With all the concession options from Union Market, it's easily one of the best dinner–and-a-movie options around as you can purchase cocktails from Suburbia, ramen from Uzu, or classic British fare from AboveGround. Pay $20 to enter by car or set up your chair or blanket in front of Union Market for free entry.
Distance from DC: None! It's at Union Market
Buzzard Point
Audi Field, home of our local soccer team, DC United, screens family-friendly blockbuster movies on the jumbotron on select Thursdays throughout the warmer months. Grab a spot on the pitch and since the event is free, you can go all out purchasing concessions. Note that chairs, outside food and alcohol, and pets are prohibited.
Distance from DC: None! It's at Buzzard Point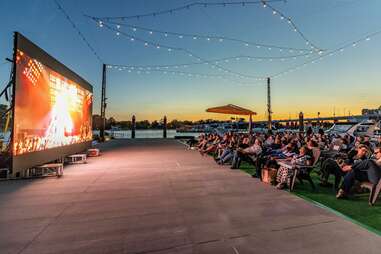 The Wharf
A waterfront view, snacks from Cantina Bambina, and a big screen movie on the pier at The Wharf will make your DC summer complete. The free Thursday night movies begin at 7:30 pm and don't require reservations, but the seats are available on a first-come first serve basis. Guests can bring food (but not drinks) from any Wharf restaurant, which include Moon Rabbit, Kaliwa, Hank's Oyster Bar, and more.
Distance from DC: None! It's at The Wharf
National Harbor, Maryland
Enjoy movies on the plaza at National Harbor with the Potomac River and Capital Wheel serving as the backdrop. Bring your kids for family-friendly movies Sunday nights or your partner for Thursday date night movies. Each month brings a different theme: food themed-movies in July, musicals in August, and America-themed movies in September. Order food from one of the dozens of National Harbor restaurants to enjoy during the show.
Distance from DC: About 20 minutes
Centerville, Virginia
Fairfax County will host four family-friendly movies on Saturdays in August in a suburban office parking lot. Get there early to enjoy children's music, magic shows, games, and other entertainment before settling in for the free movie. Guests can watch from their cars or bring lawn chairs and blankets. There are no concessions on site, so be sure to bring your own food and beverages to enjoy during the show.
Distance from DC: About 30 minutes
Middle River, Maryland
Touting a 52-by-120-foot movie screen, this 67-year-old Middle River drive-in is worth traveling for. The theater also boasts an impressive concession menu that includes vegetable soup, meatball sandwiches, and burgers—but attendees can bring their own food and drink (no alcohol) into the parking lot with a $20 permit fee. Located an hour and 15 minutes from DC, Bengies screens triple features Friday and Saturday nights for one single admission fee and dusk to dawn movies during holiday weekends. Watch from your car or bring blankets and chairs to sit outside your vehicle.
Distance from DC: An hour and 15 minutes
Stephens City, Virginia
Located 90 minutes from DC, this 64-year-old classic movie theater operates year round and offers two movies from which to choose. Bring your leashed pets and the kids, who can enjoy the playground before the show. Purchase your movie tickets online, including a ticket for the driver and each passenger. The theater sells popcorn, candy, burgers and pizza, but visitors can bring their own food and drinks for a fee.
Distance from DC: An hour and a half
Julekha Dash is a Maryland writer who covers food, travel and design with bylines in
USA Today
,
American
Way
,
Architectural Digest
,
Eater
,
Fodor's
, and others. Follow her on Twitter and Instagram and check out her Contently portfolio.