Everything You Need to Know About DC's New Immersive Van Gogh Exhibit
Tickets are selling fast.
Photo courtesy of Van Gogh: The Immersive Experience
More than 130 years after his death, the iconic Dutch painter Vincent Van Gogh continues to transcend time.
Some may not know that Van Gogh was largely unrecognized by the art world during his lifetime. But by the end of the 20th century, his emotional and colorful post-Impressionist style had captivated the world. Now more than a century later, Van Gogh is being celebrated in immersive exhibits that allow fans to step inside some of the artist's most well-known paintings.
Van Gogh: The Immersive Experience is popping up in more than 20 cities around the world from Beijing to Houston—and it's making its stop in DC this week. Here's everything you need to know about this digital celebration of Van Gogh before planning your visit.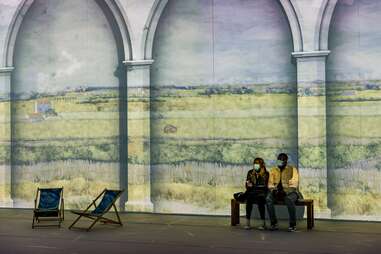 When does the exhibit open?
Van Gogh: The Immersive Experience makes its DC debut Friday, August 6 and will run through January 2022. The exhibit is open daily from 10 am to 8 pm on weekdays and 9 am to 9 pm on weekends and holidays.
Where is the exhibit located?
Conveniently located near the Red Line, the exhibit is displayed at the Rhode Island Center, a brand new complex of residential buildings and other developments, at 524 Rhode Island Ave NE.
With more than 23,900 square feet of space, Van Gogh: The Immersive Experience transports visitors into some of the artist's most famous works through sights, sounds, and technology. In the central area, you can expect floor-to-ceiling projected displays of more than 300 of Van Gogh's works, including his most famous pieces like Starry Night, Sunflowers, Almond Blossoms, and a wide range of self-portraits. The exhibit also features music and an array of seating, so you can view the art while sitting, laying, or standing.
In the smaller attached galleries, informational panels, narration, and interactive features delve into the artist's life, technique, and influence. A 10-minute VR experience titled "A day in the life of the Artist" is also available, which uncovers the inspiration behind some of his most notable works (like Vincent's Bedroom at Arles).
Tickets are now available for purchase through Fever. Each ticket covers a visit lasting 60-75 minutes with regular adult tickets starting at $36. For $54.50, VIP tickets are available, which includes access to the VR experience and a poster of your choice upon departure. Keep in mind tickets are selling fast, with the month of November already sold out.
Where can I see more art by Van Gogh in DC?
If this exhibit leaves you wanting more Van Gogh, you're in the right city.
Take a trip to the National Gallery of Art, where six of his works are currently on display (notably, one of his most highly regarded self-portraits and Green Wheat Fields, Auvers). Two of Van Gogh's floral still-life paintings are also on display at The Kreeger Museum. In addition, The Phillips Collection has two paintings created by Van Gogh in his final years.