14 Things to Do in DC This June
Let's get weird, DC! This June, you can experience a giant urban Slip 'N Slide, make boozy fruit roll-ups, and crash a museum after hours. See? Told you. Weird. Here are 14 can't-miss events.
Arlington Magazine's very first Best of Arlington party is a chance to try bites and sips from some of the best: Pizzeria Orso, Water & Wall, Willow, Bayou Bakery, Liberty Tavern, and more. Swing to the 19th Street Band inside the Clarendon Ballroom from 6-9:30pm. Tickets are $70.
Charlie Palmer Steak
is coming in a month early patriotically, but who's counting when the region's best brewers are involved. The restaurant is celebrating all things local with craft beers from 3 Stars Brewing Company, Atlas Brew Works, DC Brau, and Port City paired with dishes featuring the restaurant's farm-to-table mantra. VIP tickets are available for $85 (5:45pm entry); regular admission is $50 (6:30pm entry).
DC's favorite Friday afternoon pastime is back with a full schedule of great jazz ensembles. The National Gallery of Art's Jazz in the Garden runs June 5, 12, 19, and 26. Bring a blanket and some bucks to spend on pulled pork or brisket sandwiches and pitchers of sangria, then dip your feet in questionable water.
If hitting three different food trucks on Farragut Fridays is your idea of a gut-busting good time, make the trip to Baltimore for the Taste of 3 Cities. Sixty food trucks from DC, Philly, and Baltimore will square off -- but most importantly, they'll feed you. Hang out in Patterson Park from 12-9pm with live music, beer, and wine, all benefiting Meals on Wheels.
Things that make the world go 'round: cocktails, mustaches, and Fruit Roll-Ups. Play with all three at Zentan's Campari fruit roll-up class on June 6 when bartender Matt Allred teaches you how to make a boozy kid snack in the shape of a mustache that was just featured in Food & Wine. It goes great as a garnish for a Negroni. The class runs 2-4pm and costs $40.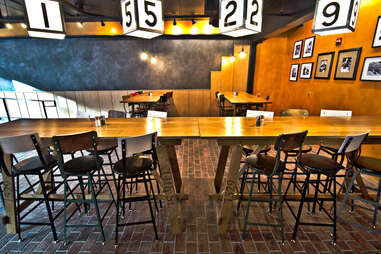 Women's World Cup at Drafting Table begins
Take Wambach, Solo, or Morgan shots throughout the FIFA 2015 Women's World Cup at Drafting Table. They're only a dollar (instead of $2) when Team USA scores a goal, especially if you're sporting creative red, white, and blue. The games will be up on the restaurant's four flat screens and the bar will be dishing out poutine throughout the tournament, because Canada is cool too.
Hit 17 restaurants in Penn Quarter without pausing to sign a check, thanks to José Andrés' Dine-n-Dash. The participating restaurants include new hotspots like China Chilcano and The Partisan, plus old favorites like Zaytinya and Proof. Once you're done dashing, the party continues at Carnegie Library with desserts, music, and drinks, all benefitting World Central Kitchen. Regular tickets are $129; VIP $299.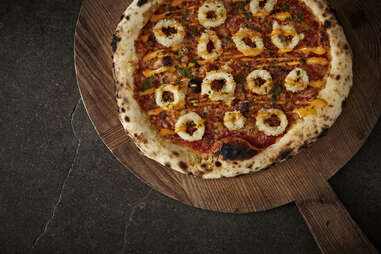 Jersey Shore at Graffiato
Get Jersey with it at Graffiato the week of June 8 when Mike Isabella rolls out a special menu inspired by his summers growing up at the Jersey Shore. Come dressed as The Situation (or don't) and chow down on things you might find on a boardwalk, only better. Disco fries, peel & eat shrimp, and fried chicken in a waffle basket all made the cut. The
menu
is available for lunch and dinner.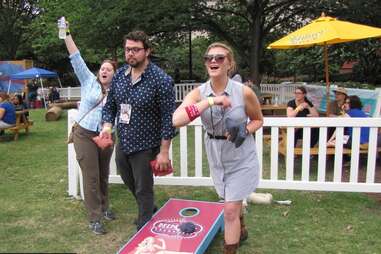 Spend a Saturday afternoon with your buds Jim, Basil, and even Old Grand-Dad, because DC Bourbon Bash is back. Participants will sample eight bourbons spread across multiple venues like RFD, Penn Social, and Jackpot. A ticket ($55 regular, $75 VIP) also includes special beer and food pairings, and gentle pricing on additional pours of featured bourbons.
Kick off summer with beer and wine, but more importantly, awkward tan lines from partying in the sun in the Fairgrounds by Nationals Park. Live music will be cranking all day at Summerfest and 100 craft beers will be begging you to try them. Choose from session one (12-3pm) or session two (3:30-6:30pm) and between regular or VIP ticketing.
Celebrate National Bourbon Day at
Barrel's
downstairs Elixir Bar, where the shelves are lined with some of the best brown liquor from the US of A. You'll partake in an hour of passed appetizers paired with different bourbons before a dinner featuring jerk chicken and goat with fry bread. Finish with a reserve tasting of Parker's Heritage Promise of Hope. The evening kicks off at 6:30pm and costs $100.
Our friends at Brightest Young Things have upped the ante again this year with a full takeover of the National Geographic Museum. Bounce from bar to bar (cash) securing libations that will aid in the enjoyment of exhibits like Indiana Jones and Sea Monsters 3D. There are outdoor activities, too, including food trucks and mechanical sharks. The party runs from 8pm-1am.
Try four family-style courses from Chef Rob Rubba during a summer solstice dinner at Arcadia Farm. The main attraction from the chef who is gearing up to open Hazel in Shaw will be barbecued chuck roast served with Bibb lettuce, tortillas, chimichuri, Korean BBQ sauce and sides. Brent Kroll, Jeff Faile and Greg Engert will provide the beverages Tickets allowing you to escape urban living for a night are $157.
Yes, this urban waterpark is for real, and it's coming to Arlington. Slide the City will set up a 1,000ft slide that you, your tube, and your friends can cruise down and they promise it has "more cushion than your grandpa's orthopedic sneakers." While that's not a sexy thought, summer interns in swimming suits is. Tickets range from $15-$60 depending on the size of the tube and number of trips.