Thrillist Weekend Guides
Presented By
8 Actually Fun Things to Do in DC This Weekend
Visit an otherworldly fashion exhibit.
Presented By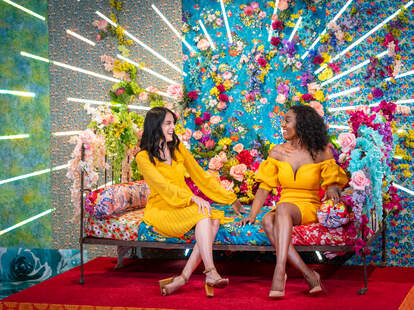 Photo courtesy of Inside the Wardrobe
Take advantage of the warm weather and sunshine, and spend some nights out on the town. The DC dine-in experience is back with a bang, from ice cream shops to the newest restaurants and the weekend is the perfect time to try them all, or at least, all that your stomach can allow. But if you do decide to stay home, it could also be a good time for a good old fashioned midsummer closet clean out, with some opportunities to revamp your style after over a year in sweatpants and pajamas. Whether you stay close to home or go all out, we've compiled a list of all the fun ways you can spend your weekend.
Score some DC sports merch
Friday, July 23
Capital One Arena
If you're a DC sports fan or have gotten really into thrifting lately, you might be delighted to know that Capital One Arena is holding a garage sale this Friday. The "summertime garage sale" will feature a variety of merchandise from the Washington Capitals, Wizards, Mystics, Capital City Go-Go, and Wizards District Gaming. Choose from signed items from former players and a few novelty pieces.
Cost: Prices range from $1-$30
Friday, July 23
Riverdale Park, Maryland
Clock out of work and go straight to The Station for its summer After Hours event. Bring blankets, chairs and even your dinner from one of the nearby restaurants to The Village Green where all the fun is going down. Experience a live DJ, outdoor games, nine-hole mini golf, scavenger hunts, giveaways, and more. You can even bring your dog!
Cost: Free
Friday, July 23 – Saturday, July 24
The Kennedy Center
Put on your favorite pair of dancing shoes for the DMV's authentic Afro-Latinx experience. "Adobo Gigante" will feature live performances from some of the top local artists in DC, as well as DJ sets from Pedro Night, DJ Bembona, DJ Alizay, DJ Bo, and more. The event is meant to celebrate our return to the "real world" from the pandemic and the return of live music.
Cost: Free
Friday, July 23 – Sunday, July 25
Capitol Hill
If you're a fan of comfort food and that home cooked feel, try out Capitol Hill's newest restaurant, Crazy Aunt Helen. The comfort food spot (with a healthy slate of vegan options) is Shayne Mason's first project as a restaurant owner. The place has everything you could ask for in a DC dine-in experience—from vintage furniture from Miss Pixies to riffs on classic cocktails that pair well with a variety of dishes.
Cost: Prices vary
Friday, July 23 – Sunday, July 25
Congress Heights
Check out back-to-back live music at the Entertainment & Sports Arena. Tune in Friday for DC-based go-go group Junkyard Band, a group that's played almost everywhere in the District from the Smithsonian museums to Georgetown. Return on Saturday to catch local electric dup Thievery Corporation. Close out the weekend with Latin popstar Jason Cerda, who will be performing alongside a 13-piece salsa band for a high-energy dance show.
Cost: Tickets start at $5
Friday, July 23 – Sunday, July 25
Georgetown
If wearing sweatpants and a baggy t-shirt for most of the year has you a little rusty on the latest fashion trends, you're not alone. Georgetown's "Inside the Wardrobe" pop-up exhibit includes 20,000 square feet of interactive installations, each with a different theme. Fall back in love with your closet in a fantasy funhouse filled with fashion inspiration and a variety of backdrops perfect for Instagram. Get your tickets in advance to reserve your time slot this weekend.
Cost: $28
Sunday, July 25
Chinatown
Put a fun twist on date night this weekend with an exclusive Chef's Experience Dinner at Mexican restaurant Oyamel. Chef Omar Rodriguez will highlight the season's best produce from local farmers to create a delectable multi-course meal. In collaboration with the Oyamel Beverage Team, each course will be paired with a craft cocktail and expertly selected agave spirit. You'll have a seat at a communal table as Rodriguez presents each dish and describes the inspiration and origin of each course. Dinner will start at 6:30 pm. Don't be late!
Cost: $75 per guest
Go to a wine tasting
Sunday, July 25
Camp Springs, Maryland
Everyone loves a good wine tasting. Visit authentic Italian pizzeria Via Roma and possibly discover your new favorite wine. The event, "Vino Sunday Sips," will be hosted by Isis Daniel. From 2-4 pm, you will get three wines to try as well as a detailed explanation of each wine and suggested food pairings.
Cost: $15
Oyin Adedoyin is a Baltimore-area freelance journalist with previous experience at
The Wall Street Journal
,
Politico
, and
The Baltimore Sun
. On the off chance that she's not writing, you can probably find her nose buried in a good book or learning new songs on the ukulele. Follow her on Twitter @Oyin_Adedoyin_.