Cheer On the Pride Parade and More in DC This Weekend
Here's an ultimate itinerary of fun things to do in DC this weekend.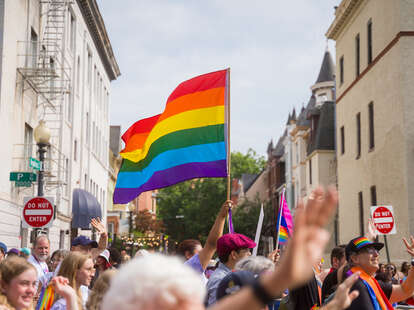 It's a big weekend in DC, so get ready. Over the next few days, not only is the Pride Parade happening, but we also have a new museum to visit, exhibits to see, and a James Beard Award-winning chef to celebrate.
After you've explored the best LGBTQ+ bars around, here's everything fun you can do in DC this weekend. And to check the local air quality before venturing out of the house, AirNow offers updates in real time.
Weekend-long
Shaw
The results are in, and DC's own chef Rob Rubba is this year's winner of the James Beard Award for Outstanding Chef. The prestigious award recognizes Rubba for his mastery in his vegetarian restaurant, Oyster Oyster, which uses local and seasonal mid-Atlantic ingredients and puts sustainability front and center—the restaurant even reuses cooking oil to make candles for the dining room and uses sunflower seeds in the paper of their menus. There's never been a better or more celebratory time to book a reservation at the restaurant.
Cost: Prices vary
Friday, June 9
The Wharf
Looking to improve your (infamous) dance moves this summer? The Wharf's Transit Pier is transforming into a dancefloor to help you shimmy and sashay your way across dancefloors this season. This Friday you can join teachers from Gottaswing and live music from The Nighthawks to learn the basics and fundamentals of swing dancing.
Cost: Free
Friday, June 9
Penn Quarter
DC's newest museum, The Capital Jewish Museum, opens its doors this Friday, nearly 150 years after the historical event on June 9, 1876 when Ulysses S. Grant became the first president to attend synagogue services. The museum explores the Jewish experience throughout DC's history and tells the story of Jews who shaped the capital, from Ruth Bader Ginsburg to a Confederate spy and many people in between through interactive storytelling and over 24,000 photographs and 1,000 objects.
Cost: $12 or free with timed admission
Saturday, June 10
Logan Circle & Dupont Circle
If there's one event this Pride Month not to miss, it's this Saturday's Capital Pride Parade. The mile and a half route celebrating the LGBTQ+ community, and its allies, kicks off at 14th Street (at the intersection of T Street NW) and winds its way to finish at P Street and 21st. Although registration to march in the parade is now closed (you can put your name on the waitlist!), you can grab a spot anywhere along the route to join in the city-wide party, or head to 17th Street between P & Q for a Block Party featuring music and entertainment galore from the parade stage, as well as local food trucks and a beverage tent.
Cost: Free
Saturday, June 10
Dupont Circle
Frank Stewart's photographs of world cultures and Black life from the 1960s to the present day, have profoundly impacted American culture and society. A new exhibition of Stewart's work is opening this Saturday at the Phillips Collection and you'll want to be one of the first to take it in. The show, FrankStewart's Nexus, is a retrospective of his work, bringing together over 100 photographs as well as some of Stewart's cameras. Highlights include pictures from his journeys to Africa and Cuba as well as a wealth of images from his three decades as the senior staff photographer for the Jazz at Lincoln Center Orchestra where he captured performances and behind-the-scenes snapshots of jazz greats including Wynton Marsalis, Miles Davis, and Ahmad Jamal.
Cost: $16
Sunday, June 11
U.S. National Arboretum
The meadow around the Capitol Columns at the U.S. National Arboretum is one of the most picturesque spots in the district. This Sunday afternoon, grab a picnic blanket and some friends (dogs are welcome, too) and head to the meadow around the columns for a concert by the multi-talented U.S. Navy Band. This impressive group of service people and musicians will play a wide variety of pieces, from selections from Leonard Bernstein's West Side Story to Gustav Holst's iconic First Suite in E-Flat to some Navy favorites and more.
Cost: Free
Weekend-long
Logan Circle & Capitol Hill
nailsaloon, the women and minority-owned nail salon with locations in both Logan Circle and Capitol Hill, is partnering with one of the city's most renowned cocktail bars, the LGBTQ+ owned craft cocktail joint Jane Jane to offer complimentary Pride Pop cocktails and mocktails to all salon patrons through Sunday. If you needed an excuse to treat yourself this weekend, this is your sign.
Cost: $22 and up
Sunday, June 11
Eckington
Peony season is pretty fabulous but it's also pretty fleeting. Join DC's favorite florist, She Loves Me, and one of the city's most talented artists, Emily Paluska of Revery Paper Flora, for an afternoon workshop on crafting paper peonies that will last way longer than the ones you just bought at Trader Joe's. The hour-long class will include a demonstration as well as all the materials you will need to create a peony bouquet.
Cost: $165
Sunday, June 11
Capitol Hill
Fight Club is throwing all the punches this Sunday with a drag performance by Pariah Sinclair and live music from DJ Daniel Biltmore. Tickets include a welcome cocktail and guaranteed entry. Brunch items will be priced a la carte. All gratuity added to ticket purchases, as well as $1 of each Pornstache Martini purchased (Fight Club's special Pride Month concoction), will support SMYAL, an organization that supports trans and queer youth in the DC metro area.
Cost: $20