This Weekend in DC Is Jam-Packed with Festivals About Art, Coffee, and Culture
Fun things to do in Washington DC this weekend.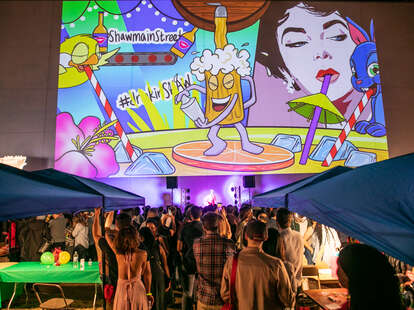 Art All Night

| Photo credit: Jason Dixson Photography, photo courtesy of Art All Night
Art All Night

| Photo credit: Jason Dixson Photography, photo courtesy of Art All Night
Somehow, October begins this weekend and since there's no turning back, we're making the most of sweater season by packing in as much as possible over the next few days. Luckily there's a lot to choose from: festivals about world cultures, coffee, and big ideas, along with new fall cocktails, art exhibitions, and more.
There's nothing better than a fall weekend spent winery hopping in Virginia and we fully support heading out of town for that. For those of us sticking around the district, here's everything fun you can do in DC this weekend.
Cannabis in DC
September 30, 2 pm–7 pm
Adams Morgan, Free
The i-71 compliant street art-inspired gallery and retail shop, Gifted Curators, which works to advance cannabis policy reform and justice in the district, is hosting a customer appreciation bash this Saturday. Stop by for live music, an on-site caricature artist, snacks like popcorn and snow cones. There will be cannabis trivia and a chance to win prizes from the shop.
September 30, 2:30 pm–9:30 pm
U Street, Prices Vary
Legacy DC, the gallery, retail space, cultural center, and dispensary in the U Street Corridor, is hosting a flea market in conjunction with Art All Night (keep reading down). Both floors of Legacy will transform into a showcase of local clothing brands and art pieces. Expect live performances and deals on all of Legacy's cannabis wares.
Arts & Culture in DC
September 29, 9:30 am–7 pm
The Wharf, $200
The ticket price definitely is steep, but we're pretty sure it's worth it. Friday, the second (and final) day of the Atlantic Festival, has a packed schedule including interviews and conversations with Nancy Pelosi, Gretchen Whitmer, Kerry Washington, and Anthony Blinken. Editors of the Atlantic will also host programming like a panel on preventing gun violence, a deep dive into the future of American conservatism, poetry, baseball, and much more.
September 29–30, 7 pm–3 am
City-wide, Free
DC's citywide free art festival is back! This Friday and Saturday nights, all eight wards of the city will churn out visual and performing arts events in both indoor spaces and in the streets, bringing local businesses and restaurants to join in. There'll be different events in each neighborhood—from poetry readings to dance performances to craft activities for kids and more. Check out Art All Night's online map to plan your route.
September 29–October 1
The National Mall, Free
A mega-festival with a reported 450,000+ people registered attendees, World Culture Festival is making its US debut this weekend. The three-day event is free but advanced registration is required. Come for an eclectic line-up of live music events, including performances from Howard University's Showtime Marching Band, the Iranian Folk Orchestra, dance performances like Argentinian tango, and Nepalese folk dancing. There will also be more food trucks and vendors than we can count.
September 29–30
The National Mall, Free
The pickleball craze has made it all the way to the National Mall. This Friday and Saturday, you can reserve one of nine pop-up courts in what is probably the sport's most epic location in recent memory. While court reservations have filled up quickly, there are some surprise openings peppered throughout the weekend, so keep checking the website.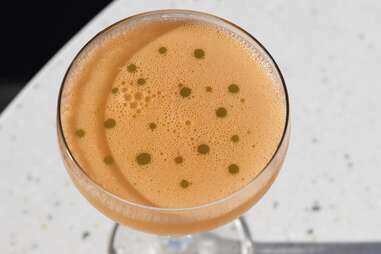 Drinking & Dining in DC
September 29–October 1
Navy Yard, Prices Vary
Rather than fear the seasonal scaries (short days, long nights, colder temps…), why not embrace them, or better yet, toast to them! We're not just talking about pumpkin spice, either. One of the city's most luxurious rooftop bars, Smoke & Mirrors, which is located at the top of the AC Marriott Hotel, just unveiled their fall cocktail menu and it's a good one. Our advice: try the "The Hill's in Session," a mixture of bourbon and an herbal liqueur. Whatever you order, the views of the Capitol Building are pretty breathtaking.
September 30, 10 am–4:30 pm
Union Market, $29 and up
If you're crazy about coffee, you'll want to join other caffeine fans this Saturday for the inaugural DC Coffee Festival. Specialty coffee roasters and coffee shops from DC and beyond—places like Red Rooster Coffee, dua DC, Lost Sock Roasters, and many more–will offer tastings. There will also be plenty of tasty bites from vendors like Bullfrog Bagels and Mochi-Mochi to help wash the caffeine down. When you've had your fill of coffee, settle in to enjoy the day's full schedule of live music from local artists like Tejas Singh, Shelby Blondell, and others.
October 1, 11 am–2 pm
Alexandria, $100
Summer may be over, but oysters are still in season! Head to Hank's Oyster Bar in Old Town for a day of all-you-can-eat oysters—raw on the half shell, barbequed, fried—as well as other indulgent bites and all-you-can-drink local craft beers and wine. Oysterfest will be held rain or shine on the restaurant's rooftop, so cross your fingers for some summery temps.