11 Ways to Give Back in DC This Holiday Season
Deliver hot meals, provide career coaching, and make DC a better place.
As the holidays draw near, the giving spirit is more robust than ever in our nation's capital. Whether you're looking to donate time to promote gender and racial equity, support relief for natural disasters, or want to make someone's holiday a little brighter, there are plenty of ways to volunteer around DC this holiday season.
Both local and national organizations in DC are in constant search of willing and eager volunteers to offer up their time and effort, especially around the busier Thanksgiving and Christmas seasons. To help you find a cause (or causes) that match your interests and skill set, we've rounded up a list of worthy volunteer opportunities for you to explore.
Get outside and do good
The fall in DC is one of the most beautiful times for our fair city, and what better way to get outside than to contribute to its preservation? If you're looking to spend more time on the National Mall, you can volunteer with the National Park Service. Or, if that sounds a little too crowded for your liking, take an adoptable four-legged friend out for a run by volunteering with the People and Animal Cardio Klub.
For those tired of living in a concrete jungle, lean into preserving nature all around us. Casey Trees is a great organization dedicated to increasing the number of trees in the area and they could use your help. Team up with The Chesapeake Bay Foundation by learning how to reduce your impact on the Bay using the footprint calculator or mark your calendars for the upcoming Bands in the Sand fundraising concert. Smaller waterway preservation organizations also offer great options for stewardship. Potomac Conservancy has plenty of events that you can sign up for as fits your schedule. Rock Creek Conservancy also maintains an active calendar with opportunities for you to get involved.
Chesapeake Climate Action Network also has advice for how to continue your activism right now—including writing to your representatives; taking part in DC-, Maryland-, and Virginia-specific campaigns; or attending rallies to fight climate change. Sign up via the survey to offer your support on actions like organizing CCAN members or writing letters to the editor.
Help low-income communities get access to housing and education
The United Way of Central Maryland and the United Way of the National Capital Area helps underserved residents become self-sufficient by addressing food, healthcare, housing, and other basic needs, which is especially critical around the end of the year. The site's dedicated volunteer page lists the latest opportunities, which range from food drives to community house cleanups. You can also check out family-friendly events to help instill a love for community activism in the youngest members of your clan.
You could also volunteer with venerated Northstar Tutoring, which has been providing free tutoring services to kids in the DC area for decades. You can donate, volunteer, or even enroll your own student for some extra outside-the-classroom learning opportunities.
Eat out for a good cause
The holidays are all about good eats, and luckily in DC, eating a meal at one of DC's best restaurants can also mean giving back. Chefs Stopping AAPI Hate works to promote racial justice and equity through food, and you can support the organization by donating directly or attending one of the many food-centric events that the team hosts throughout the year. Just keep an eye on the organization's calendar and keep up your appetite.
Support anti-racist practices and racial equity
If you're striving to make the world around you a little more just, there's no shortage of organizations that need your support. You could donate to the DC chapter of the National Association of Asian American Professionals, a nonprofit that cultivates, supports, and promotes Asian American leaders. To learn from one of the longest-standing nonprofits in this space, look into the DC-based Organization of Chinese Americans, founded in 1973, that includes more than 50 chapters and affiliates around the country to empower the next generation of AAPI leaders.
The Black Lives Matter DC chapter has been tirelessly speaking out against injustice for years, and the organizers are seeking support in the form of supplies for protestors and legal funds. Sign up online to stay plugged in about ongoing opportunities to bring about change.
Ayuda provides legal, social, and language services to low-income immigrants to help navigate the immigration and justice systems and access the social safety net. Similarly, Sanctuary DMV invites volunteers to join their community campaign in support of inclusive neighborhoods by calling your representatives and displaying the sanctuary logo in your home, among other opportunities. Anyone with a legal education or experience should reach out to the Baltimore Action Legal Team, which assists residents who protest against racial and economic injustice.
Help feed the city's hungry
Buying groceries or delivering hot meals to those who need it is a popular way to give back around the holidays. Nonprofits like Martha's Table, So Others May Eat, the Capital Area Food Bank, Jose Andres' World Central Kitchen, and many more need volunteers to distribute food, sort and pack donated food items, work outside in a garden, and cook meals. Food and Friends also has a series of Thanksgiving-related pushes around this time of year, and you can sign up to volunteer with a group of friends.
If you're looking to get more involved in the actual gardening aspect, check out Cultivate the City, where you can learn how to develop your own green thumb as a volunteer.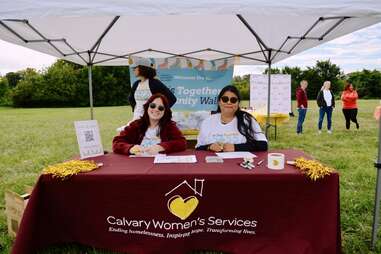 Support survivors of domestic violence
The first domestic violence shelter in DC, My Sister's Place, provides emergency housing, hosts events, and helps survivors transition into new lives. The nonprofit needs volunteers to cook and deliver meals, donate and move furniture to survivors' new homes, fundraise, and provide administrative support.
Calvary Women's Services is another wonderful organization to support, with programs designed for women who are survivors of violence and trauma, are living with mental illness, or are in recovery from substance abuse.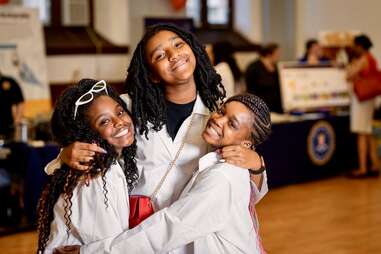 Offer career coaching to women in need
While Dress For Success Washington DC is known primarily for collecting donated professional attire to women in need, the organization also provides fabulous career coaching to women. The team also offers resume writing tips and job leads, and is always in search of volunteers to support these services.
You can also empower women and girls by working alongside the team at YWCA. The organization, founded in 1905, is always looking for tutors, mentors, and advocates to eliminate racism and empower women.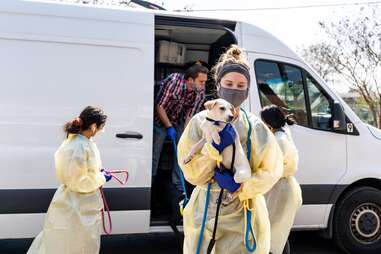 Provide disaster relief for those across the country
The fall, unfortunately, also brings with it a wide range of natural disasters, including hurricanes and other large storms across the Eastern seaboard. You can volunteer with the American Red Cross of the National Capital & Greater Chesapeake Region to help provide disaster relief, and attend one of their monthly virtual open house events. You can also volunteer or donate to Project Hope, where you can help out by being a subject matter expert across a range of pressing issues.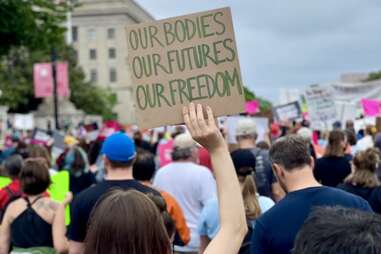 Stand up for free speech and civil liberties
With more than 1.5 million members, the American Civil Liberties Union fights against police brutality, threats to free speech, and the mistreatment of immigrants, all of which have unfortunately dominated the news in recent years. The ACLU's DC chapter needs volunteers to help secure voting and immigrant rights, reproductive freedom, protect free speech and more. Fill out this form to join the cause.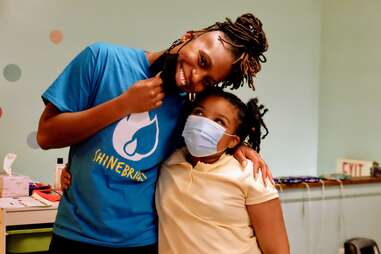 Help all generations
The holidays just wouldn't be the holidays without extending a helping hand to those beyond your family. CASA for Children of DC relies on volunteers to advocate on behalf of abused and neglected children in DC family court. CASA volunteers visit with kids, gather information on a child's life, and document findings for court hearings to determine how to best help a child in need. Comfort Cases assembles care packages with blankets, stuffed animals, and pajamas to kids who enter foster care. The Rockville-based organization also needs volunteers to process donations, count inventory, and assemble the cases.
You can help those in the DC public housing community by working with Little Lights, which involves tutoring, leading spiritual programs, participating in gospel music, and more. The Homeless Children's Playtime Project invites volunteers to participate in safe and fun play spaces, where they can give children some much needed playtime and mentorship. On the other hand, if you'd like to help out the senior citizens of the DMV, spend some time with We Are Family DC, which needs volunteers to deliver groceries to our older neighbors.
Lulu Chang is a native Texan with high aspirations of eating her way through the northeast (and beyond). When she's not exploring the culinary scene in DC, you can find her adjusting the height of her standing desk or otherwise searching for a new project. Follow her on Instagram.