Where to Watch Fireworks in DC This 4th of July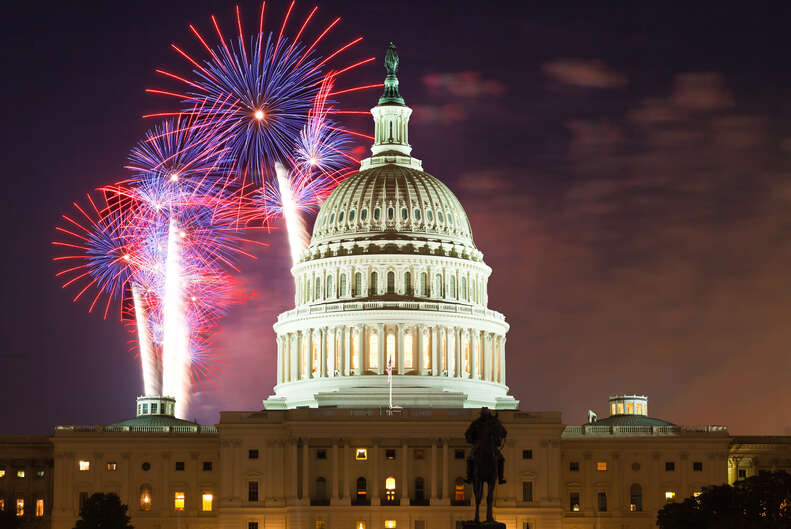 The Fourth of July will be, ahem, atypical in the capital this year: President Trump plans to make a speech at the Lincoln Memorial from 6:30-7:30pm, with music, flyovers, and military demonstrations. And on top of the usual fireworks show launched from behind the Lincoln Memorial, there is now an additional display launching from West Potomac Park.
Indeed, this will be the capital's biggest, most tremendous, spectacular fireworks display to date. The event will run an extra 15 minutes longer than usual, thanks to a huge donation of fireworks valued at $750,000 from two private pyrotechnic companies. The fireworks in DC kick off just after 9pm (9:07 to 9:27 to be exact).
But where are the best places to watch? Needless to say, there has been a lot of confusion surrounding where, exactly, the public can view fireworks this Fourth of July. It's a good idea to check out the National Park Service's website before you head out. Or avoid the quagmire entirely and opt for some bottomless champagne while blissfully floating down the Potomac. You've got options.
But first, where should you pregame?
Looking for somewhere to grab a brew or two before the official festivities start? Snag a spot at one of DC's best rooftop bars, preferably by the water. Anywhere in the Wharf area would be a good idea, especially since they'll be having live music throughout the day. Head to Officina for a cocktail on their partially canopied terrazza, or have a daiquiri pitcher and spam musubi at the new, multi-leveled Tiki TNT.
What will the weather be like?
It's DC, so you already know to expect the unexpected when it comes to the weather forecast, but as of now plan on some major heat (around the mid-90s) with the possibility of scattered thunderstorms in the afternoon. Grab your largest bottle of water and the same size bottle of sunscreen and you'll be ready to take on the day.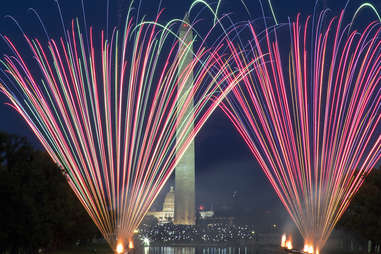 Downtown
Starts at: 9pm
In an earlier version of this story, we thought West Potomac Park looked like a good viewing option, but then it was announced that it was closed to the public. Then, the Lincoln Memorial seemed like a fitting patriotic place, but Trump proclaimed that was for VIPs only. Now, tanks are rolling in and Trump baby balloons are being inflated, and we barely know what to think. Our advice? Make the trek to the National Mall and find a spot along the reflecting pool. Also, if you're more sensitive to noise, consider bringing hearing protection as it will most likely get pretty loud. Again, see the National Park Service's website for more information as this saga unfolds.
Southwest Waterfront
Starts at: 7pm
This is a great option if you plan on spending your day at the Wharf, or simply want to be by the water during the show (a great vantage point). The intimate music venue is hosting a Cantina Bambina Fireworks Viewing Party at their sister location at $45 a pop, which includes fresh-shucked oysters, spiced shrimp, hot dogs, watermelon, and cake. Drinks will be available for purchase at a cash bar -- and note that the event is 21 and over.
Arlington
Starts at: 9pm
Grab your picnic blanket and set up camp across the Potomac River at the US Marine Corps War Memorial. Not only will it serve as a perfect vantage point, especially considering the new location of the fireworks display, but also serves as a pretty epic backdrop for getting into a patriotic mood while watching the show.
Foggy Bottom
Starts at: 9pm
Grab dinner in Georgetown and then stroll along the Potomac over to The Kennedy Center, where you can watch the fireworks from three vantage points: the spacious Roof Terrace, and the North and South Plazas. Any of the three would be glorious, but the terrace in particular offers one of the best views of the city if you can grab a prime spot.
A Potomac River Cruise
Georgetown
Starts at: 8:30pm
Get a completely unobstructed view of the show aboard the deck of a boat cruising down the Potomac. There are several options of who to book with, with most voyages lasting around 2-3 hours and including dinner, an open bar, and live entertainment. It'll cost you, though -- with tickets ranging from $125 to upwards of $250. Check out Potomac Riverboat Company, Spirit Cruises, or Odyssey's websites for tickets and more information.
Dupont Circle
Starts at: 11am
If you're in the mood to dance, head to the Rooftop of the Embassy Row Hotel where they're throwing a party complete with a live DJ and signature American bites and beverages. The event lasts nearly all day long and, for the $150 entrance fee, you'll get signature cocktails, Chef's American Grill appetizer and entrée, and a chance to win prizes.
Cathedral Heights
Starts at: 9pm
The Washington National Cathedral in Upper Northwest is one of the highest points in the DC area, giving you an amazing vantage point to watch the display from. This would be an ideal spot for families, and a great choice for low key picnicking since it's further away from the main event.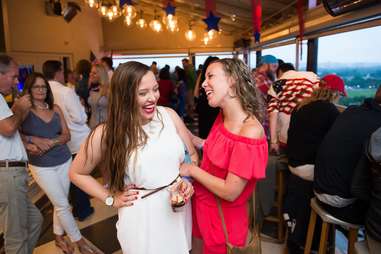 Downtown
Starts at: 6:30pm
Looking to go all out this Fourth of July? Then you might want to check out POV's annual National Fireworks viewing party overlooking The National Mall. Tickets will set you back a whopping $275 for general admission all the way up to $3,400 for an eight-top table. For the price of your general admission ticket you'll get to enjoy POV's newly transformed rooftop along with passed bites, food stations, and a limited open-bar.
Columbia Island
Starts at: 9pm
We're willing to bet that watching the display from Lady Bird Johnson Park provides this year's best unobstructed views (from land). Located on an island in the Potomac River, the park is right across the water from the show, which translates to an extremely epic fireworks viewing.
Ivy City
Starts at: 5pm
Finally, a free rooftop party! If you're on the hunt for a Fourth of July event on a budget, this may be a great option for you. City Winery will be throwing their rooftop bash with performances by live DJs, cookout fare available for purchase, and frozen drinks specials. The one caveat is City Winery's location, which is considerably further away than pricier options like the W.
Sign up here for our daily Boston email and be the first to get all the food/drink/fun the Hub has to offer.
Austa Somvichian-Clausen hails from Los Angeles and now lives and works in Washington, DC, where she graduated from American University. A few of her passions include eating food and writing about it, telling people what kind of Asian she is, and following around Samoyeds that she sees on the street. Fun fact: She is a dual citizen of the US and Iceland.