How to Celebrate Pride Month in DC
Honor the return of the Capital Pride Parade, get decked out in rainbow for parties throughout the month, or donate to an LGBTQ nonprofit.
June ushers in backyard barbecues, afternoons lounging in the sun, and a whole host of other summertime activities—but most importantly, it's Pride Month. Celebrated annually in June, these 30 glorious days are dedicated to celebration, education, and action in the name of the LGBTQ community.
While some of the more over-the-top Pride Month activities have been on hold for the past few years as a result of the pandemic, all of your favorite parties, parades and more are finally back in stride this year, providing the community with the ample opportunities to get out and celebrate.
In DC, with its numerous queer bars and parties, there are tons of ways to participate in Pride Month celebrations this year, from the main events taking place from June 10-12 to one-of-a-kind drag shows, rainbow-themed runs, and so much more. So no matter how you want to get in on the fun, we've got it all in this guide to celebrating Pride Month in DC this year.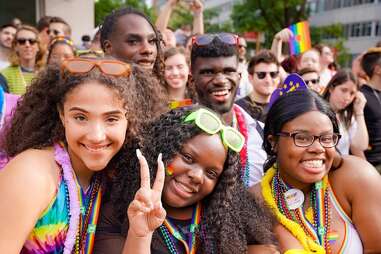 Hit the town for the main events
Considering this is the first Capital Pride Parade to take place in a couple of years, it's guaranteed to be a bash. It all starts with RIOT!, the official Pride Month kick-off party on Friday, June 10. Make your way to music venue Echostage that night for a opening ceremony like no other with performances by local, national, and world-famous queer talent.
Saturday will mark the return of the Capital Pride Parade, starting at 3:30 pm, with a modified route planned to "honor our history and acknowledge the evolution of the LGBTQ+ neighborhoods in Washington, DC, while respecting the origins and importance of taking to the streets in our fight for equality."
Also taking place on Saturday is the third annual Pride on the Pier and fireworks show, bringing activities and entertainment to the Southwest Waterfront all day long. Stick around until 9 pm to be treated to a fireworks show that will light up the sky over the Potomac.
The Pride Festival and Concert takes place on Sunday, and will feature more than 300 exhibitors from artists and local businesses to social groups and amateur sports leagues. Grab a bite from one of two designated food courts and an ice-cold drink in the beverage gardens, then get ready to dance to DNCE, the headliner of this year's Capital Pride Concert. Not one but two Drag Race winners will also be performing: Willow Pill and Symone.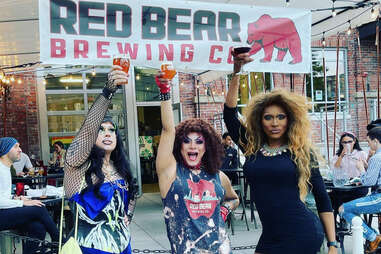 Turn up at Pride parties around the city
Pride Month is a fabulous excuse to pop the proverbial (and literal) champagne, and bars and clubs around DC are making it easy to do so with planned parties and events happening all month long.
Kick things off on Saturday, June 5 at lesbian bar A League of Her Own's Queer Prom Night. Intended to replace any bad memories you might associate with your high school prom, this will be a rainbow-themed night of celebrating your authentic self. The next day, sail down the Potomac with Washington Heights and other fabulous queens during a Pride Boat Party, where they'll be bumping the sounds of Kim Petras, Cardi B, and more.
Be careful not to spill your pint as you buckle over in laughter at Red Bear Brewing, DC's only fully queer-owned brewery, which is hosting a Queer AF comedy show on Thursday, June 9. If dancing is more your thing, spend that night at the next iteration of HAUS PARTY, a live music dance event hosted by Bosco from season 14 of RuPaul's Drag Race. On Friday, June 10, the Howard Theatre is hosting FUSE, a Pride Womxn's Party with multiple DJ sets and drink specials all night long.
Those in need of a dip in the pool can make their way to the rooftop at VIDA on Saturday, June 11 for an afternoon full of music, appetizers, and swimming. The popular gym is well known for inclusivity, and that night they're hosting a Trans Pride Pool Party that is equally guaranteed to cool you down as it will help heat your night up.
If you'd rather stay dry (sweat doesn't count), head over to an Alice in Wonderland-themed dance party in Navy Yard instead. Hosted by Scorpio Entertainment, WONDERLAND will take in an enormous, 25,000-square-foot space with three floors for a joyous night that includes a five-hour-long open bar, DJ sets, party tents, and immersive art projections.
Those who don't want the night to end will be happy to learn that it doesn't have to, thanks to Flash. The Pride Afterhours event doesn't swing its doors open until the wee hour of 3:30 am, when DJs Isaac Escalante and Nina Flowers will be lighting up the dance floor until well after the sun comes up.
Celebrate queer art
For those looking to balance their bar nights, there are plenty of opportunities around the city this June to celebrate queer artists and their spectacular work.
On Saturday, June 4, the Gay Men's Chorus of Washington, DC will be performing a musical about queer history at the Lincoln Theatre. The performance will only take place twice, both on the same day, and call upon different music genres, presenting to the audience important stories from American LGBTQ history, from The Lavender Scare to the AIDS crisis.
At Dupont Underground, queer art events will be taking place all month long, from a new art exhibition called "The Gender Within" to Queer Tango dance classes every Tuesday in collaboration with the Embassy of Argentina. On June 18, the venue is hosting an immersive concert experience featuring local musicians.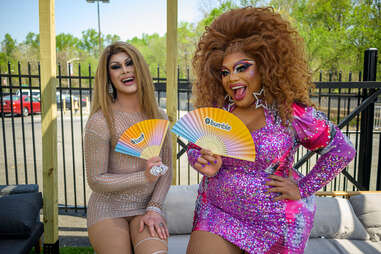 See drag performances around the city
Pride Month is simply not complete without celebrating the art of drag. Fortunately, there will be plenty of opportunities this June, like the return of Drag Underground events at Dupont Underground. Every Friday this June, the venue is hosting drag performances in collaboration with the Washington Blade.
The night of Friday, June 10, Drag Race fans will get a chance to meet alum Kameron Michaels and other queens at Hotel Zena. The Sky Drag Show is a special event for Pride Month, with drag performances, drink specials by JuneShine, and an exclusive meet and greet with Kameron Michaels for an extra charge.
Hook Hall will also be hosting several Drag Bingo events and a Drag Queen Story Hour throughout the month. DC Brau is offering a WERQ drag brunch on Saturday, June 11, and fans of Queen of the Universe can catch the first-ever winner, Grag Queen, in concert at City Winery on Wednesday, June 22.
Attend a family-friendly Pride event
Just because you have kiddos running around doesn't mean you have to miss out on all the Pride Month fun. There are plenty of family-friendly pride activities that you'll enjoy just as much as your little ones, like the second annual Growing Pride at The Garden in Alexandria on Sunday, June 26. Peruse handmade goods by local makers while the kids participate in crafts, dance around to music, and eat snow cones by Anita's Frozen Cotton Candy.
Celebrate Pride at your local library all month with a highlighted selection of children's books that "share the different facets of the LGBTQIA+ experience." Library locations around the city will also host family-friendly events such as author talks and craft activities, from flower crown making to tie dye.
Get your steps in and make your voice heard at the annual Dyke March, returning this year on Friday, June 10 (keep an eye on the website for more details). If you feel like picking up the pace, the DC Front Runners annual Pride Run 5K returns the same day to the Historic Congressional Cemetery, and registration is currently open.
Educate and donate
Behind all the celebrations, Pride Month is also an important time to pay respects to the LGBTQ community members and activists who paved our way. For more information on ways to give your time through volunteering, check out the Capital Pride Alliance website, or fork some of your own hard-earned cash over to a worthy cause.
DC-based nonprofits like Casa Ruby, the only LGBTQ bilingual and multicultural organization in the area that provides social services and programs catering to the most vulnerable. Started in 2012 by Ruby Corado, it's a tight knit community of kind, supportive people with the slogan of being "everyone's home."
Another local organization is SMYAL, or Supporting and Mentoring Youth Advocates and Leaders. The organization not only provides leadership development opportunities for LGBTQ teens, but also after-school programs and counseling services designed to empower and educate. Additionally, SMYAL spearheads education and training programs for youth service providers working in schools, runaway shelters, local government agencies, and hospitals.
Don't forget about the organization that's putting all of these Pride events together. Donate to Capital Pride Alliance to help support its mission of diverse programming and events, not just during the month of June, but year-round for the LGBTQ community.
Austa Somvichian-Clausen is a freelance food and travel writer, who lives in Brooklyn with her girlfriend and two fur babies.