This weekend marks an all-out kiki in Washington, DC for Pride 2018. DC has a longstanding history of Gay Pride, with its first Pride celebration dating back to 1972, and the first of many annual Pride celebrations being organized only a few years later in 1975. Fast-forward 43 years and this weekend will bring Pride 2018, which will feature national sponsors, dance parties, rows of food tents, and more -- one of the largest landmark Pride events in the country.
From the DC Front Runners Pride Run 5K to Pride on the Pier, there's every kind of event you could hope for happening around the city. Definitely check out the complete calendar of all the events, but know that Capital Pride's signature event is the Pride Parade, set to host thousands of people and includes floats, vehicles, local businesses, politicians, community groups, and more. Check out the interactive festival map for all the information.
The activities are organized by The Capital Pride Alliance, a non-profit with a stated mission of "stewardship of diverse programming and events, specifically year-round LGBTQ+ Pride festivities centered in Washington, DC and the National Capital Region." According to the non-profit, its goals are "to celebrate, educate, support, and inspire our multifaceted communities in order to grow and preserve our history and protect our rights for current and future generations."
Where and when will the Pride Parade take place?
The annual Pride Parade starts at 4:30pm and goes to 7:30pm on Saturday, June 9, in the historic Dupont and Logan Circle neighborhoods. The DJ and bleacher seating for the parade will be located on 14th Street north of P Street (FYI, bleacher seats run about $28 a pop with service charges). There are also two announcement stands operating with American sign language interpreters, and wheelchair accessibility is located on New Hampshire Avenue at Q Street.
The Capital Pride Block Party, another celebration happening adjacent to the parade, is on Saturday is from 4pm to 10pm on 15th Street NW between P Street and Church Street. The Pride Concert and Festival is on Sunday, June 10. (Read on for why you should hit both of those up, too.)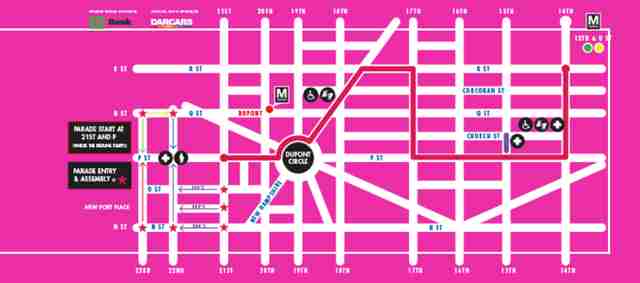 What is the Pride Parade route?
The 1.5-mile parade route starts at P and 22nd and finishes at 14th and R Streets. Note that from 8am to 11pm, 15th Street NW from P Street NW to Church Street NW will be closed.
How do I get there?
If you're already in the city. the Metro system (bus or subway) is definitely your best bet, since large crowds and blocked streets will be obstacles for driving and parking. For the start of the parade, take the Red Line to Dupont Circle-Q Street exit. At the end of the Parade, you'll be nearest to the Green Line at the U Street/African-Amer Civil War Memorial/Cardozo-13th Street exit. You can check MBTA schedules, maps, and service updates at the MBTA site and on Twitter.
If you prefer to stay green and avoid public transportation, community bike-sharing and bike rental services are also available.
And if you must drive, you can book parking using SpotHero to find an affordable option. Definitely expect parking restrictions in the area, and look out for no parking signs, because all vehicles that are parked along the route and are in violation of the no parking signs will be ticketed and towed.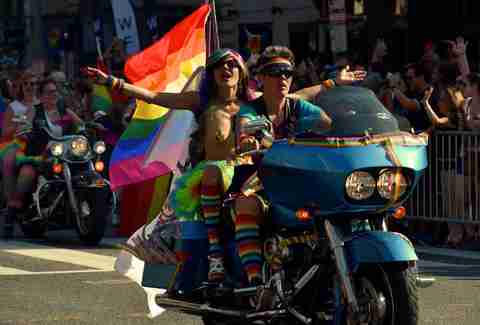 What should I wear for the weather?
Temperatures are expected to reach the high 80s during Parade time. Hot. And humidity is estimated to be as high as 89%, so that means even if there's clouds, it's important to stay hydrated and give yourself breaks in the shade. So, like, DC hot. That humidity is going to feel like walking through a bowl of balmy pea soup, but the upside is that it'll be great for your hair and your skin! The UV index is a 9 out of 10, so wear sunblock or sunscreen (again, think of the skin). Comfortable, loose-fitting clothing and sneakers will definitely make your day more enjoyable.
There are some scattered afternoon thunderstorms expected to develop around 2pm, so maybe bring a light jacket, or don't and dance in the rain. That's cool, too. The thunderstorms will likely hit in the evening as well, starting around 8pm and continuing for most of the night. The sun sets around 8:30pm.
Wait, what is the Block Party?
Entertainment, food, drinks, and partying -- that's what it is! The Block Party will involve lots of dancing and DJ showcases all day long. The Logan Beverage Garden is open from 4pm to 9:30pm and will provide a place to watch and listen to the music while sipping on a refreshing cocktail. Local food trucks will also be serving food from 4pm to 9:30pm, so you can have the energy to dance all night.
The Accessibility Zone is for individuals in need of mobility assistance and/or sign language interpretation, and it will offer prime viewing for the Pride Parade and Block Party Stage entertainment. Entrance to the Accessibility Zone is on the south side of P Street on 15th Street. Volunteers will escort you through the crowd to gain access. To request access (best to do it ahead of time), email accessiblity@capitalpride.org. The Zone is open to individuals of all ages in need of mobility assistance and/or sign language interpretation. There is no alcohol permitted.
To get to the Block Party, take the Metro Red line to Dupont Circle-Q Street Exit to get to 15th Street NW between P Street and Church Street. Bags and backpacks are subject to search.
What is the Pride Concert?
At the end of what is sure to be a long and fun-filled weekend, you can top it all off with the Concert on Sunday. Attended by more than 300,000 people, it's actually the largest annual event in the National Capital Region, and will feature three stages, tons of cool artists, and food and drinks. The concert is free and open to the public, with pit- and VIP-zone tickets available for purchase.
The artists performing this year include Alessia Cara, Troye Sivan, Max, Asia O'Hara, Keri Hilson, Kim Petras, the Gay Men's Chorus, and more. Meet-and-greet passes for specific artists are also available. You can find more information about specific performances and stage location information here.
Dupont Dance Stage is going to be popping off from 12pm to 8pm; the Monument Festival Stage from 12pm to 7pm, the Capitol Concert Stage from 1pm to 8pm, and the Sunset Dance Party kicks off at 8pm and ends at 10pm.
What can I do if I want to get more involved?
Before: You can donate at any time to the Capital Pride Alliance. There are multiple tiers that involve all sorts of goodies and perks, including T-shirts, access to events happening through the year, and special ticket pricing.
During: Capital Pride is are still in need of volunteers for all sorts of activities, including assembling and disassembling floats for the Parade! You can learn more about all the specific volunteer opportunities here.
Use the official hashtags #ElementsOfUs, #DCPride, and #Pride2018 on your socials. Check out Capital Pride Alliance's official merchandise shop to represent on the scene!  
After: Registering to vote and voting is the first step to getting involved in any political issue, so do that if you haven't already. Additionally, the Capital Pride Alliance offers internships in development and fundraising, marketing, and event planning; opportunities on the production team; and even the chance to serve on its board of directors. To apply for an internship, submit resume and cover letter by to apply@capitalpride.org. You can join their mailing list to stay up to date with volunteering opportunities, events happening throughout the year, and more.
Sign up here for our daily DC email and be the first to get all the food/drink/fun in town.