Check out our guides to some of the other biggest Women's March protests around the country in Los Angeles, Las Vegas and New York.
One year later, it's still hard to forget how electrifying the first Women's March was. The morning of January 21, 2017 was abuzz with a palpable energy as hundreds of thousands flooded into DC immediately after the controversial inauguration of Donald J. Trump. What started as a grassroots movement became a national tide of knitted pink pussy hats, and thanks to millions of impassioned voices, the event became the largest single-day protest to ever take place in America. 
This weekend is Round 2, and its main event may be the Nevada-focused 2018 Women's March, themed "Power to the Polls" in Las Vegas, but DC will obviously host a march of its own. "Power to Polls" may focus its theme on voter registration in key battleground states, but the upcoming marches in DC and New York City are expected to be the biggest in the country.
The focus on the polls is crucial to understanding the event. On Sunday, January 21, the Women's March in Nevada "will launch a national voter registration tour one year after the historic Women's March on Washington," according to the Women's March official website. The next stage of the movement involves channeling the energy and activism of the march into "tangible strategies and concrete wins in 2018."
With that in mind, more than 250 anniversary marches and events have also been planned for this weekend, and you can use the Women's March website's directory to look them up by city or zip code. So come on, DC: Grab your signs, don your power suits, chug your coffee, and get ready to shout "time's up" this Saturday. 
Recommended Video
'American Horror Story's New Season Makes Terrifying Connections to Current Events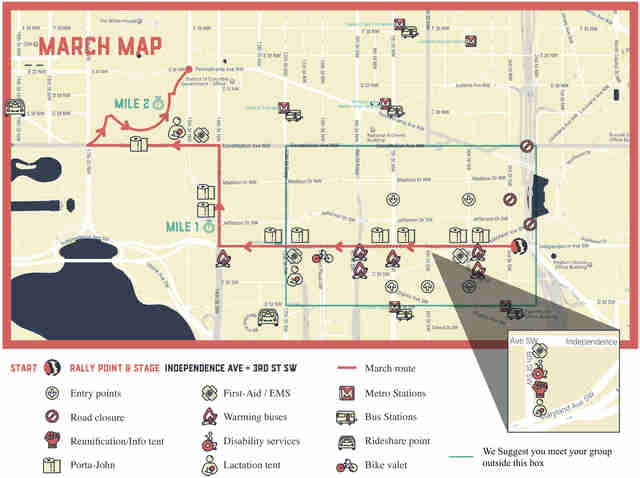 What time does the march start and what is the route?
The 2018 Women's March on Washington: March on the Polls will take place on Saturday, January 20 at the Reflecting Pool in front of the Lincoln Memorial at 11am March Forward Virginia will be hosting a rally to showcase several speakers, followed by a march on the White House. There, you can hear from speakers like Judy Gearhart, Executive Director at the International Labor Rights Forum, United States Senator Tim Kaine, and President of the League of Women Voters, Chris Carson. You can click here for the full list of speakers. 
The march itself is expected to begin around 1pm and the exact route (see the map above), takes participants along Constitution Ave and Independence Ave. It's advised to meet groups outside of the green bounding box on the map above, and you can RSVP on Facebook or Eventbrite to receive updates. 
How do I get to the march route?
Avoid taking taxis or Ubers, as the streets are sure to be jammed. If commuting by metro, take the Blue/Orange/Silver line to either Smithsonian or Federal Triangle and then walk about a mile from the metro exit to the Reflecting Pool. If you're coming from Virginia, check this list of buses that will be traveling to the march to see which would be the closest to your area.
What should I wear or bring for the weather?
Comfortable shoes and warm clothing you can move in are a must. You'll be on your feet for hours including the time that it will take to commute, participate in the rally, and during the march itself. Current weather models predict Saturday's forecast to be sunny with a high in the mid-fifties with a low is in the thirties. Check out March On's official merch, including "Women Win" t-shirts and fun pins by Pincause. 
Keep in mind that according to National Park Service policy, no tripods, chairs, or tables will be allowed during the march. Signs are definitely encouraged though.
Where should I go to eat after the march?
After a full day of campaigning for the rights of women and minority groups, you'll need a hot and delicious meal -- and why let the end of the march be the conclusion of the day's support for the cause? Instead, head over to one of the District's many women-owned restaurants and bars to continue the celebration of inclusion and powerful women everywhere.
It's less than a half mile walk from the White House to Metro Center Station, which gives you access to anywhere on the Red Line. Take it a few stops to Dupont Circle to check out restaurateur and chef Jamie Leeds' taste of New England at Hank's Oyster Bar, named after her father. Treat yourself to a delicious seafood dinner and "drinks inspired by sweater weather."
If you're looking for something a little more indulgent, head to Pizzeria Paradiso, also close to the Dupont Circle Metro. It was founded by owner Ruth Gresser more than 25 years ago and features deliciously cheesy pies and a stellar selection of craft beers, thanks to their first female executive beer director, Drew McCormick. 
Speaking of drinks -- after dinner hop in a Lyft to Republic Restoratives Distillery in the ever-growing Ivy City. It's DC's first ever women-owned distillery, and the largest crowd funded distillery in the world. It's also home to Rodham Rye Whiskey—named after 2016's nasty woman herself, Hillary Clinton. Guess who got the first bottle.
Sign up here for our daily DC email and be the first to get all the food/drink/fun in town.