Everything You Need to Know About the Women's March in DC This Weekend
Women's March DC 2018

| Victoria Pickering/Flickr
Women's March DC 2018

| Victoria Pickering/Flickr
The Women's March in DC is back for Round Three. As they have every year since January 21, 2017, protestors will take to the streets of DC and hundreds of other cities around to advocate for justice, equality, and civil rights for women and marginalized communities around the world. The march this weekend in DC promises to be a huge and galvanizing political event, meaning you can expect to witness throngs of people, pussyhats, and lively chants and rallies if you plan on venturing outside this weekend.
According to the organizers, the mission of Women's March "is to harness the political power of diverse women and their communities to create transformative social change." In addition to the annual march's themselves, they also coordinate trainings, outreach programs, and smaller events dedicated to advancing their progressive causes. The first march was organized in direct opposition to the inauguration of President Donald J. Trump and political positions he had taken
during the 2016 election cycle. It was the largest mass protest since the anti-Vietnam War protests of the '60s and '70s.
The theme for this year's theme is "#WomensWave" -- as in, getting waves of voters to the polls. Here's everything you need to know about the march in DC this Saturday, which, alongside the one in New York, is expected to be among the largest in the country.
What time does the march start and what is the route?
The 2019 Women's March on Washington: The #WomensWave will take place on Saturday, January 19, at Freedom Plaza, or 1455 Pennsylvania Ave NW. The same plaza was the site of Occupy DC protests in 2011 and has a long history of hosting political protests. The original schedule for the march had to be relocated due to the partial government shutdown in recent weeks, as well as reports of snow.
The march itself will gather at Freedom Plaza starting at 10am, then step off from the corner of Pennsylvania Ave NW and 13th St N at 11am. It will later return to Freedom Plaza following a 0.5-mile march route along Pennsylvania Avenue (and past Trump Tower) at 1pm for a rally that will last until 4pm. The rally will feature speakers and activists. The march is a public and free event, but it's a good idea to RSVP on Facebook or Eventbrite to receive updates and help organizers gauge interest and attendance.
Organizers and volunteers will also be on hand to provide accessibility assistance for those who require it. Their efforts include a separate accessible meeting point at the plaza of the Ronald Reagan Building (at Pennsylvania Ave NW and 13th St NW), American Sign Language interpretation, an ADA section and vans, ADA accessible porta-potties wherever there are porta-potties, and a lot more. Organizers encourage participants to email accessibility@womensmarch.com for more information.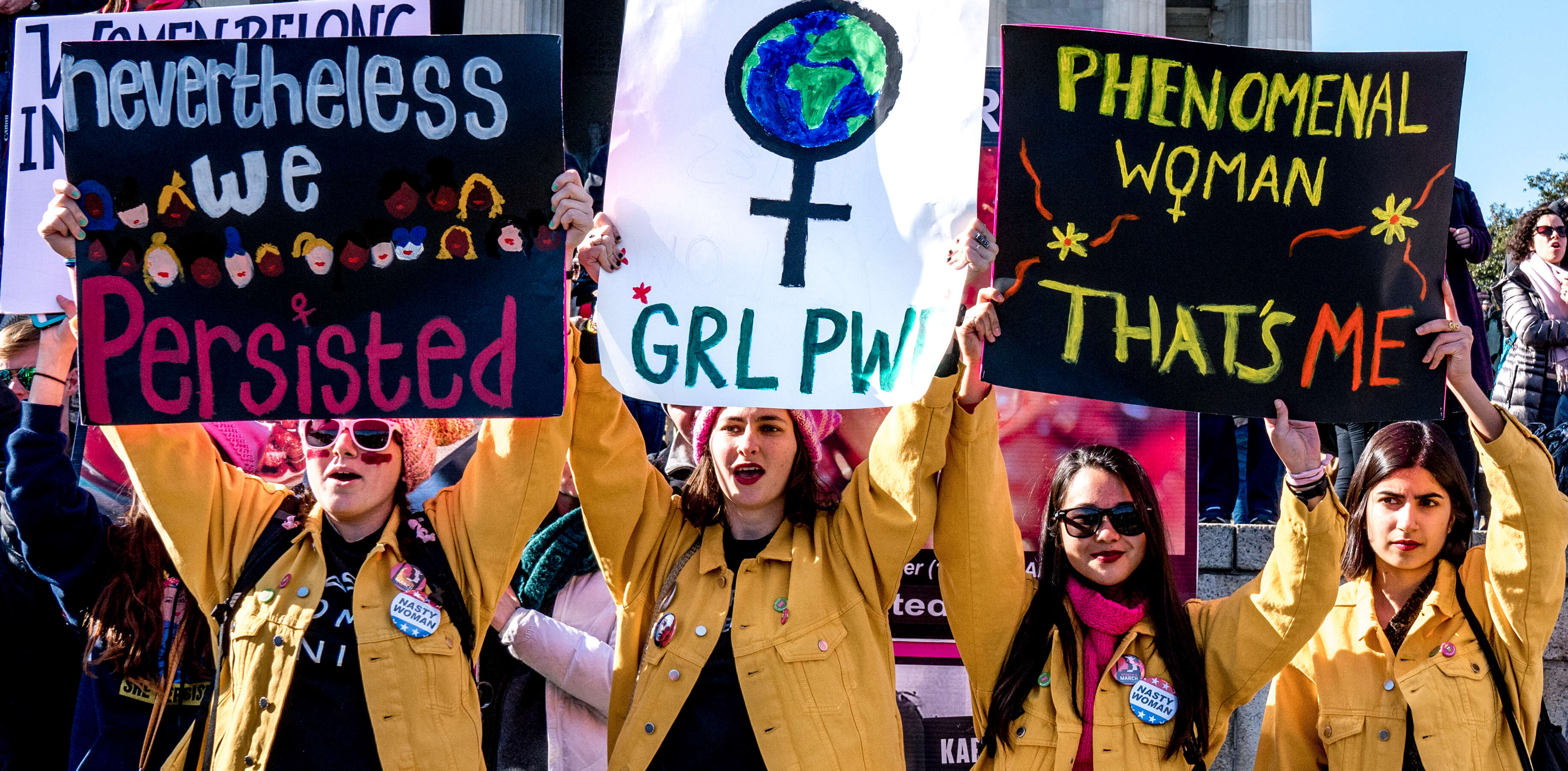 How do I get to the march route?
Avoid taxis, Ubers, and other car services, as the streets are likely to be packed or closed off. The best way to get to Freedom Plaza is by taking the DC Metro along the Red, Blue, Orange, or Silver lines to the Metro Center stop. The Penn Quarter/Navy Memorial, L'Enfant Plaza, and Smithsonian Metro stops are all also nearby or a short walk away.
What should I wear or bring for the weather?
Comfortable shoes and warm clothing are absolutely necessary this weekend. Umbrellas won't be a bad idea either, as the forecast currently looks like a mixture of light snow and frigid rain. Temperatures are forecasted at a high of 39º F as of Thursday afternoon. If you want to bundle up and represent the cause, the march's website has a bunch of official merch, including hoodies, beanies, and more.
Definitely pack snacks and reusable water bottles (there will be water stations) to keep your endurance up. Small backpacks and bags are allowed, as are signs; the only restriction on signs in DC is the height limit of 12 feet. Do not bring weapons, and to be safe, don't bring anything that might be mistaken for a weapon; leave any knives, box cutters, scissors, or multi-tools at home. Do not bring illegal drugs, even pot. (Marijuana is legal in DC, but is crucially not legal on the federal property that the march will be moving on.)
Above all, have fun, stay safe, and be respectful. Public nonviolent protest is one of the cornerstones of American democracy, and one of the core tools that voters can leverage against those in power. That's an inspiring thing, no matter who you voted for.
Sign up here for our daily DC email and be the first to get all the food/drink/fun in town.
Eric Vilas-Boas is an editor at Thrillist. He also co-edits the animation blog The Dot and Line and was previously an editor at Esquire. His writing has also been published by Paste, TV Guide, SYFY, SPIN, Popular Mechanics, ELLE, and other fine establishments.