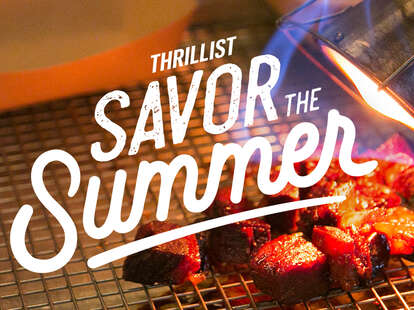 Relive the Greatest Moments From Savor The Summer 2018
Summer isn't over until the last bite of sweet, tangy barbecue is gone. That's why we celebrated the season's remaining moments with an all-American BBQ competition for all our friends. At this year's Savor The Summer, we took over Hill Country Barbecue Market in NYC to judge (and feast) on the city's tastiest bites. From Clinton Hall taking home a win with their famous Double Smashed Burger to Pitmaster Hugh Mangum charring pork belly via blowtorch, the drool-worthy foodie moments were nonstop. And no pulled pork or rueben taco comas were left untreated. The live bluegrass band, cornhole competitions, and libations from Sam Adams, Federalist Wines, and Café Bustelo® fought off the barbecue hangover from start to finish.
Don't worry, we'll see you next year if you couldn't make it. In the meantime, here's a delicious recap of everything that went down to get you pumped for what's to come.
FIRST, THE FOOD
We couldn't help but have seconds (and even thirds) of NYC's best dishes. Check out the menu.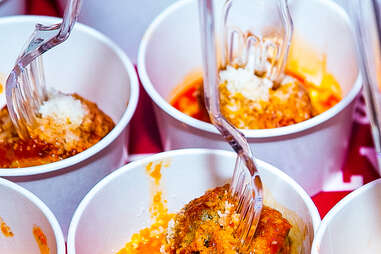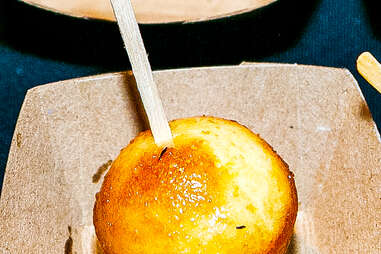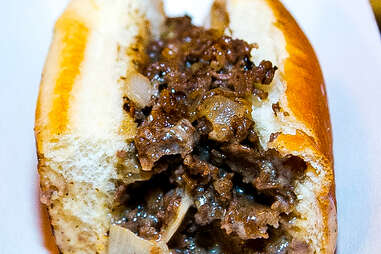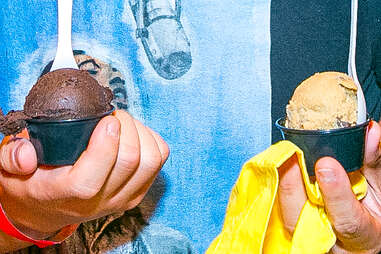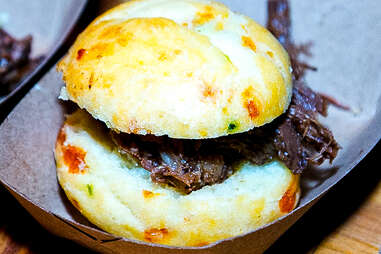 HOW TO INFUSE BEER INTO YOUR BBQ
BBQ and beer were meant for each other. That's why Sam Adams kept beers flowing as the competition unfolded (cornhole and jenga at the Sam Adams Gaming Lounge included). And during the competition, we learned that when Sam Adams hands you summer in a bottle, you should always make barbecue with it. Here's a few ways to mix your brew with your barbecue.
1. Get saucy. Whether it's meat, fish, or kebabs, get the taste of summer every day of the year with beer-centric marinades and basting sauces. Use a heavier beer for more robust flavors (hello, hanger steak and pork chops) or create a lighter sauce with lemon, pepper, and ginger made for shrimp and chicken using Sam '76.
2. Beer can chicken. This is a classic barbecue dish for a reason. Even if it's winter and all you've got is an oven, give it the summer treatment by cooking with a 12-ounce can of beer. And might we suggest Sam Adams Boston Lager or Octoberfest? "Taste-testing" the beer as you cook is encouraged.
3. Boozy wood chips. Not ready to give up the grill just yet? Take basic grilling recipes to the next level by soaking your wood chips for up to 30 minutes in beer. Sam Adams' Sam '76 would do the trick, with its light and flavorful notes.
MORE VINO FOR OUR RIBS, PLEASE
You know what else pairs well with good friends and barbecue? American-craft wine. Thanks to the bold Federalist Wines, we experienced first-hand how a Lodi Cabernet Sauvignon and Chef Cenobio Canalizo's smoked pork ribs are the perfect duo. But just like you need a generous amount of vino at any memorable summer party, you also need the right grilling tools at your side to grill like a pro.
1. The perfect grilling basket. Don't be the griller who's willing to risk veggies and other small bites tumbling into the flames. Potatoes, asparagus, shrimp -- a stainless steel grilling basket ensures that essential barbecue sides safely make it to every plate, while keeping your grill squeaky clean.
2. A smoke thermometer. If you want to grill like a pro, the first step is making sure every bite is tender and cooked all the way through. With a professional-grade, two-channel temperature reader ready at your side, you'll be able to read not only the temp of your meat, but how hot the fire really is.
3. Luxury tongs. Even the most basic of grilling equipment eventually needs an adulting upgrade. Ditch the filmy plastic tongs for a wood-handled, stainless steel set for temperature control. Your food (and hands) will thank you for it.
HAVANA, MEET BARBECUE
Amidst all the dancing, corn-hole throwing, and barbecue-eating, our friends at Café Bustelo® kept us going with rich, bold espressos, Bustelo Cool® drinks, and other Cuban-inspired fare that kept our palettes energized. And since we always need more Cuban, NYC is one of the greatest cities around for a Latin-American foodie tour.
Brooklyn
From Sophie's Cuban Cuisine to Habana Outpost to My Cuban Spot, there's a handful of authentic Cuban restaurants in Brooklyn to happily try all the empanadas and croquettes you could ever want.
Manhattan
All around Manhattan, you'll find some of NYC's most inventive Cuban bites (and some of the most iconic.) Think '70s institution La Caridad 78 for Cuban-Chinese fusion and the hybrid music lounge and restaurant that makes up Victor's Cafe.
The Bronx
Of course the borough where Gregorio Menendez Bustelo founded the company in 1928 is buzzing with Latin American hot spots -- including Havana Cafe and their spiced honey glazed Cuban-style calamari. An adventure to The Bronx for Cuban food is a no-brainer.
WE'D NEVER FORGET THE PHOTOS
If you didn't take a photo at Savor The Summer, did it really happen? Thanks to awesome photo booth snaps (thanks, Federalist Wines!) and our fly-on-the-wall photographer, we documented the most epic moments from the barbecue competition, The Federalist Wines high striker, and the awesome party. Here's a taste of what went down this year: