Summertime is vacation season, and to celebrate that, we partnered with Wendy's to transform bars in New York, Chicago, and Miami into tropical paradises -- even if just for a few hours. Each destination was complete with plenty of plants, Tiki-themed cocktails, and twists on Wendy's classics, making it the ideal post-work escape. If you couldn't make it (we missed you, by the way) we relived every bit of our micro-getaways below, and even offered a few tips on how to recreate that vacation at home so you can celebrate the last few weeks of summer accordingly.
FIRST, THE DRINKS
No tropical destination is complete without some tasty, refreshing libations. We focused ours on Wendy's summer drink menu, then teamed up with drinks company BACARDÍ® to transform these classic summer sippables into cocktails perfect for a tropical getaway -- even in the middle of the busiest cities. (Looking at you, NYC.) Here's what we served up: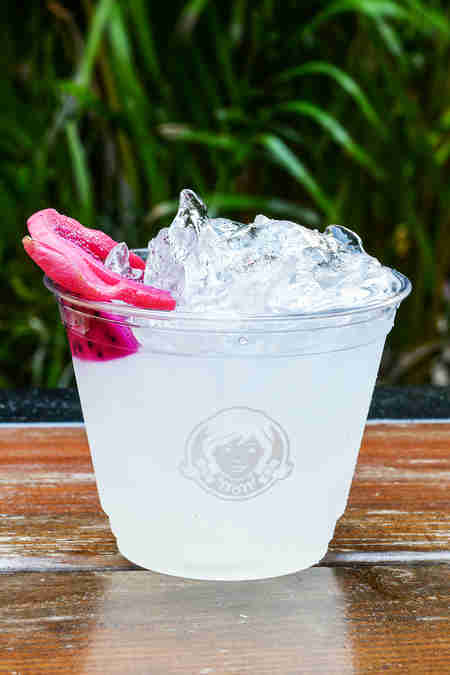 Double Dragon Lemonade
BACARDÍ® Dragon Berry, Wendy's All Natural Lemonade, dragon fruit slice
Raspberry Cooler
BACARDÍ® Raspberry, Honest® Tropical Green Tea, fresh raspberry and mint
Strawberry Watermelon Spritz
MARTINI & ROSSI® Sparkling Rosé, Wendy's Strawberry Watermelon Fruit Tea, fresh strawberries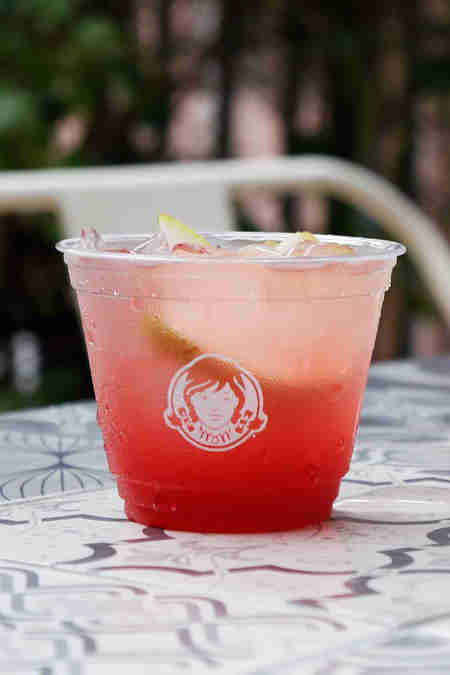 Prickly Pear
BACARDÍ® Superior, Pear Berry, MARTINI & ROSSI® Sparkling Rosé, pear slice
Strawberry Banana Fresca
BACARDÍ® Banana, Wendy's All-Natural Strawberry Lemonade, fresh strawberry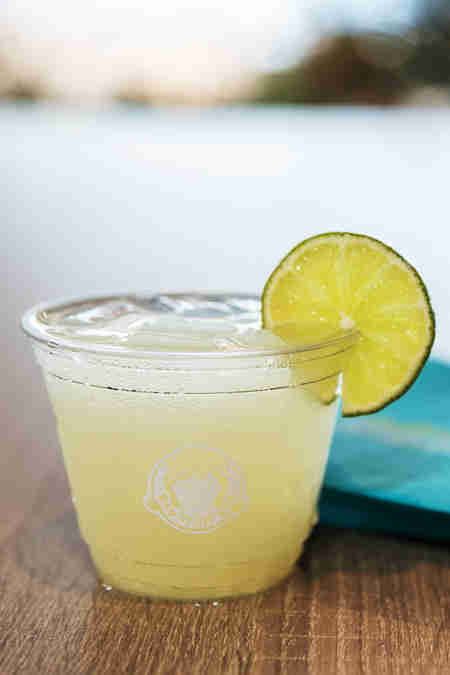 Put The Lime In The Coconut
BACARDÍ® Coconut, Wendy's Limeade, Lime Wheel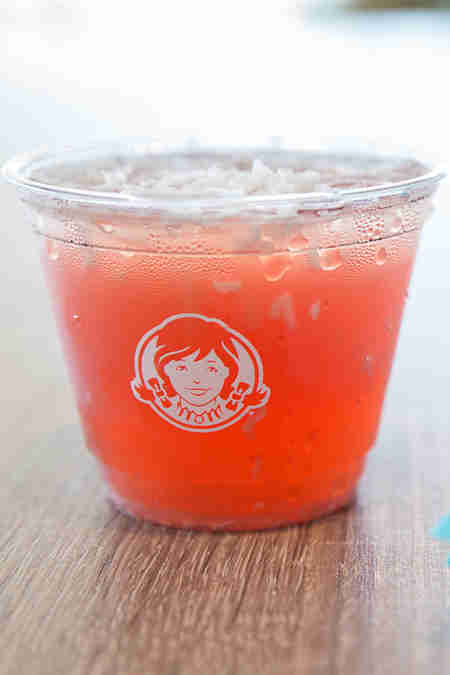 Mon Coco Cherie
BACARDÍ® Coconut, Wendy's Berry Cherry Tea, grated coconut
Banana Dai-Kiwi
BACARDÍ® Banana, Apple Kiwi, Honest® Tropical Green Tea, fresh lime, apple slice
YOU NEED THE RIGHT VIBE, TOO
To truly make our happy hours feel like a vacation, we knew we needed to recreate that tropical paradise vibe. The perfect location needed views for miles, so we took to the rooftops of The Delancey in NYC, the sands of Lake Michigan at The Shore Club in Chicago, and Dolores, But You Can Call Me Lolita in Miami. Each venue seriously looked like a vacation -- so we broke down how to turn your own space into a true destination.
1. Lighting is key.
If you're hosting your party after work, lighting will help set that vacation vibe. Just grab some tiki torches, candles, and string lights.
2. Don't forget the garnishes.
When it comes to a vacation, the cocktails need to be seriously Instagram worthy. Fresh fruit, flowers, and (of course) fun garnishes (skip the single-use plastic straw!) will have you feeling like you stepped onto a beach -- even if you're just on your balcony.
3. Embrace your green thumb.
One thing in common with each of our Destination Wendy's venues? The greenery. Large palm plants dotted the space, and are actually proven to make you feel stress-free --  a key to any good vacation.
4. Tropical fruits? There's your decor.  
Look no further than the produce aisle for inspiration for your decor. Coconuts, bananas, mangoes, and pineapples can make for great centerpieces and help you achieve that island vibe on the cheap.
DON'T FORGET THE BITES
While the cocktails at Destination Wendy's definitely stole the show (and Instagram), the food was equally important. Wendy's created a special menu for each event, featuring some key items (like fresh never frozen beef patties and baked potatoes) to truly take this happy hour to the next level. Just take a look:
Baconator® Tater
Potato skins filled with whipped potato, applewood smoked bacon, cheddar cheese, and "baconaise" sauce
Frosty® Cream Cookie Sandwich
Frosty® cream between two chocolate chip cookies
Blue Lagoon
Beef slider, gorgonzola, caramelized onions, arugula, roasted garlic aioli
Cookie Sun And Sand-wiches
Chocolate chunk cookies, Wendy's vanilla or chocolate Frosty® buttercream
Moons Over My Jammy
Beef slider, bacon jam, parmesan crisps, roasted tomato, truffle aioli
Tropical Brieez
Beef slider, brie, prosciutto, arugula, fig preserves
Equator Taters
Potatoes, applewood bacon, aged cheddar
Summer Heat
Beef slider, roasted poblano, pepper jack, onion straws, chipotle aioli
Little Havana
Beef slider, swiss cheese, ham, rum mustard, spicy pickles
Miami Heat
Beef slider, pepper jack cheese, spicy fruit salsa, arugula, avocado aioli
The Fountain Blue
Beef slider, blue cheese, bacon caramelized onions, arugula, roasted garlic, tomato spread
Miami Vice
Sugar cookies, coconut Frosty® cream, strawberry compote, rum-glazed pineapple
WE PACKED IN THE SURPRISES, TOO
At each Destination Wendy's, we invited a local DJ to come spin tunes so we could properly unwind. Then, we set up the perfect area for Instagram pics using hundreds of tropical fruits, with plenty of accessories to match. It was the ideal spot for striking a pose (especially a silly one) and forgetting about work.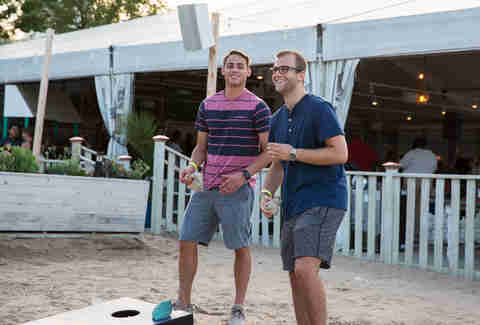 WHAT VACATION DOESN'T HAVE PICS?
It wouldn't be a vacation if we didn't have a ton of FOMO-inducing pics to share, so we rounded up our favorites below. Check them out, relive those summer vacay vibes, and maybe keep them bookmarked for when you need a pick-me-up come November.