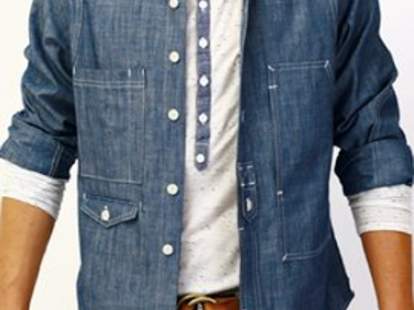 It's always a gamble trying to bring retro hits back: they can either catch on big, like flannel and bell-bottoms did in the 90s, or fail embarrassingly, like Danny Bonaduce in every year ever. Confidently reviving a forgotten era, Apolis Activism.
Cali-based outfitter/do-gooder Apolis just released its Fall collection of intricately detailed jackets, shirts, and pants inspired by the classic American workwear of old California circa the Dust Bowl-era, a time period you know absolutely nothing about, other than that extremely large mentally challenged men straight ended a lot of bunnies. New threads start with the brown or navy twill Utility Trousers, complete with hidden passport stashes, then move onto stylized riffs on migrant farmer torso coverings, ranging from the sturdy Parker Work shirt in indigo chambray, with three front pockets and a button-under collar, to laborer-chic single-pocketed henleys in navy, a navy/grey mix, or off-white with blue specks, and a long sleeve military thermal in "cloud", for when you're in the mood to make it rain, or just want to talk loudly about doing so. For warmer offerings, they've got the Wax Canvas navy bomber jacket with a zipper sleeve stash pocket; a blue/navy cashmere hooded pullover with padded sleeves and 4 buttons down the placket carved from Tagua Nuts; an olive stonewashed cotton twill field jacket with deadstock military surplus buttons; and a brown waxed cotton USMC-style jacket with a removable lining of 100% virgin wool, which stays much less dirty over the long run than that troublesome whore silk.
Also up for grabs: a cashmere beanie and a wool tie, perfect for another risky re-introduction: teaching kids math.