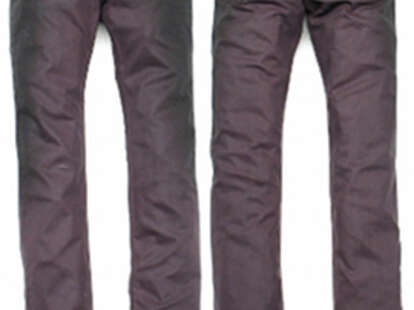 South Korea's journey to building a peaceful, democratic government and successful capitalist economy may be noble, but when it comes to designer denim they're a pathetic failure. Finally earning them international respectability, Blue Notch.
From a Korea-based designer who decided to debut the line in NYC, BN's spankin' new jeans combine traditional fabrics and hand-detailing with fresh experimental techniques, resulting in individual pairs that're unique as snowflakes, though your laundry habits will prevent them from ever being as clean. The journey actually starts in Japan, where a 115-year-old factory makes BN custom denim with the finest quality cottons from Egypt, Cameroon, and Zimbabwe, and mixes in the comfortable likes of linen and cashmere before shipping the goods to Korea for assembly/distressing; the leggings then get stoned/sprayed/baked/coated/sanded by hand, and washed with everything from coal to marbled dyes, all at a factory specially located in a region renowned for its naturally pristine springs...so where better to use a whole bunch of marbled dyes? The three fits (slim, straight leg, and skater-style drop crotch) come in six basic washes, but individual treatments result in a never ending variation of shades and detail locations; nonetheless, general concepts include a standard faded leg, an old school solid dark blue, and even gradient shades of purple -- though prepare for Gavin Rossdale to prickishly remind you there's no sex in your violet.
To fill things out, BN's also dropping torso swaddlings like cotton/elastane plaid button downs, wool/nylon down flannel vests, 100% cotton plain gray hoodies, and a handful of tees, including one that says "I Wish I Would Never Hurt Again", which makes sense: you'd be vulnerable too if you were living right next door to your ex.