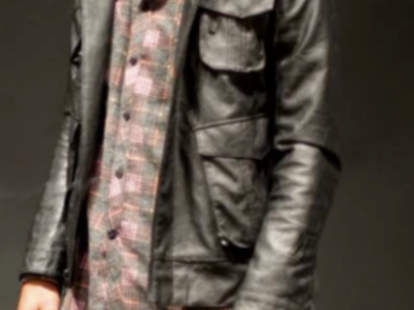 The college dorm room has birthed some of the best ideas (speed quarters), and some of the worst (speed quarters). Aiming to not be speed quarters, COMUNE.
What started as a crackpot scheme in a fashion-minded SoCal student's resident's hall has grown up into COMUNE, a full-fledged line of Kurt Cobain-ish streetwear that's hittin' the Bay for the first time with its Fall collection, at Azalea, who's celebrating their arrival with beer, so Come As You Are. It all starts with fresh pieces of outerwear, like the waxed denim Lee Jacket with sharp lapel action and four deep hip/breast pockets, the crisply stitched n' slim cut B SZA jacket also in waxed denim, and the fleece French hoodie in muted gray with a zip-open chest section for those who need a little ventilation, or just want to experience the satisfaction of breast feeding. Underneath, COMUNE's got button-downs that range from the distressed thick Salvador in dull white with rectangular black accents down the placket, to the loose-fitting flannel Dekker in white/red plaid (w/ a contrast-piped breast pocket), to the reserved, soft cotton Ansel in black or "oxblood", so when someone compliments your red shirt you can be like "yeah, thanksss, but it's actually oxblood". Aren't you sophisticated?!
Rounding out the collection's a bevy of baggy tees marked up with rocker graphics and tie-dye, and three pairs of variously gauged n' colored jeans. It all drops tomorrow at Azalea's launch party with free booze and tunage by some guy called DJ Stepmom. The party lasts from 1-6pm, so stop by after feeding the meter and learn the true meaning of speed quarters.