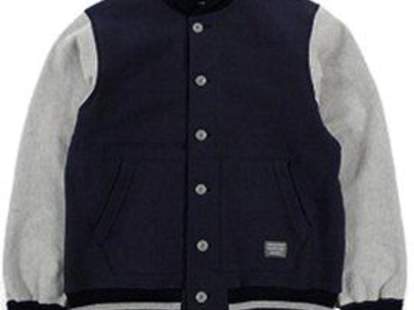 Upon realizing he's good at making something for other people, a smart entrepreneur starts his own brand so he can take the credit, unless that something is really embarrassing, or pipe bombs. Taking what they're known for, and literally making it their own, Reigning Champ.
From a renowned Vancouver-based textile design outfit that started out lovingly crafting fleece for sought-after brands like Supreme and Alife before launching their own line, Champ's fresh Fall/Winter drop comprises a hefty stock of high quality, fleece-heavy warm gear in pleasantly straightforward styles and colors -- it's your poor luck that burnt sienna brings out your eyes. The best stuff starts with outerwear and hoodies, like the burgundy or navy button-front varsity jacket with a shawl collar and roll-up cuffs in their super-durable, preshrunk 25oz heavyweight Canadian fleece that's earned "a cult-like following", the "Classic Zip" hoodie in gray, black, burgundy, or ivy green, plus two zip and two pullover versions in gray or black, made from super-insulating material they call "rice mesh thermal", a close relative of the pasta weave windbreaker. If you hate hoods, they've got a slew of crewnecks and a couple cardigans, like the black/navy or burgundy/gray horizontal-striped Panelled long sleeve crewneck, a pinstriped white, black, or heather gray henley with contrast navy sleeves, and a v-neck fleece cardigan in heather gray or navy with front pouch pockets, perfect for the very flasks that kept Mr. Rogers make-believin' all those years.
To keep your noggin toasty, there're a couple thermal beanies and scarves, plus some sweatpants and crewneck tees in a handful of colors, any of which'll have you looking less like bomber, and more like the bomb.