Food-Trend Rant: What's the deal with all the pretzel buns?
This Summer, when everybody was wetting their Zubaz over a stupid donut/croissant hybrid, zee Germans slinked in and attempted to take over our sandwiches. Glancing at the new menu items that have popped up since then, it appears they've succeeded. It's as if Drs. Frankenstein and Moreau teamed up to create a new mutant sandwich vessel, but somehow the test subjects began breeding uncontrollably. Now they're everywhere. And they must be stopped.
At this particular moment in the history of the pretzel-filled universe, you can't pull up to a drive-in or sit down at a "slow-food restaurant" without somebody trying to force a pretzel bun on you. The rumblings came when Red Robin plopped a pretzel burger next to its bottomless fries. Soon, Wendy's launched a pretzel burger. Then, as if the attack had been pre-coordinated, it spread. Sonic's selling pretzel dogs. Ruby Tuesday's is grilling up pretzel burgers.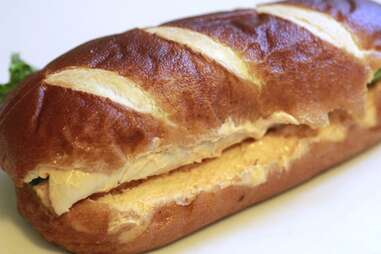 Before long, the pretzel bun had permeated even the lowest rung of our culinary mainstays, when 7-Eleven pooped out the Diablo Chicken sandwich: a dry bun loaded with processed meat and weird neon chipotle goop, and Dunkin' Donuts loaded its roast beef into one.
Most of these were "limited-edition" items, which's restaurant slang for "let's see if this thing works". But the heirs to the Wetzel fortune can attest that, yes, these things do work. Because this wasn't a new thing.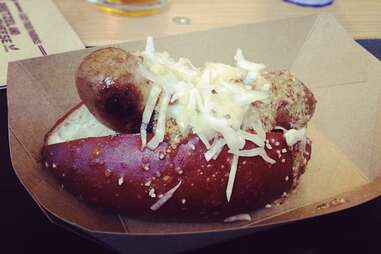 It wasn't a new thing when I first spotted one back in 2004, at Chicago's Goose Island, where a buffet table at a private event resulted in me stuffing about six pretzel brats in my face. It wasn't a new thing when West Coast/Southern chain Weinerschnitzel plopped its dogs in a pretzel bun, or when high-end restaurants started subbing their buns out for pretzels a while back. It wasn't innovative when Lean Pockets started stuffing its low-fat cheese goop into pretzel sleeves last year. And it wasn't new when that sexy ginger Wendy decided to use a pretzel instead of her usual gross white-bread bun.
But it is new to the masses who subsist mainly on a drive-thru diet, and like Angus before it, the word "pretzel" has become a false signifier of quality. It's the same Dunkin' Donuts meat slapped on that buttery brown bun, but because it's made with something unfamiliar to most, it looks fancier. The same thing happened with ciabatta back in the day. People went nuts, then switched back to white bread. Probably because it's no fun to see if you can eat two slices of ciabatta in two minutes without a drink of any kind.
Has this wave crested? Hardly. Wendy's just launched its deceptively beer-less Pretzel Pub Chicken Sandwich. The other day, I spotted a billboard for TA truck stop's new pretzel slop.
Zee Germans, they are spreading to the heartland. Soon, the likes of Culver's, Whataburger, and Chik-fil-A will be offering pretzel buns. And then nothing but pretzel buns. Until either we rise up against our invaders like so many Wolverines, or white bread becomes the next big thing.