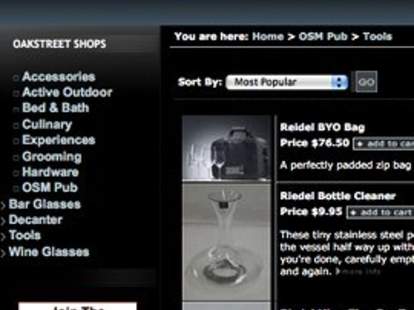 E-shopping's great, because there's just so much stuff out there, the only problem is, there's just so much stuff out there -- how're you supposed to be sure which kangaroo-scro bottle opener you should buy? Since you're not, shop curated goods at OakStreet Man.
Hatched in AZ by a "globe-trotting businessman" who hated sifting through cheap crap on the web, OSM's e-shop culls choice, sophisticated men's products in an expansive breadth of categories (decanters, pens, oyster knives...toasters) that've been "pre-screened for quality, taste, and value" by Bill's friends and're a direct reflection of his tastes, much like your growing collection of Power Ranger snowglobes is of yours. The refinement starts with top-notch classic barware, including sets of handpicked Riedel martini, cognac, port, and tequila glasses, a variety of wine decanters like the mouthblown special-edition U-shaped "Amadeo", plus accessories like a handy white wine aerator and microfiber "fluff-free bar towel"; for the kitchen, there's a handful of utensils from the oldest cutlery producer in the US (ebony-handle meat fork/spatulas, a chopping set), a whole series of Belgian stainless steel cookware, and a few small professional-grade Viking appliances -- which you should be careful with, as the big stuff will rape and pillage your credit score. To amp up your day-to-day, there's a vast selection of pens including a couple inspired by yacht designs, a custom-made-for-OSM Scandinavian/Italian leather Dopp kit, a sleek satellite GPS rig, and a bunch of grooming products from first-rate men's purveyors like Anthony, Art of Shaving, and Jack Black, including its Industrial Strength Hand Healer -- though unfortunately, the laying-on of which will not cure your leprosy.
Soon, they'll fill out the Active Outdoor and Experience sections, which'll cover sporting goods and travel respectively -- because there're just so many places to go, but how are you supposed to know which have indigenous animals whose gonads can open your beer?