The holiday season's a time to reflect on what you're thankful for, come together with the people you love, and nourish the relationships that genetics have prescribed, but nonetheless suck. Screw that noise, and party like a rum runner instead, at Eastern Standard's Prohibition Party.

To celebrate the 75th anniversary of the day the drinking resumed, ES is throwing an all-night "Roaring Twenties" fete and, to the delight of their lawyer, turning the bar into "the Speakeasy to end all Speakeasies". The night will commence with cocktails and passed hors d'oeuvres before turning to a six-course menu featuring 1920s dishes like "Three Eggs, Three Styles" (Toasted Rye Wheel w/ Lemon Cream Cheese and Caviar, White Truffle Scrambled, Deviled); Maine Lobster in Pastry w/ Sherry Cream Sauce; and Philadelphia Pepper Pot Stew featuring Sweetbread, Lamb Neck, and Cockscomb -- because rooster crown really brings out the intensity of flavor in the sheep neck. To get your potation on, "Golden Age" cocktails will be served throughout dinner, with fantastical old-school names like the Hanky Panky (London Dry, Martini Sweet Vermouth, Fernet Branca & twist of orange), The Charles Lindbergh (The Spirit of Plymouth, Lillet Blanc & Apricot), Monkey Gland (Miller's Finest, Fresh Orange, Pastis & Grenadine), and the Dewar's/OJ/Cherry Heering combo Blood & Sand -- named after a Rudolph Valentino film, not 50 Cent's Xbox 360 game (now with "new brutal counter-kill system"!).

After dinner action: gals dancing the Foxtrot, Charleston, and the Lindy Hop, a late night breakfast, and TBA "20s style entertainment" -- it could be burlesque, hot jazz, or even a nuanced Calvin Coolidge impersonator sitting silently at the head of the table...just like your jerk dad at the wild rumpus you're missing back home.
Recommended Video
This Brewery Lodge Is Run by the Von Trapp Family From the Sound of Music
Previous Venue
Next Venue
Venue Description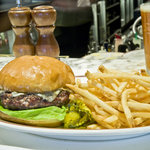 1. Eastern Standard
528 Commonwealth Ave, Boston, MA 02215
A Comm Ave restaurant with the appearance of a swanky French bistro, the menu of a five-star Italian restaurant, and the attitude of a local pub, Eastern Standard is an unpretentious offering of the finer things in life. The upscale menu touts a winding wine list, a raw bar, seared fishes, steaks, and house-made pasta while the matching interior flaunts a polished mahogany and red velvet motif.