Cheap 'n delish barbecue on Fillmore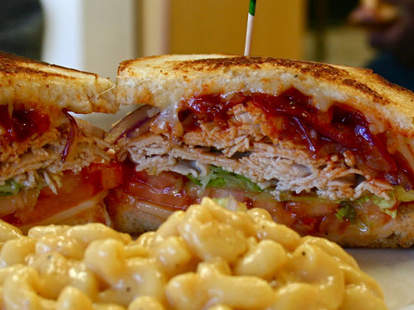 In showbiz, the most astonishing performances are sometimes turned in by the least expected characters, e.g., Susan Boyle's larger-than-life rendition of "I Dreamed a Dream", and Herve Villechaize's smaller-than-average rendition of "Ze Plane! Ze Plane!" For the restaurant version, get wowed by Dibbs BBQ and Grill.
Any way you slice it, DBG ain't much to look at -- undecorated pale yellow walls, a few unremarkable tables and chairs, windows painted with a beckoning...Bugs Bunny (?) -- but who cares, because out of its kitchen comes a mouthwatering selection of BBQ'd meats, deli sandos, and more, most of which can be yours for the price of a Happy Meal, even though you're now about to go out and purchase a Happy Meal yayyyyy! First things first: the Q includes both fat plates of brisket, ribs (beef, pork, or baby back), half chickens, n' hot links, and subs stuffed with steak, turkey, and chicken that're filled w/ cheese and grilled onions...all of which comes with your choice of two sides (baked beans, mac n' cheese, etc), and loads of DBG's secret sweet/savory Q super-sauce, which comes mild, medium, or...SPOILER ALERT...hot! Sandos (in hot, cold, or "Italian") cost as little as $4.95, and come on your choice of bread, stuffed with anything from boiled ham, to Genoa salami, to cheesesteak fixings, including Cheez Whiz if you're originally from Philadelphia and treat your body like a dumpster you prefer it that way.
Rounding out the menu's a bang-up bevy of omelettes and breakfast sandwiches/burritos, and a selection of fish that includes fried red snapper, catfish, and oysters. DBG also offers free delivery with orders of $20 or more, which, given the cheap prices, will require its own stomach astonishing performance.