Comfort food and vino in the Fillmore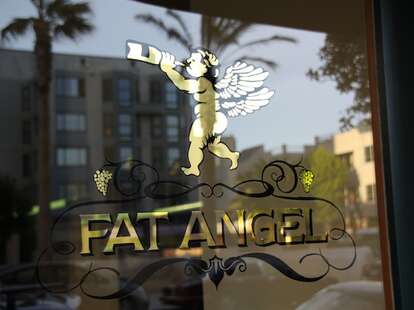 If you lose a key member of your team, you've gotta change your game plan, like when the Warriors lost Baron Davis and changed theirs to "losing more, without Baron Davis". For a team trying the wine n' grub offensive, check Fat Angel.
Diversifying your options in "the fried chicken triangle", FA was totally gonna be a Chinese noodle joint 'til the ownership team's Chinese noodle chef got deported, and they gracefully switched gears to open this casual, 23-seat comfort food n' vino joint that boasts white marble tables/counter-tops, a ceiling of pressed tin, and church pew seating -- just be sure and eat the bread BEFORE you sip the wine. By-the-glass juice's poured from 38 affordable bottles from all over -- everything from an Argentinian Ben Marco Malbec, to a Ponga Marlborough Sauv Blanc from New Zealand, to Sutton Cellars Syrah on tap -- while the 13 draft/bottled brews include both Belgian and local action like Fairfax's Iron Spring Casey Jones IPA, served with a hockey mask. Solids're meant to be shared, and range from meat plates (rich duck salami, hot copa, etc.), to Gorgonzola pizza with roasted grapes and prosciutto, to hearty "Mac-Daddy" mac n' cheese, like Mini Daddy mac n' cheese, but less annoying apocalyptic
FA's starting with dinner service only, but'll ramp up soon to offer breakfast, lunch, and brunch on the weekends, so instead of sleeping on Saturdays and Sundays, just sleep on the Warriors.