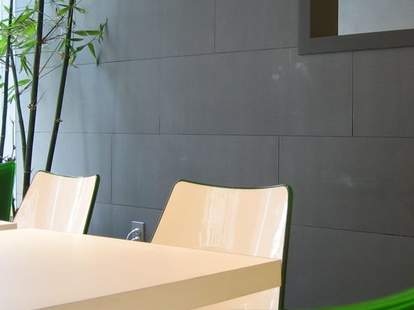 Everyone knows that if at first you don't succeed, try, try to not make another dessert restaurant, and definitely don't call it "Chill"! Instead, make delectable, Asian-ish grub, like Urban Picnic.
The chick who owned Chill on Kearny's wisely scrapped that sugar-coated idea and opened UP, a mod, bite-sized cafe (w/ cement walls, lime green accents, sleek wood benches/tables) servin' up super fresh n' simple sandos, salads, and more -- some Asian-inspired, some not so much -- all meticulously imagined by Poleng Lounge's chef to be way tastier than all other Kearny St. grub not found in the International Food Dungeon Center. The baguette-bound sandwiches range wildly from the Lemongrass Chicken with roasted jalapenos and cilantro slaw, to the Turkey Honey Guacamole with tomato and red onion, to the Roast Beef Dip with mashed potato mayo, an innovation that'll have the mayo establishment saying, aw, hell, man! Non-breaded freshness includes salads like the Slaw (with shredded chicken/cabbage, crispy shallots, Thai basil, etc), and the Quinoa 'N Kale (with satsuma mandarin and ginger sesame soy), while daily soups range from butternut squash to chicken/coconut/lime -- Harry Nilsson's first choice for relieving his belly aches.
UP's also rockin' a solid selection of grab-n-go fare (pre-made salads, sandos, sides), plus they've got free WiFi, so if at first you don't succeed, control, alt, delete, and try, try again.