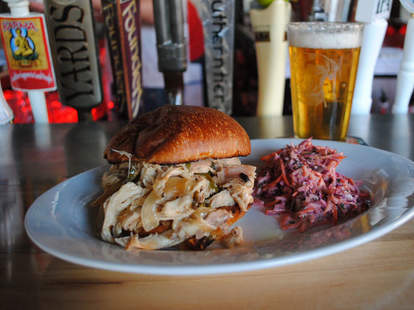 Similar names can lead to confusion -- was Gary Coleman or Vince Coleman the actor, did Vince McMahon or Ed McMahon launch the XFL, and was it Bootsy Collins or Alan Thicke that brought funk to Middle America? (Answer: both!). Making dinner and slinging beers rather than artsy, electronic music: Kraftwork.
Overseen by Sidecar's Adam Ritter and set to open tomorrow, Kraft's a two-dozen-tapped gastropub with an interior reminiscent of an industrialized ruin: sawblade lamps, walls stripped down to bare brick and vintage wallpaper, and seating and tabletops made of tiger maple woods, which totally ruined the Escalade that hauled them there. Starters and sides include blue point and tomahawk oysters; house-made salt & vinegar chips; a baby romaine salad with pepperoncini; and crispy pork terrine w/ pickled red onions, honey mustard, and parsley caper salad, which the Hardy Boys will cleverly eat in 132 pages with the occasional help of their good pal Chet Morton. Entrees include a beer can chicken sandwich with fried hot peppers and provolone; a burger served with either caramelized onions or a bacon onion jam and either Point Reyes blue or Grafton 2-year cheddar cheese; and mussels & fries in a garlic pilsner broth served with mustard aioli that's been infused with a porter, though you'll be the one left dealing with the junk in your trunk.
The 24 taps, including a cellar-temp-pouring hand pump capable of serving smaller barrels and firkins, are constantly rotating hard-to-finds from management's personal faves list, offering glasses, goblets, pints, and growlers of suds like Oskar Blues Dale's Pale Ale, Liefmans Kriek, Sly Fox Pikeland Pils, and Pabst Blue Ribbon, which totally sounds like that hipster swill, but that can't be right, can it?