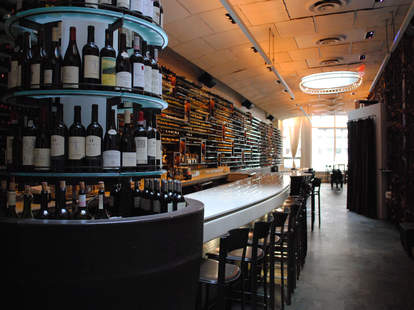 When you're already dealing with steep menu prices, faltering conversation, and anxiety that your date's hoo-hoo might be too big for your soldier, the last thing you need's the pressure of blindly choosing the wine. Turn that frustrating responsibility to your advantage: Wined Up
An airy loft of a lounge situated above Punch restaurant, WU's goal's to make wine selection approachably fun, and less saturated with panic sweat. Instead of a sneering steward brandishing an indecipherable list, they present you with an awe-inspiring hundred-foot wall stocked with 3000 bottles -- any of which you're free to grab, take back to your table, and guzzle as if you had 2999 more at your disposal. They also provide info packets on vineyards/wines, and a wall-map, so you won't get overwhelmed and meekly order a light beer. The process is so engrossing, by the time you're done you'll have passed a lively, drunken evening without discussing your date's rent, her job, or her unconvincingly positive attitude about staying single in New York City.
WU offers food as well, with meat-heavy small plates running $4-$15; pair that with the modest booze prices (most bottles are $25-$55, by-the-glasses, $6-$15), and you'll be able to afford a second date, or, even more tantalizing, a top-of-the-line mini-trampoline. If you actually know wine, you could hit the mother lode: the owner stashes a few choice bottles from his private cellar in the wall (e.g., an '82 BV Cabernet). Sniff one out and it's yours for ~$50, even if the retail value's ~$200-$250. Prize in hand, the only thing capable of tanking your date would be your petulant refusal to share.