From weird piano bar to sexy lounge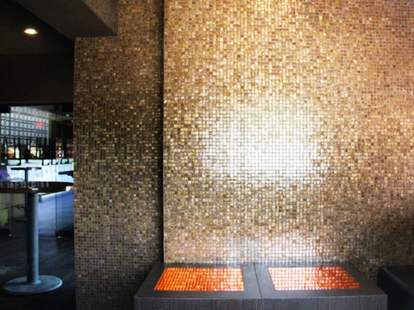 You're finally excused from reciting Busta Rhymes verses when asked "what's the Scenario", because it's now defined as a "restaurant with dancing" that gave former Chinese piano bar Chopstix an ultra lounge-y look: white brick central bar, metallic bronze faux-gator-skin booths, and walls covered with a fence-like pattern of octagons, which they probably hope will inspire you to take down eight sides.
The "upscale American" menu basically proves that America is really good at stealing things from other cultures, as evidenced by sweet Thai chili dip, fried calamari w/ cilantro slaw, pan-seared ahi w/ wasabi sauce, and shrimp corn chowder w/ a sherry base, or what Frasier called "my apartment".
After that can come char-grilled piri-piri-basted chicken, or flame-broiled seafood plates like shrimp skewers w/ pineapple/ pepper/ onion salsa, cucumber & dill-topped salmon, and mahi mahi crowned w/ black bean & corn salsa, not to be confused with Korn salsa, a dance in which everyone Follows the Leader.
While the original plan was to name the joint Solstice and go to the wee hours, whether or not they'll get to host events promoted as having "lazers, LED lights, turbo sound... and house music all night" is ultimately up to the neighborhood association, so... here we go, yo.