Get your hood-based eat-tours!!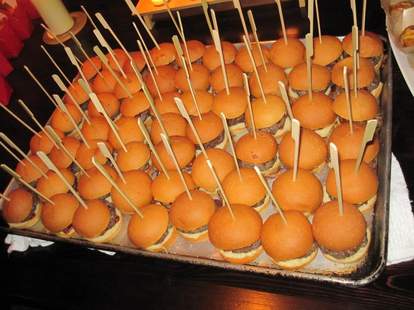 In accordance with the timeless line of thinking that one dinner isn't nearly enough, and that four might be good if you get some exercise in between them, Dishcrawl coordinates neighborhood restaurant crawls that bring together people who love to eat, and are willing to put up with the hassle of walking places to prove it
Pick a hood and book a ticket, and you'll get emailed an itinerary 48hrs before you and Eddie Murphy and Nick Nolte strike out on a four-resto excursion (don't worry; all stops are within 10mins strolling distance), spending 30mins in each noshing and chatting all about the kitchen's specialties with the head chef. The first crawl's in Buckhead on Nov 13th and almost definitely involves those things the Italians call "cheeseburgers". Then, an in-the-works West End walkabout that's looking to incorporate legendary soul food cafes Soul Vegetarian and Busy Bee, and they'll be happy to set up tours all over the city based on requests, although you know no matter what joints you ask Casey Kasem for, he's always going to pick The Max.
There's also an online community focusing on potential restos, on which you can get news and leave/read comments, presumably like "hey, I've been walking for at least 100 yards, now where the hell is my pot roast?!"