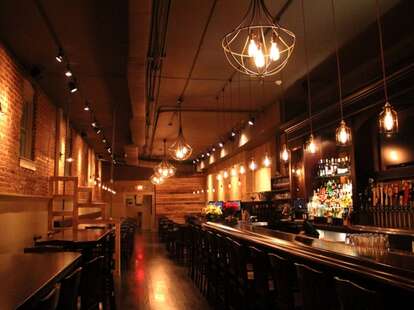 Meaning "cabin" in Farsi, sexily darkened Colbeh will definitely give you a fever for Persian meals inspired by the childhood memories of its Iranian owners/brothers, who've equipped the joint with a mahogany bar, half-brick/ half-recycled-wood walls, and a back lounge that employs actual ship windows as cabinet doors, a trend that's sure to catch on schooner or later.
All meats're marinated in saffron seasoning (truth: too much kills you, just enough has a buzz effect -- bonus!), including charbroiled wings, sirloin tip lemon/ herb stew w/ saffron basmati rice, open-faced beef tenderloin sammies, dinner kabobs like cornish hen, and a rack of lamb.
On the liquid side they've got craft wines ranging from $5/glass La Flor Argentinian Malbec to Italian Barbaresco, plus 16 drafts like Belgian Tripel Maredsous 10 (as in % ABV), 27 bottles (Victory Golden Monkey, etc.), and cocktails from the warm Crocus Sa-Tea-Vus w/ house-infused saffron vodka, to the chilled rye/ cardamom syrup/ grapefruit juice Hel Ryezer, aka, being forced to watch Mad About You for all of eternity.
Those wines and cocktail specials are slapped on elaborately designed chalkboards by local artist Chris Yoon, and upon sitting down you'll hear a bell, meaning there's fresh Persian bread and sabzi being baked just for you, which is a pretty strong sailing point.