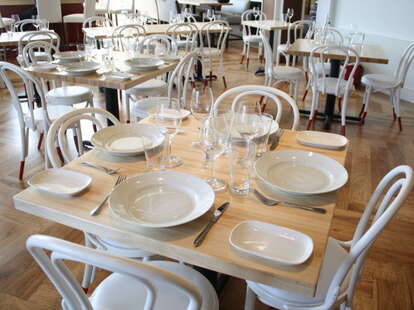 Proving your mom was right about it causing growth in your stomach if swallowed, Seed's an Asian-influenced modern American eatery opening Wednesday in a white space with a subway-tiled lounge area, a floating trellis-covered outer patio, an arrowhead-shaped bar with white Hershey's Kiss-like lamps, and three gold leaves on the front door that were given when the building was blessed by three monks, because they knew one is a Thelonious number.
Get yourself started with hoisin-sauced crispy pork belly sliders, then move to sandies like spicy tilapia w/ Sriracha & ginger onion marmalade, steaks like the 22oz cowboy rib eye w/ shallot peppercorn sauce, and plates such as Chinese-style braised short ribs, Ashland Farms chicken schnitzel, and Serrano-grilled shrimp, which did not enjoy the inquisition, and will never, ever drink Jobu's rum again.
The GM & bar managers know better than that, as they understand cultish Cuban rituals, and're also certified sommeliers who took 3mos to create a wine program that utilizes Cruvinets for some pours, and in some cases shaves $100 from the average resto bottle cost (e.g. $75 for a usually $180 Silver Oaks Cab), while cocktails break into "Vintage" (Pisco Sour, Sazerac), and "Moderns" kicked-up with liquid nitro or dry ice, like the "Big John's Appleseed" with brandy, house cider, and allspice...best cable box ever!
Chef Doug also has an eight-seat expo table next to his open kitchen, and he chose the awesome beer list himself, which includes four drafts (8.5% ABV St. Feuillien Tripel!), eight international craft bottles, plus 20 domestics like Bell's Expedition Stout, and NY hard cider Original Sin, which everyone's mom knows is swallowing...gum.