The Great Food family goes Mexican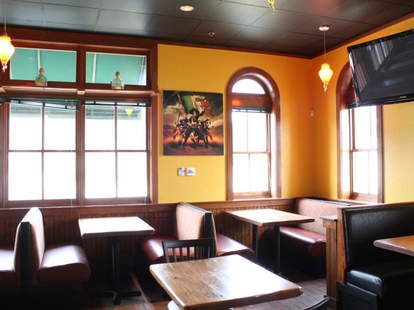 Having a great amigo or two can make a huge difference in your life, especially if you're Martin Short, who never would've bagged the hottest senorita in Santo Poco with just those "male plane" jokes alone. Well now you've got two who want to give you food way tastier than charred bat wings: Dos Amigos.
Opening Jan 19th to serve you a plethora of comida in the old Cumberland-area Folks, Amigos is the spicy brainchild of Paul and Patrick Albrecht (Social Vinings, Burger Bar, etc.), who claimed to have "made their way [into Smyrna] on their trusted donkeys", and when they weren't lying about that, dressed up the joint with a glass mosaic mural of their logo (two amigos on horses heading into the sunset) and paintings of Day of the Dead dancing skeletons. First up're chorizo/roasted corn/poblano flatbreads, smoked chicken empanadas, pulled pork chipotle tostadas, and tacos ranging from fried Maine lobster, to braised brisket, to ancho chicken -- a strange name, because when the waiter brings it, he will confirm that it is indeed yours. More food!: the El Patricio Grande burrito (shrimp, steak, chicken, peppers, onions, etc.), tortilla-crusted tilapia, husk-wrapped corn masa barbacoa pork tamales, and a double serving of smoked mozzarella chili rellenos fried in a "light batter", although hopefully not David Eckstein.
Naturally, the Invisible Swordsman would be very disappointed if you didn't wash all that down with 36 tequilas or one of their house 'ritas like the The Diamond, with Maestro Dobel & Cointreau, which they claim is "crystal clear with the consistency of a fine Cognac", a drink that could be enjoyed by both Martin and Too $hort.