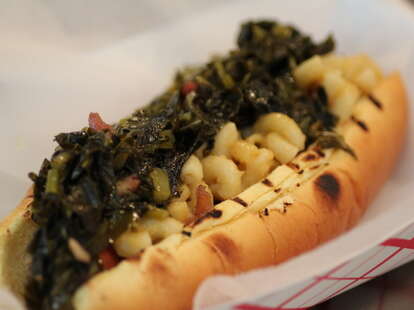 Proving meals eaten by Blackstreet aren't as fancy as they were in '96, but remain plenty delicious, is YumDiggity: a gourmet hot dog corner stand from the owners of Yumbii decked with a shiny silver counter, chalkboard menu, and trippy centerpiece collage of ATL landmarks, flying pigs, and Yumbii trucks covered with paparazzi shots of celebrities like Ashlee Simpson and Pete Wentz, and also real celebrities.
Chef Freddy Perez (Spanish Harlem, Ocean Prime) puts out egg-bunned seven-inchers (!!) sourced from Marietta-based Wienerz, letting you choose from all-beef, pork/beef Hotlanta red hots, sharp cheddar/Red Brick beer brats, and a spicy Italian sausage, about which Freddy's partner says "it's not gonna fight you, but it's got a bite to it", leading some to suspect it's actually Tyson brand.
Relish and chopped onions are gratis, and they'll be thrilled to jack your cholesterol with add-ons like Whiz, fried/caramelized onions, kraut, and sport peppers. They've also got dogs Sir Mix-A-Lot's anaconda don't want any of, like a bunless bed of crispy fries and homemade curry ketchup topped with their Currywurst, which Eddy tried to sue for libel, before just eating it instead.
In a few months they plan to add NY-style sandwiches like BBQ brisket and pastrami, but for now be sure to ask about daily special dog recipes like the collards/mac & cheese "SoulDiggity" -- so delicious, you'll compliment the counter person by saying "I like the way you work, kid."